Searching for the Vikings
Sunday, August 6 - Day 5: Corner Brook, Newfoundland, Canada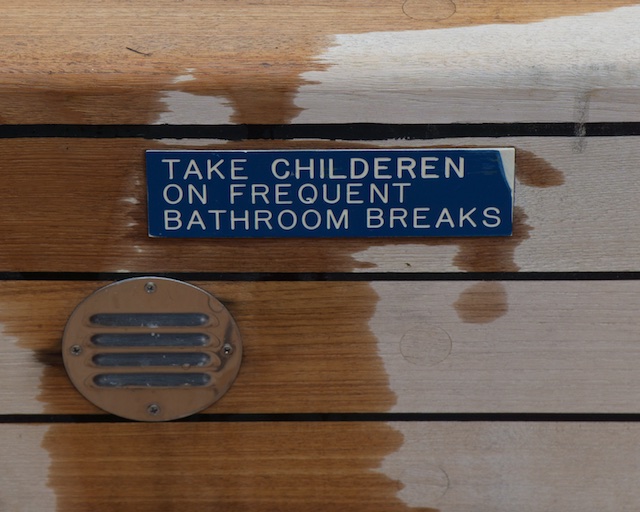 We woke up this morning to bright sunlight pouring through the gap in the curtains. But, not to worry, fans of the "Kravitz Curse," by the time we washed, dressed and finished breakfast, the clouds had rolled in and covered the sky. This isn't some wimpy curse, but a strong, persistent one.
Did I mention the fact that the people of Newfoundland, in their wise and all-knowing ways have decided, wisely, that instead of following the conventions of almost the whole rest of the world, they would live in a time zone that is one-half hour ahead or behind the time zones on either side of them? Very wise. So last night we had to set our watches one half hour ahead. Isn't that wise?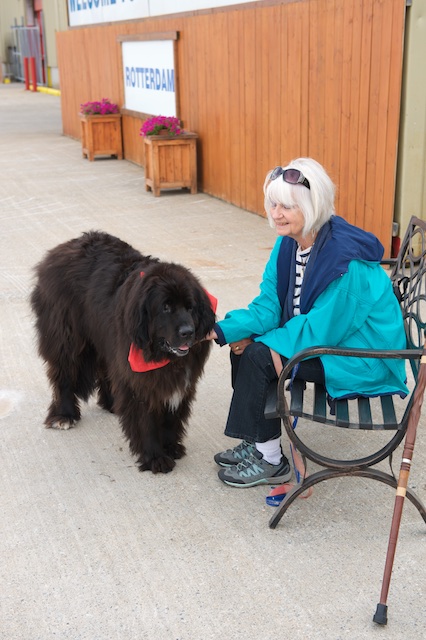 We walked off the ship, no tender today thank goodness, and onto the dock. Waiting to greet all the cruisers was a white-haired lady and her very big, black-haired Newfie Dog (A breed called Newfoundland, of course). It makes sense since we are in Newfoundland. It was a very large, very gentle, nice dog. Even Donnie petted the dog, something she rarely does. I read somewhere that Newfie's are gentle dogs that can also masquerade as a couch. The lady told us that she and her dog had been greeting cruise ships for the last ten years. Nice. She even gave Donnie a postcard with herself and her previous Newfie on it.
We then walked off the dock area and there were some school buses waiting to take people to town. When we got to town, there wasn't a lot there. First of all, today is Sunday, so what was there was closed. Even then, the highlights for me in town were the three "Canadian Chinese Food" restaurants. Although one of them was out of business and one of them, in reality, served "Canadian Food" and "Chinese Food," but there was one that was real "Canadian Chinese Food". However, it was too early for it to be open. I would really have liked to try Poutine Foo Young (No, you gullible people, that probably wasn't on the menu. At least I don't think so).
Anyway we walked briefly around the downtown area, which was closed and deserted except for the other passengers of the M.S. Rotterdam. Corner Brook had less to offer to tourists than Sydney. There were no old houses, no old Churches, not even a Gay Pride Parade, to my relief.
Where did we go in town? Donnie had seen the place she wanted to go out the bus window as we were driving into town, so we walked there. Where did Donnie really, really want to go in Corner Brook, Newfoundland, Canada? The Tim Horton's for free WIFI, what else? So, we went in and joined the other WIFI-deprived cruise passengers, ordered two coffees and a few Timbits (donut holes, remember?), and I drank my coffee and nibbled Timbits while Donnie wrote emails to the half of the planet she hadn't written to yesterday. After a small eternity, she closed her phone, finished her coffee, ate the last Timbit and we walked back in the direction of downtown. I made use of the very clean restroom in City Hall, and we decided that we had seen the best of Corner Brook, so we waited for the school bus, boarded it when it arrived and rode back to the ship. Total time spent in Corner Brook, two hours, most of it in Tim Horton's.
Oh, yes, there was one other important fact we learned in Corner Brook. Yesterday, in Sydney we saw a restaurant/pub with the silly name of "Crown and Moose". Today, in Corner Brook, we learned the important fact that "Crown and Moose" is a chain. They had the same silly sign with a picture that looks remarkably like Bullwinkle, The Moose. I will not take the time here to describe my idol, Bullwinkle, The Moose to you young whippersnappers who have never heard of him. Google him.
(…once again, Time did its thing and flew by, slowly…)
So after a light lunch, we rested and wrote our potentially award-winning literature in our rooms for a while, and then Donnie wanted to take some pictures of the scenery from one of the upper decks, while I, finding the local scenery less than thrilling, a euphemism for extremely boring, wanted to finally take some pictures of the artwork on board, so we parted ways.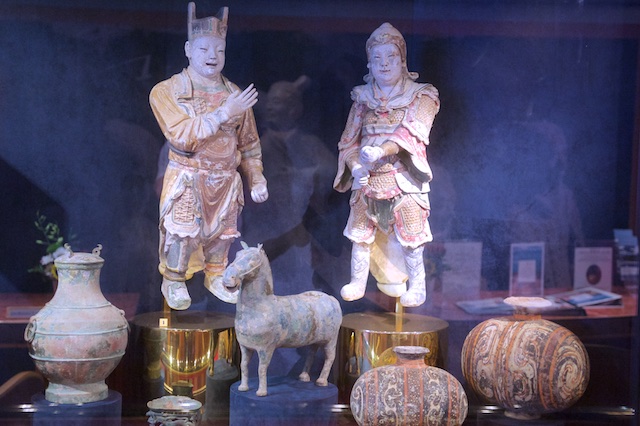 I walked around a good deal of the ship and found many more art objects than I had previously seen. Every landing on every stairwell had some nice art. The public decks had art all over the place. I think I walked a mile through the ship taking art pictures and I'm sure I haven't found it all yet. We met back at the room, and since it was almost time for the ship to leave Corner Brook, we went to the fantail and watched the sail away. Then we headed back to the room to drop off cameras and pick up laptops and then back to the library to do more writing of our extraordinary documents. You people out there probably have no idea how much work I'm putting in for your benefit. Really!
One very annoying fact we discovered about cruising: the cruise lines really, really hate electricity. In the staterooms there is one, count 'em, one electrical outlet. Ok, that was a little lie. There is also one in our bathroom, presumably for an electric shaver, but it doesn't work. Wandering around the ship there are lots of people with phones and tablets and laptops, and you would think that they would be using any available electric outlets to charge their devices. Can't. Ain't any. I have not seen a single outlet anywhere. Here we are in the library, which has lots of desks and tables that are ideal for sitting and using a laptop, but no outlets.
(…Time lets loose its tentative grasp on now-ness and reaches out to grab laterish-ness…)
We decided to try the pizza they serve in the little place on the fantail that they have named "New York Pizza". I will eliminate any suspense… No way. They do serve made-to-order personal-sized pizzas that looked good and smelled good, but New York Pizza? Fahgedaboutit!
Donnie asked for her usual favorite, tomato sauce, mozzarella, Italian sausage and onion. I ordered one of the menu item specials called "Grand Central". Really? Marble and Brass? It was supposed to have Pomodoro sauce, tomato, mozzarella cheese, basil, and extra virgin olive oil. I tasted a piece of Donnie's sausage. It wasn't Italian Sausage, it was Breakfast Sausage, you know, with sage in it. My olive oil wasn't extra virgin. It wasn't virgin. It wasn't "widow with fourteen kids". It wasn't. Well, the pizza smelled good.
After dinner, Donnie was sort of sleepy and wanted to go to bed early, but I persuaded her to go up to the music venue they call the B. B. King's Blues Club where they have a band they call the B.B. King's All Stars. Ok, so Holland America has a marketing deal with the Late B. B. King's estate. It's Ok. The band were great and the lead singer, a rotund african-american lady was really good. We listened to their first set, and then because it was 9:30 we went down to the Theater, oops, sorry, they call it the "Showroom at Sea". We wanted to see the show, which was a group called "Not the Three Tenors".
We had missed the 8:00 performance, and we had been told that because the theater, Showroom at Sea, sorry, was small, you had to show up early to get a seat, so we went down at 9:30 for the 10:00 show. The theater was half-empty. We didn't know if this was because the passengers were all in bed at 9:30 or because the show was lousy and the word-of-mouth from the 8:00 performance had turned everybody away. We needn't have worried, the show was great.
The group consisted of three guys, who were not "The Three Tenors," thus the name "Not The Three Tenors," and were not even all Tenors. One was a Baritone. They started off with an aria from "The Barber of Seville" and then did some show tunes and other popular things. They even did a part of Beethoven's Fifth Symphony to the words Ba Ba Ba Ba Ba… However they called it "Billy Beethoven's Fifth, or for the Canadians in the audience, Billy Beethoven's Half Liter".
In between songs, one of them did some extremely funny stand-up comedy. We were both laughing hysterically. It was really good. So was the singing. When they finally introduced themselves, it was easy to understand why. One of them had a PHD. in music from Texas Tech University and another, the stand-up comedian, had studied at Juilliard, been with the San Francisco Opera, the Chicago Light Opera, and the Metropolitan Opera. He said he had collaborated with Luciano Pavarotti in over 50 performances. He said he was an usher. They ended the show with a great performance of the piece that was Pavarotti's signature piece, Nessun Dorma from Turandot by Puccini. It was great. We had a really, really enjoyable evening.