Searching for the Vikings
Wednesday, August 16 - Day 15: Alesund, Norway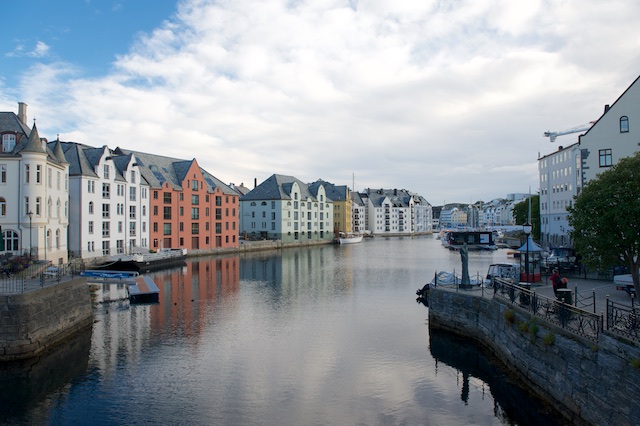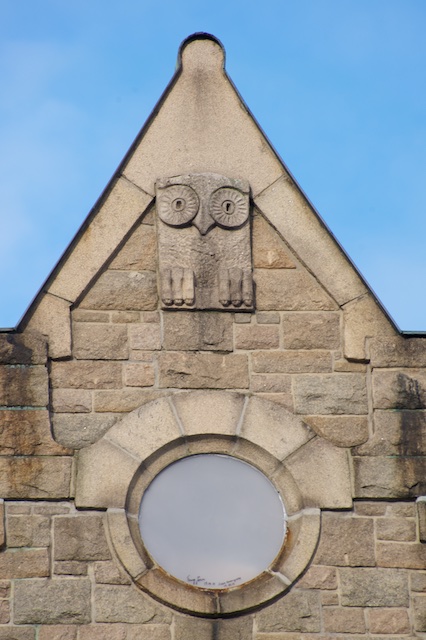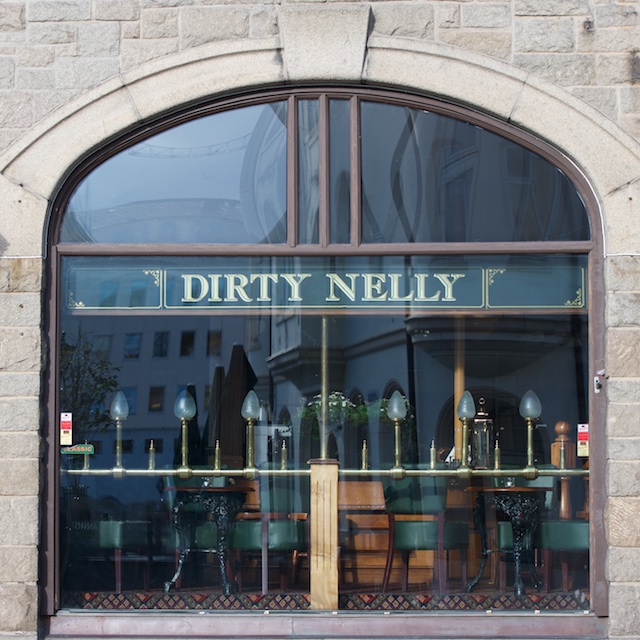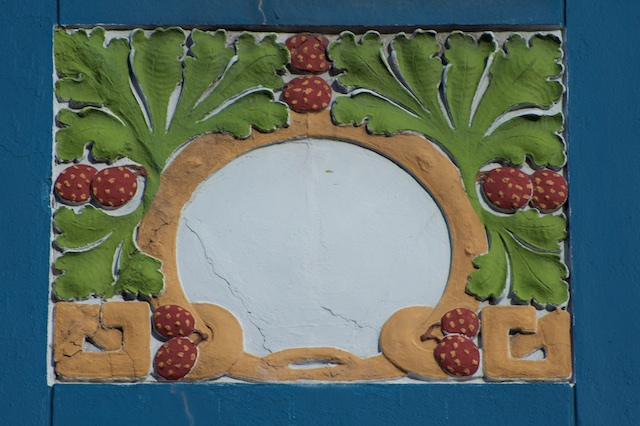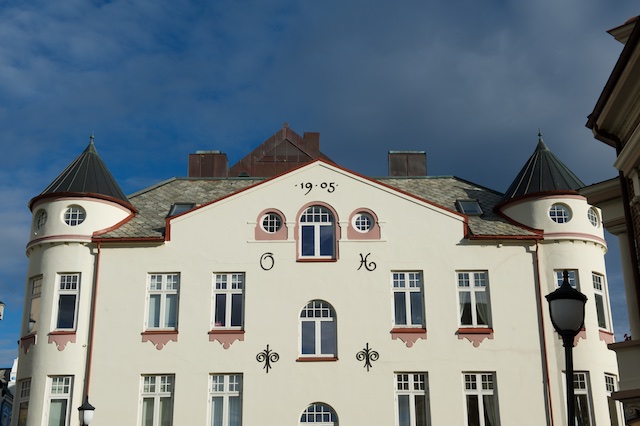 I awoke early, about 6:30, looked out and saw we were pulling into Alesund, so I dressed quietly and went to our secret overlook again to take some pictures while Donnie slept. Alesund is described in all the information we have read as a very pretty town. It is. The reason for that is somewhat sad. The town burned down almost completely in 1904. When they rebuilt it, they brought in architects from all over Norway, many of whom had been trained all over Europe. They rebuilt, with no wooden buildings allowed, in the Art Nouveau style which was popular at the time. The buildings are beautiful, especially the Art Nouveau decorations on them. It doesn't hurt that the town is situated in an absolutely stunning location. After the usual morning stuff, we went ashore and walked around, taking pictures. It was mostly cloudy, with just an occasional peek-a-boo of the sun. The town is situated in a Fjord, and is really made up of several little islands connected by bridges. There are a lot of boats and a lot of seafront apartments and it's surrounded by mountains. Another place I would cheerfully live in, except for the weather in winter.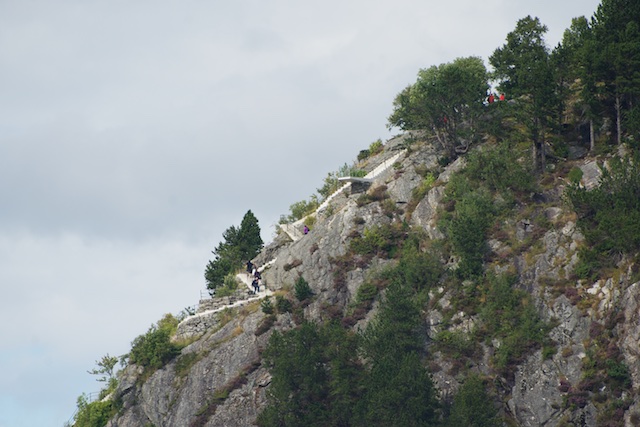 After a couple of hours, we were a little weary, but we wanted to do the one thing that every guide and document had said was a must-do, go to the top of the hill in the middle of town to see the view. Now, one of the documents we read, I think it might be one from the cruise line, said that it's an easy walk, about 400 steps, up the hill. They neglected to mention that the walk up the hill is at an angle exceeding 45 degrees, and that the 400 steps are stair-steps. So, we ruled that right out. Fortunately, there were two other ways to go. There was a hop-on, hop-off tourist bus, and there was one of those cute, but phony, train-like tram things, with a tractor made to look like an old locomotive pulling two train-like cars on tires. We decided to take the latter.
We went to the tourist information office and they told us that the start and end point, and the ticket booth for the tram was back at the cruise ship port, so we walked back there and bought tickets for the tram. It was about 10:30 and the 10:30 and 11:00 tram rides were already sold out, so we bought tickets for the 11:30. Then, feeling a little foot-weary, we went into a nearby bus station to sit down for a few minutes. While we were in there, the weather changed. Ok, gang, you know the drill, lets all repeat it together, IT STARTED TO RAIN. Nice job. We waited inside the bus station until about a quarter after eleven and went out in the rain to get on line for the tram. It was raining quite heavily by now. What else would you expect?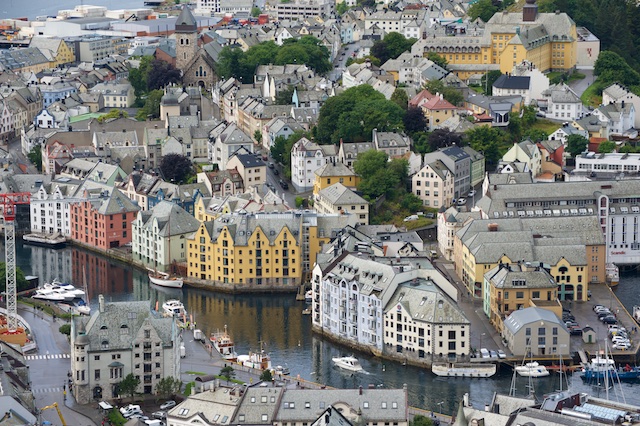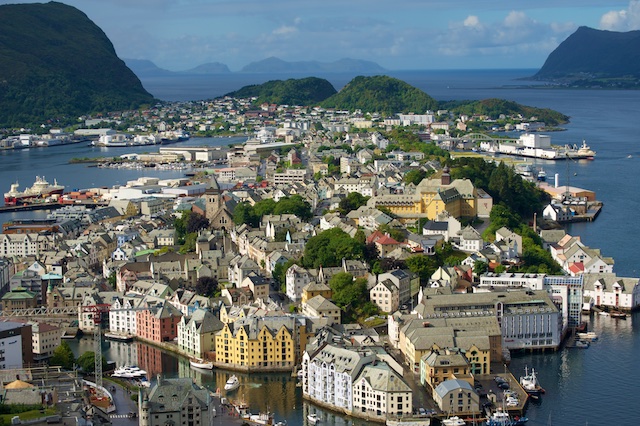 So we boarded the little tram. Interestingly, the tram driver had a very strong accent, a New Zealand accent. He's a long way from home. Just after it started, since it was full of wet, warm tourist bodies, all of the windows fogged up. Great!  The tram took us on a slow, bumpy ride through the town, with a recorded commentary describing what we saw. It took about half an hour to wind our way through the town and up the zig-zag road to the top of the hill, sometimes on a one-way-only-at-a-time part of the road. At the top was a building with a restaurant and some viewing platforms, and the tram driver said we had about 15 minutes to enjoy the view. It was spectacular, and amazingly, the sun came out a little bit, on and off, while we were up there. We, and everybody else up there took a gazillion pictures. Then we re-boarded the little tram and it bounced its way back down and went around a different part of town for another half hour and dropped us off back near the cruise terminal. It was fun.
The sky was now what you might call partly cloudy, but the parts that were sunny were small and the parts that were cloudy were large. We could have walked around town some more, but we figured that the pictures wouldn't be so good in the mostly cloudy weather, and we were a little tired, and it was past lunchtime and we were hungry, so since we were a few feet from the cruise port terminal, guess what we did? Another good guess gang, yes we went back onboard the M.S. Rotterdam. We had lunch and did a few chores, like backing up our camera cards to our laptops and Donnie did laundry. (Now some of you, probably the ones of the female persuasion, are screaming at your computer screens, "Why didn't you do the laundry?" Two reasons: Donnie tells me that she likes doing laundry, and she doesn't trust me to do it properly.)
(… time did what time does and passed along the time highway, or parkway, or freeway. I forget which …)
At about 4:00 the Captain sounded the ship's horn and pulled away from the dock and started sailing away from beautiful Alesund. He updated us on things nautical, and then said that on our sail to Bergen tonight they expect some wind. About 45 miles-per-hour wind. He said it was nothing to worry about, but for safety's sake he suggested that if we have any computers or bottles on a table, to put them on the floor so they don't slide off. Wonderful! Last night, which was a little hairy, with being unable to walk in a straight line, and lots of creaks and bangs in our cabin, he gave us no such warning. I guess last night wasn't anything that needed warning about. Terrific! Oh, and I nearly forgot, as we were going into the buffet for breakfast this morning, just by the elevators we saw something we had never seen before on a cruise: a box hanging from the wall railings, containing barf bags. Stupendous!
I think I'm going to have to start keeping a scorecard. In addition to the fact we discovered early on that 900 of the passengers on board are four and five-star Mariners, with over 200 or 500 days of cruising on Holland America, we have been encountering the real cruise nuts. We were amazed at the guy we met at dinner, who said that he had over 200 days, this year. And this was his tenth "Voyage of the Vikings". Then, at lunch one day, we ran into the older woman who told us she didn't count cruises, just days, and she had 1000 of them. Now, this evening, Donnie was in the library talking to woman who said she had 1500 cruise days, three or four World Cruises, and this was her third "Voyage of the Vikings", and she wasn't really sure why she was on this cruise. She didn't get off the ship in Alesund. She had seen enough of it already.
No wonder the cruise lines are making money like crazy and are building more ships. They're like drug pushers and these people are the addicts. We have been on three cruises, but only because they went to places that we wanted to see and which were hard to get to any other way. These people don't seem to care where the ship is going. Very weird, and maybe a little sad.
Click HERE to see more of the best pictures.