Searching for the Vikings
Thursday, August 17 - Day 16: Bergen, Norway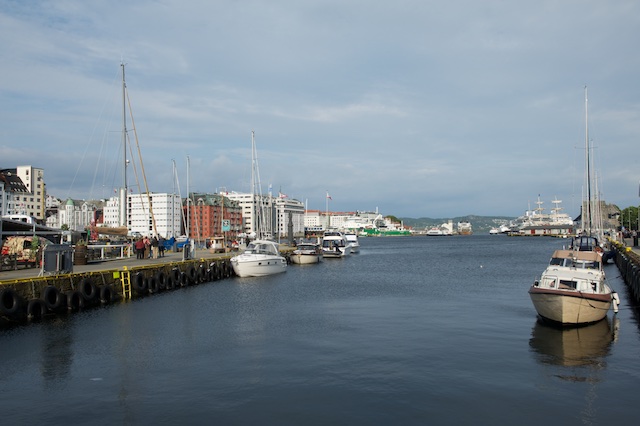 Captain Hans was wrong, bless his Dutch heart. The sea last night and this morning was very calm. No rocking of the boat. I forgive him. He doesn't even have to apologize. I'm going to award him the unecessary-barf-bag award.
Morning stuff, breakfast, blah, blah, blah. We got off the ship into Bergen, Norway about 8:30 this morning. It was mostly cloudy but it appeared that the clouds might part at some point. We had been to Bergen before on a previous journey, but that one was a driving trip around Scandinavia. I won't go into details here, mainly because I don't remember much. There was one memorable event on that trip though. In front of the very medieval castle in Kalmar, Sweden, I proposed to my wonderful Donnie, and she, perhaps foolishly, accepted.
Anyway, we had been in Bergen in 2001, and explored the city a little. Some things were familiar this time, but much wasn't. We found the very nice Radisson hotel we had stayed at, and it was still there and still as nice. The main thing very different about Bergen is the number of tourists. The place is now jammed. It didn't help that there is another cruise ship docked, a much larger one than ours, but there are many, many more tourists than are on the cruise ships.
This time we saw and did more than the previous time, even though we only have a few hours in Bergen. I think, perhaps, that last time we used Bergen as a base and traveled to other sites in Norway on day trips. This time we are just exploring Bergen. Like every place we have ever been in Norway, Bergen is beautiful, even with the hordes of tourists.
I need to explain that almost everywhere in the center of Bergen, we kept hearing loud music, and it was always the same, one of several of the themes from Star Wars. Donnie kept commenting on how nervy and inconsiderate it was for somebody to be blasting their music so loud. Eventually as we were walking in a wide pedestrian street, we noticed a big, black, temporary looking structure in the middle of the wide street, with huge speakers on either side of it, and the Star Wars music was obviously coming from it. We walked closer and discovered that the structure was a temporary concert stage, and there was a full orchestra playing in it, and a TV camera was recording the whole thing. I saw a sign on the side of a big semi-trailer parked  behind the concert stage. It was the Bergen Philharmonic Orchestra and they were rehearsing for an outdoor summer concert that evening, comprised of movie music, including themes from Star Wars and Harry Potter. Unfortunately, we would be gone by then. Still, we never expected to hear a bit of the Bergen Philharmonic. Cool.
By now, we had seen a lot of Bergen, and we decided to slowly head back in the direction of the ship dock, and do a little shopping on the way back. Once again, a little reminiscing: when were in Norway, sixteen years ago (holy smoke, that's a long time), we were driving out of Bergen when we passed the Dale (pronounced Dallah) factory store. Dale is a world famous manufacturer of hand-knitted, very high-quality, very expensive Norwegian sweaters. We had bought two apiece back then, and they are still like new and very warm. Too warm. Mine are so warm that I cannot wear them indoors. If it's the dead of winter and I'm wearing it, and I go into store or restaurant, I immediately break out into a sweat and have to take it off. We brought some of them with us on the cruise, and were wearing them during our walk around Bergen. The natives probably thought we were nuts since they were enjoying the summer heat in T-shirts and shorts. (It was cold and windy most of the day.)
There are a great many shops in Bergen that sell Dale sweaters. During our walking we found one on display outside a store that was thinner and lighter than the ones I have, so I thought about buying a lighter one. We went into a shop and started looking at them. The first one we saw, which wasn't much lighter than mine, was marked about 3000 Norwegian Kroner, thats $375. If you think that's high, I had researched Dale sweaters online before the cruise. Buying them online, the average cost was $500. We found the lightweight one. It was 2000 Kroner or $250. Too much for a sweater that I might wear twice a year. Before we left the shop, guess what? Yes, intrepid readers, now is the time, it started to rain, heavily. We got out raincoats and umbrellas and went out. Donnie still wanted to shop for Dale sweaters so we dripped our way into several other shops, but the prices were identical. The sweaters are very nice and we get compliments from people when we wear ours, but $250 was just too much.
So, we walked slowly back to the M.S. Rotterdam, in the pouring rain, stopping briefly to buy very touristy Norway T-shirts, and got back to the ship, once again dripping wet, in the middle of the afternoon. We dried off, changed clothes and came down to the Explorer's Lounge, which is the name that Holland America chose to give what they used to call the ship's library, where we are writing these masterpieces of prose.
Bergen was great. Another wonderful city which we would love to live in, except for the Winter. We really like Norway. It is a very beautiful country.
Oh, and another thing, when we got back to the ship this afternoon, I discovered something that may cause serious marital discord for the rest of the cruise, and possibly even for years to come. Donnie's cruise ID card has, as we had expected, no Mariner stars on it, but I have one. I'm not going to ask anybody why this is so. For some reason, she didn't respond with a laugh to my joke that from now on she's going to have to sleep on the couch in our cabin, with the curtain separating the bed and the sitting area closed.
In the interests of fair, responsible, and comprehensive reportage, I will now completely, responsibly and fairly describe the "Holland America Line Mariner's Society" program. Well, maybe not completely, since that would take another several hundred pages.
There are One, Two, Three, Four and Five star Mariners, who obtain their star-status by accumulating days of cruising aboard a Holland America ship. There are a couple of other minor ways of accumulating day equivalents, but we'll ignore them. Here are the details:
One Star Mariner. This is easy to obtain. You have to complete one cruise with Holland America. You really can't expect them to give you anything if you haven't actually been a customer, can you? When you have achieved this lofty status, one of the rewards you receive is the Mariner Magazine, which I'm sure isn't just a marketing brochure. You also get a "collectible gift". I've seen on television a short segment about a lady that had a collection of over 50,000 swizzle sticks.

Two Star Mariner. You have to complete over 30 days of cruising. Hey, after this cruise we will have 38 days. We will rate, baby! In addition to the one-star rewards, we get a lapel pin and a complimentary photo of the ship. Right On!

Three Star Mariner. 75 Cruise Days. In addition to all the previous goodies, you get a different color of lapel pin and "advance information on new itineraries", or in non-marketing-speak, brochures. Good stuff. Holland America spares no expense.

Four Star Mariner. Here are the real cruisers. You have to have been cruising for over 200 days. Now you get the biggies: priority embarkation, priority disembarkation, priority tender time (notice that these perks cost the cruise line exactly nothing), and, here it is, the super perk, the one that everybody we have talked to has mentioned, free laundry. No, wait, make that free laundry service. Who wants somebody else's old dirty clothes? Ugh! Now this one is so important, there are unofficial rules for utilizing this special perk:

You must bring all of your clothes on board already dirty (two different women have really told us they do this.) and as soon as you leave the gangway and set foot on the deck, you must search out your Cabin Steward, hand him or her your suitcases and demand that all your laundry be cleaned and pressed and in your room no later than 5:00 so you can dress for your 5:30 dinner. He or she has nothing else to do, except clean and make the beds for 65 other rooms, twice a day.

If you use any article of clothing, say you sneeze into a handkerchief once, you must immediately phone your Cabin Steward, even if it's 2:00 AM, and request that the article be laundered and pressed right away. Cabin Stewards are not allowed to sleep. (One of the Indonesian waitresses, after a long conversation with Donnie about Indonesia, which Donnie knows all about, having been there, and Indonesian music, Indonesian musical instruments, the problems with traffic congestion in Indonesia, and the waitresses entire life history and her current health problems, told us that her sister, who is a Cabin Steward, isn't allowed to sleep because guests may indeed call her for something late at night.)

If you try on an article of clothing, and decide not to wear it, it still has been soiled. You know what you need to do.

If you haven't had every piece of clothing laundered and pressed before the last day of the cruise, you must do so on the day before disembarkation. Who wants to take dirty clothing home? Unfortunately, you probably have to wear something on the disembarkation day.

Five Star Mariner. 500 days cruising. The elite. The royalty. You can tell who these people are by the staff members bowing down on their knees and keeping their eyes averted. These are the people who demand everything because they are entitled to it. One lady complained at length because they had temporarily run out of spinach and it would take two minutes to cook more. Probably a hanging offense.
There are also a set of very complex rules about the Mariner program. Rules that cover things like how a couple share their Mariner stars. This one is easy. They have to arm-wrestle for them. However the arm-wrestling must be done in front of an American judge at the World Court in The Hague, in Holland (Holland America, get it?). If you want to see the rules, I would suggest that you Google "Holland America Mariner Society Rules". You all know how to Google things, don't you? Unless you are idiots, or lawyers, which amounts to the same thing. Lawyers have law clerks and other serfs who do all their research for them and never, ever use a computer themselves. If you do Google "Holland America Mariner Society Rules", you will find the correct link right there on the third Google results page, just after the advertisements for Dutch Chocolate, Tours of Holland, Tours of America, Rulers, and various Societies and clubs.
Click HERE to see more of the best pictures.