Searching for the Vikings
Monday, August 21 - Day 20: Rotterdam, The Netherlands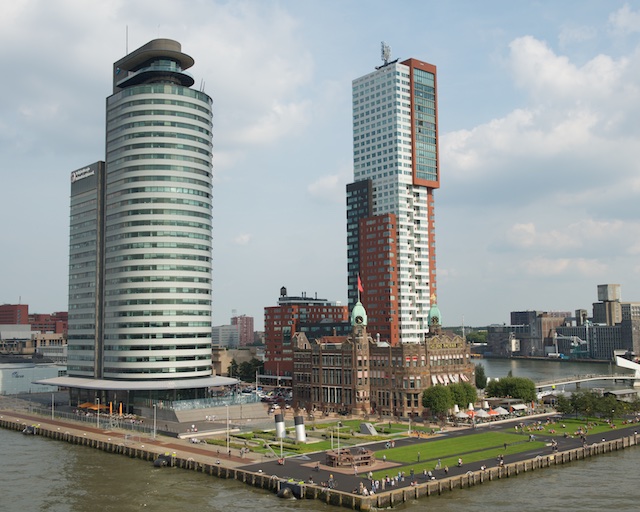 We were awakened around 7:30 by an announcement about the disembarkation procedure for those who were leaving the ship in Rotterdam. This cruise was available as a round-trip, Boston-to-Boston, 38 day cruise, which we had booked, or just the first half, or just the second half. Some people were leaving this morning, and others were getting on this afternoon.
As we exited the ship, we had to have our passports inspected and stamped by the Dutch Immigration authorities. It was really just stamping, because they barely looked at the passport or us. Bureaucracy. We didn't mind. We like having all the stamps in the passport.
The main road was called Blaak. The "bridge" that the Cube houses were on was called Overblaak. It went over Blaak, get it? Inside the complex we found that they had turned one apartment into a sort of museum that you could go into to see what the inside looked like. It was very peculiar and interesting. There were small rooms and furniture designed to nestle up against 45 degree walls, and very steep, very narrow, spiral staircases from one floor to the next. All the windows were at a 45 degree angle. It would be very tricky to live there. I think only a young person could manage the scary stairs every day.
We wandered around inside for a while, taking pictures, until Donnie discovered the best thing inside. Can you guess again? Got it in one, free WIFI. However it was very overloaded, so not very useful. Since the ship was leaving around 3:30, we took the shuttle bus back to the cruise terminal and went back on board.
(… tick … tick… tick… repeat for a while …)
That evening there was an announcement by our new Captain, Eric van der Wal. Our previous Captain had told us that the first segment of the cruise was his last as an active ship captain and he was retiring, so for the second half we have a new captain. They even gave Captain Hans a small retirement party in the cruise terminal. We liked Captain Hans. Especially since he got us into Prince Christian sound. Good luck in your retirement, Captain Hans.
In case you haven't noticed, I have abandoned my superlative code system. Too Nerdy. You'll have to endure words like amazing, incredible, unbelievable, wonderful, fantastic, etc., etc.
Click HERE to see more of the best pictures.