Searching for the Vikings
Tuesday, August 22 - Day 21: At Sea, in the English Channel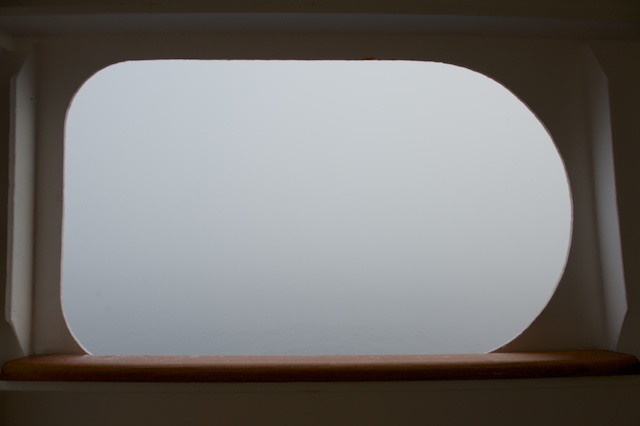 We woke this morning to the friendly, familiar, and incongruously soothing sound of the foghorn again. Ahhh. After the usual morning stuff, we attended another lecture by Dr, Hannesson, this one about "Arctic Exploration". We had to leave in the middle, however, because we had to get our passports "inspected" and stamped, this time by the Irish Immigration authorities, as our next port, tomorrow, is Dublin.
"Wait a second", you are probably exclaiming. "You are supposed to be at sea, in the English Channel. How can you get your passports stamped by the Irish Immigration people?" Simple, they flew two of them to Rotterdam, where they boarded the ship and are sailing with us back to Dublin. That means that they will be here two nights and a whole day, and during half that day they have to work. The rest of the time they have to relax, drink, and eat. Poor guys. They were calling the passengers, deck by deck, to go to the room where the immigration guys were, and our turn came in the middle of Dr. Hannesson's interesting lecture. When we got to the head of the line, two guys with real, just like on TV, Irish accents greeted us and stamped our passports. I wonder if they put on the heavier accents, just for the tourists.
We went back to Dr. Hannesson's lecture just in time to see pictures of him and his tent on the ice in the Arctic. He was showing pictures of his camping trips to the glacial regions of Greenland, Iceland and the polar cap. Cold. His final parting words were about the fact that some cruises, including some on Holland America, do go to the polar regions, and that you could visit the Arctic without too much discomfort. He put up a picture of himself, with vast ice sheets and mountains of ice behind him, holding a drink, standing by the rail of a cruise ship.
We then attended Barbara's talk on what to do in Liverpool, The Isle of Man, and Portree, Scotland. There was some useful information. Later in the afternoon, we attended another lecture, by Dr. Bill Bendel, a new lecturer, on Astronomy. He is going to be giving a lecture series called "A Journey Through Space and Time". Today's lecture was about the moon. A short summary: it's not made of green cheese.
I said I would, from time to time, list some of the pro's of this ship. Here's another one: Really good ice cream, served in really good waffle cones. Complimentary. Even better.
I had sort of decided to stop commenting on the foibles and faux pas of our fellow passengers, but Donnie convinced me that some more of them are worth chronicling. This evening, while we were waiting in a short line to be given a table at the dining room, the stern-looking elder gentleman at the head of the line told the Maitre'd that he wanted a table "On the Port side." He was pretty strong about it. The Maitre'd checked his laptop and after some time, found a table and sent the waiter followed by the gentleman and his wife on their way. My reason for describing this? We were way out at sea. It was overcast. Looking out the Port side, you saw exactly the same thing you saw on the Starboard side. I have no clue why this fellow wanted a table "On the Port side".
I have also noticed that many of the "more life experienced" passengers have extremely stringent demands about their food. One "experienced" gentleman who was sitting near us at breakfast, got up, tilted his chair against the table to indicate that he wasn't leaving the table and, picking up his cane walked away. He came back a few minutes later followed by a waiter holding two carafes. He told the waiter to pour some hot water into his cup. The waiter started to, but he stopped him and requested "a fresh cup", so the waiter complied. When he had filled the cup about a third of the way with water, the man stopped him and asked him to fill the rest of the cup with coffee. I guess he likes very weak coffee. There have been a great many such instances where people want their steaks very well done, or they pre-order shrimp cocktail every night (it's only on the menu once in a while), or they want their eggs on a separate plate from their bacon.
One woman we were sharing a table with at dinner the other night, I'll call her Gina, after she finished dinner, called over the waiter and asked for her usual copy of the next nights menu. He brought it. Gina then looked at the menu and told us that, as she expected, there was nothing she wanted. So, she wrote out, in longhand, on the margin of the menu, what she wanted for dinner the next night. She told us that it was always the same. Baked chicken with no seasoning, and some kind of sides, also with no seasoning. Strange, she had just finished a dinner of Veal Parmigiana. She then handed the menu to the waiter. This lady was in the "no fixed time, no fixed table" dining room. She expected them to bring her the requested special dinner whenever she showed up the next night, at whatever table she sat at. The hard-working dining staff always tries their best to satisfy.
Donnie has taken a little hint from these people. For dessert most nights when we are eating in the dining room, she orders the ice cream, which is always on the menu, but, she requests mixed berries to put on the ice cream, which aren't. The waiters always satisfy her request, but she told me tonight that she thinks she noticed that they grimace slightly when she asks. I'm not sure. I have decided to join in and ask for extra ketchup on my waffles at breakfast.