Searching for the Vikings
Thursday, August 24 - Day 23: Liverpool, England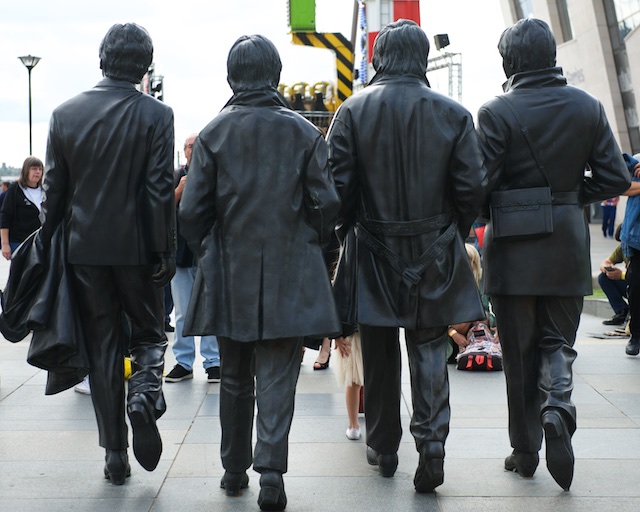 We woke to sun streaming through the glass doors of our balcony. Don't worry readers, it didn't last long. By the time we were washed, dressed and breakfasted, it was gone, leaving grey skies and looming clouds, then some rain. Luckily, the rain only lasted a few minutes, but the skies were threatening. We must be in England.
Today we had an excursion to the "Roman City of Chester". We met in the ship's theater and when our group's time came we went out the gangway to the Liverpool floating dock. Liverpool, on the river Mersey, has very big tides, fifteen feet, if I remember correctly, so they built a floating dock to make it easier for the cruise ships. The gangway from the ship to the floating dock is always at a reasonable angle. However, one has to get from the floating dock to the land. We had to walk up a very steep, long ramp to the port. Some people were having a lot of trouble.
We made it to the terra firma, caught our breath and found our tour bus. Our bus driver, whose name was Bob greeted us. Holy moly! He sounded just like Paul McCartney, or maybe George Harrison. His Liverpool accent was unmistakable. You should have heard him when he greeted Donnie with "Hello, Luv". Our tour guide introduced himself as Tom. Later, while we were driving, he told us his full name, Tom Jones. He said he gets a lot of jokes about it. He then told us that at some point he was going to sing for us. He said we could tell our friends and relations that we heard the real Tom Jones sing for us, live. He said the other one's real name isn't Tom Jones, that's just his stage name, his real name is Thomas John Woodward.
We drove for a while while the guide told us all about the city of Chester, where he was born. It's right on the border between Wales and England, but it's English. It's a very old place, first lived in by some early British tribe, then occupied by the Romans from about 79 AD, for almost 300 years. Then the Saxons came, and then the Normans. He said there are artifacts and building remains from all of them. It's a walled city, and some of the wall is Roman, some is Saxon, and some is Medieval. There were some Roman ruins, even part of a Roman amphitheater.
He told us that the tower on the City Hall has three large clocks, one facing North, one facing South and one facing East. He told us that there is no truth to the rumor that the reason for the missing West clock is that the people of Chester wouldn't give the time of day to the Welsh.
After a couple of hours we were back on the bus and were headed back to Liverpool. At the very end, just as the bus was parking at the cruise terminal, he sung a little part of a Welsh song. Friends and relations, we heard the real Tom Jones sing, live. He apologized for his singing. Still, he was very informative and a good tour guide, if not a good singer.
It was now early afternoon, and instead of going back on board the ship to have a free, if mediocre lunch, we thought we would find lunch nearby in Liverpool and see a little bit of the city. As we left the cruise terminal, two security guards greeted us and Donnie mentioned that we were looking for a place to have lunch, so one of them, with a very thick accent that was hard to understand, said "follow me" and walked us a few yards until he could point out where we should walk to a little pub that he said would have a good pub lunch. Everybody we have encountered in every port has been most helpful and nice.
We had a great pub lunch, Donnie had Fish & Chips and her favorite Swedish pear cider, and I had a Steak & Ale Pie, with mash (mashed potatoes) and gravy, and a hard apple cider. It was yummy. They were playing some recorded music. This time it was, guess who? Yes, John Denver. Oh, and Dolly Parton, of course, very English. What happened to the Beatles?
This is not the city for a Beatles hater. There are Beatles memorabilia everywhere: statues, signs, posters, pictures, etc. There's a museum called "The Beatles Story". There's a re-creation of The Cavern, the club where the Beatles first played, and there are a lot of Beatles tours, which take you to places they went and places that influenced them, like "Penny Lane". As somebody said, the Beatles put Liverpool back on the map. I was never really a Beatles fan when they were active, but I do think that some of their music is good. Donnie refuses to acknowledge their existence because she says she was a rock-and-roll fan back then and they ruined it. She pretends that she doesn't know their names or any of their songs. Hah!
We staggered back to the cruise terminal (our feet were hurting by now) and as we did we passed the ramp that leads to the ferry to the Isle of Man, which is our port of call tomorrow. Right nearby was a very large number of motorcycles, all driven by guys of a "certain age". Later, when we were on our balcony, we saw even more motorcycles parked right on the floating dock, next to the ferry ramp. In all, there must have at least a hundred, maybe two hundred. We wonder if there isn't some kind of motorcycle event on the Isle of Man tomorrow. We may find out.
We walked to the terminal and went in. Donnie realized that there was free WIFI in the cruise terminal, so I went back to the ship and she read her emails and sent new emails to the rest of the galaxy.
Chester was very interesting and had a lot of very picturesque buildings and architecture which was spoiled by the signs for Svarowski, and TJ Maxx, and McDonalds, and every other multi-national retail corporation. I think that the city has been too greedy. They had a very pretty place, with great historical significance and now it's a big shopping mall.
We didn't get to see a lot of Liverpool, and the part we did walk through seemed to be the financial district with many large stone buildings containing banks and insurance companies and other financial institutions. The area near the river was more fun, and wasn't too crowded or touristy.
Oh, and finally the sun came out. When we were back in our cabin on the ship, of course.