Searching for the Vikings
Tuesday, September 5 - Day 35: St. John's, Newfoundland, Canada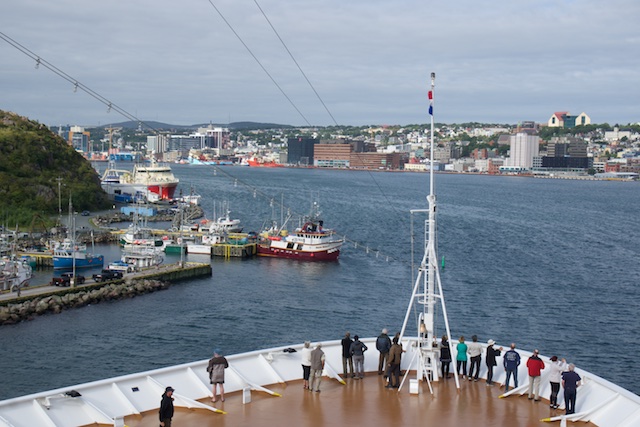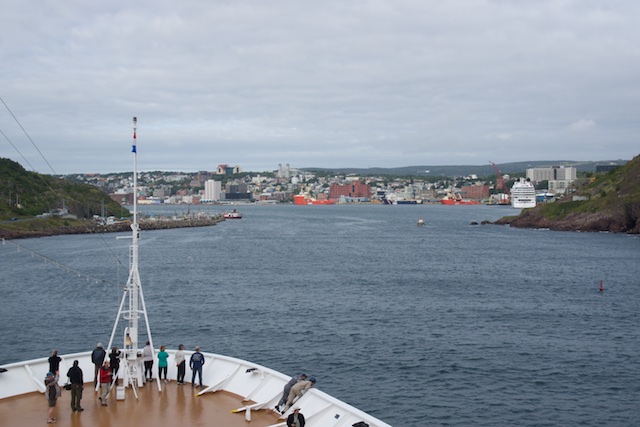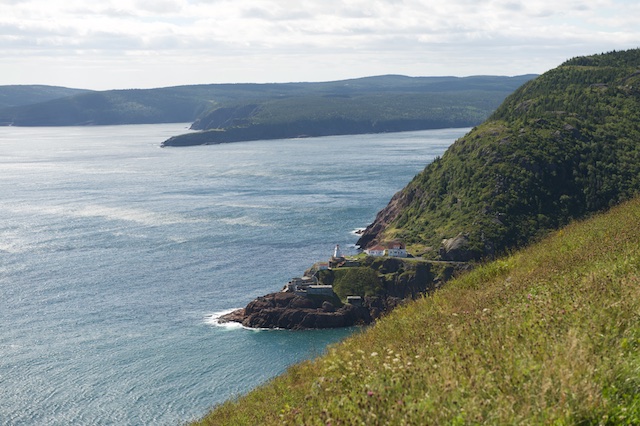 We woke up to very bright sunlight streaming in the balcony windows. By the time we did the usual morning routine, the sky was completely covered in dark clouds, horizon to horizon. So what else is new? The Captain had told us that the entrance to the harbor was extremely narrow, and it might be interesting to watch the ship sail in, so at the appropriate time we were on the not-very-secret-anymore deck six forward overlook, with more people than ever before, watching the ship extremely slowly and carefully squeeze into the harbor and then dock.
We had booked another excursion for this morning so we went down to the theater to get stickered and released to the buses, and as the young woman crew member was making some announcements about the excursions, there was an announcement over the PA that in a few minutes the Crew Safety Drill would be occurring and that there would be no crew services, and there would be a lot of crew-directed announcements over the PA during the drill, which we were to ignore. The young woman in charge of getting us out to the buses nearly panicked and ran from the room barking into her walkie-talkie. I think somebody somewhere got their timing a little mixed up.
When she came back, she tried to tell us something but was interrupted by the PA system, several times. She finally got to tell us that the gangway was overcrowded and we would have to go down the crew elevators, through the crew corridors, and out the crew gangway. Cool! Then she called our excursion, and once again, there was a mad pushing and shoving match to get to the theater exits. Only a few minor broken bones later and we were heading down the crew stairs, the crew elevators being completely hogged by the earlier and more aggressive excursioneers. It's important to be the first one on the bus, otherwise you might not get the very best seat.
One thing I noticed that Holland America does that is very smart. On every bus excursion we have been on, the front seats of the bus are covered with a sign indicating that they are reserved for handicapped people. There has almost never been a handicapped person in these seats, so they usually go empty. I think they do this to prevent fist-fights over the seats with the view out the large driver's window.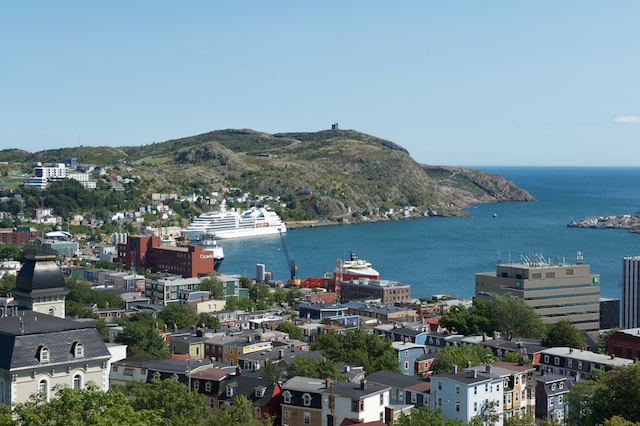 By the time we got on the bus for our excursion "Highlights of St. John's and The Rooms", the sun was back out and it was a beautiful day. Donnie had booked this tour. I'll explain why shortly. The first part of the tour was a bus drive up to a place called Signal Hill. As you might guess from the name, it's a hill. It has an imposing, castle-like tower at the top. When you get to the top, there's the usual parking lot, and, I gather, inside the tower is the usual souvenir shop. But, it has a magnificent view of the sea, the harbor, the town, and the land for miles. A really, really impressive, postcard-picture view. And the sun was out. Another interesting historical fact about Signal Hill was that Marconi, the inventor of radio, had received the first transatlantic wireless signal there. Historically Cool!
After our allotted twenty minutes at Signal Hill for picture taking (we were told not to go into the souvenir shop) we were back on the bus for a short driving tour through St. John's. This is what Donnie was waiting for. This is the reason she booked the excursion.
Have you ever heard of a TV show called "The Republic of Doyle"? No, I'm sure you haven't, unless you're Canadian. Only Canadians, and a very, very small number of Americans who subscribe to a TV streaming service called Acorn have ever heard of, much less seen the show. This silly show was on for six seasons a few years ago. It was filmed entirely in St. John's. It was ostensibly a comedy/detective show. It was about this family who are in the private detective business. The comedy was very juvenile and silly, and the show was, in a sense, very violent. There were many car chases, kidnappings, stabbings, shootings. In almost every episode, in fact several times an episode there was a big fight during which Jake Doyle, the main character, got hit in the face by either a baseball bat, a big wrench, a household iron, or some other hard, heavy object. He never got hurt. It was a kind of cartoon violence where nobody got very hurt or killed, no matter what happened. Why am I telling you this? Donnie loved "The Republic of Doyle". When she found out that there was an excursion that might take her past some of the places that the show was filmed, she was in ecstasy.
As we got back on the bus at Signal Hill, Donnie mentioned the show to the lady bus driver and was told that yes, everybody in St. John's loved the show and yes, we would be passing some of the places in the show, and the driver even told Donnie where the Duke's Pub was, right near our cruise ship. The Duke's pub was the location for the Doyle's bar in the show. Needless to say, Donnie took a lot of pictures out of the bus window. When she attempts to explain why, I think it will cause some people to think she's nuts. I often do.
Our next stop after driving a little though the town was a place called "The Rooms", which is the explanation for the strange-sounding name of the excursion. "The Rooms" is a strange-sounding name for a new museum that was built in St. John's. It's a very imposing, large modern building sitting on top of another big hill, and is visible for miles. As it was explained to us, they took all the little museums in town and combined them into this one. The tour guide gave us each admission tickets to The Rooms, and said goodbye as we were on our own after that, except for periodic shuttle school-buses that would take us down the very steep hill back to the ship.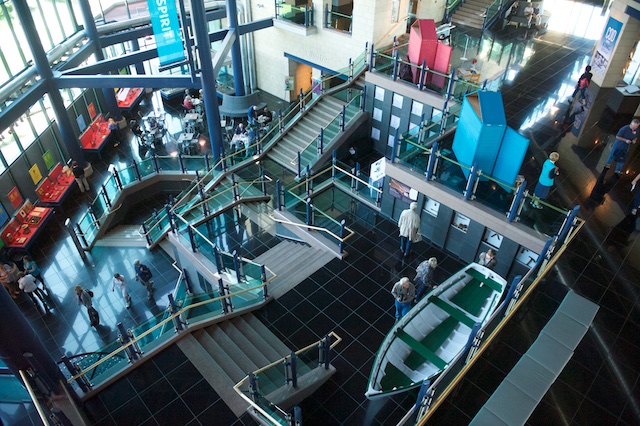 We went into The Rooms. Inside was very contemporary architecture with glass and steel and wood and stone. Most of it, however, seemed to be empty space. We took the elevators to the top floor and took some pictures down into the space, out of the big glass windows, and even went out to some outdoor overlooks to take pictures from there. We went into a couple of the exhibit spaces, but they were small, and to be honest, not very interesting. The problem was that much of the exhibit space was about local history and culture. The history and culture of St. John's and Newfoundland just wasn't exciting to us at this point. I think we have museum overload, and local history and culture are down at the bottom of our museum interest list. Now if they had had an exhibit on "The Republic of Doyle", we'd probably still be there.
It was about lunchtime, so Donnie suggested we have lunch in the restaurant on the fourth floor. Our tour guide had mentioned the local brewery made a beer called Iceberg and suggested we try it if we get a chance. The restaurant at The Rooms did have it, so I tried it. It was pretty good, but the best part was the label. It read "Made with pure 20,000 year old Iceberg water". I wonder how they date the water.
After lunch, it was too late to take the shuttle bus back to the ship, so we had to walk. Fortunately it was all downhill. Unfortunately, it was all down a very steep hill. Some places were even stairs. When we got near the bottom, Donnie asked if we could walk one block away from the direction of the ship. Even though I was tired, I, being the wonderful husband that I am, agreed. Can you guess where she was taking me? No? It was the Duke's Pub. The place used to film the exterior scenes of Doyle's Pub and house. The interiors were filmed in a set, made to look the the real Duke's Pub, in a warehouse on the outskirts of town. Donnie took me to the Duke's and peeked inside for a couple of seconds. She was happy. That's good.
After we were back on board the good old M. S. Rotterdam, Donnie said she wanted to go up to the buffet to get some ice water in her thermos because she was thirsty, so out she went. A few minutes later she came back with the real reason she went up there, her afternoon ice cream cone. I had guessed that one.
(… afternoon got out of its early afternoon shirt and put on its late afternoon one…)
We went back out to the downtown area, which is only a block from the ship. Donnie wanted to see more of St. John's since it was still a beautiful day and she didn't want to waste it indoors. I probably forgot to mention that it was fairly warm today except when we were up on the very windy Signal Hill. The air temperature is about 75, but in the sun it feels warmer. I realized, after we were walking around the downtown, that Donnie had an ulterior motive for this little stroll. She was looking for a "Republic of Doyle" T-shirt. No luck. We walked around the many shops and many, many pubs. We ran across a refurbished old-fashioned lunch wagon, containing "Ziggy Peelgood's Famous French Fries". I was so upset that I wasn't the slightest bit hungry. I would have really liked to have some Ziggy Peelgood's famous French fries. Who wouldn't? We even found "Smoke's Poutinerie" whose awning was emblazoned with big letters reading "How do you like your Poutine?"  Drat! I wish I had been hungry.
Maybe I have to explain Poutine to some of you who may not have heard of this Canadian national delicacy. Poutine consists of French fries, covered in brown gravy and cheese curds. That's your basic Poutine. There are more elaborate versions, of course. You can add things like ham, or sausage, or even lobster, but the basic is probably the best. Every time I mention Poutine around Donnie, she goes "yechh!". It baffles me why. She likes French fries, covered in ketchup, or, more accurately, she likes ketchup with a few French fries swimming in it. She likes cheese, although cheese curds are a bit unusual. Aha, I finally got it! Donnie doesn't like gravy. I don't recall her ever eating anything with gravy. Oh, wait. She did enjoy a steak and ale pie in Dublin. Another of my theories down the drain.
Eventually we grew tired and went back on the ship. As we were resting on our balcony, we were suddenly treated to something truly unique. It seems that ship Captains have this ritual of saluting one another when passing using the ship's horn, especially if they know the Captain of the other ship. It seems to be some kind of language because it's usually a variety of short and long blasts of the horn, and then there's a response from the other ship, and sometimes it's like a whole conversation of horn blasts. It's usually much too short to be something like Morse code. They also do this when leaving port. Well this afternoon we were treated to a ship's horn symphony. I think that there were at least three and maybe more ships involved and it went on for at least ten minutes. Bleeps and toots from every direction. Everybody on our deck was leaning out of their balcony windows and laughing and shaking their heads. Another fun and wild experience.
At a little before eight in the evening, the ship started to pull away from the dock, and then Captain Eric did his signature ship's pirouette, turning 180 degrees before heading out of the very narrow entrance to the harbor. We are certain that he gets a big kick out of doing this. It was almost dark out, but the lights of the city were beautiful. Also, many of the locals were watching us leave and some were waving with flashlights and a few were setting off firecrackers to say goodbye, even some high up on Signal Hill and others perched on the high rock cliffs near the harbor entrance. It was cool. It was also cool that we could just make out the very high, very close rocks on either side of the very, very narrow harbor entrance. Did I say cool. Maybe I meant extremely scary.