Searching for The Maltese Falcon
Friday, May 18 Rome to Celebrity Reflection
We woke up to a sunny morning. We had arranged with the hotel for a car and driver to take us to the cruise port, which is a city called Civitavecchia, about an hour and a half from Rome. The driver arrived exactly on time. We had an uneventful drive to Civitavecchia, and arrived exactly when the driver predicted. From the arrival of the limousine in front of the cruise terminal building through check-in and onboard the ship took only
ten minutes
. Amazing! On some of our previous cruises this process took almost two hours. Our ship, the Celebrity Reflection, appears huge from the pier. Every previous ship we have been on (all 3) have appeared huge, but this is definitely the biggest we have been on. It's supposed to hold about 3000 passengers and 1000 crew members. That's big. Not the biggest, which is supposed to hold between 5500 and 6800 passengers. There aren't many
hotels
that big. There are a lot of
towns
that aren't that big! We were handed a welcome aboard drink as we got onboard but we could only gulp down a sip because about ten steps further on a woman crew member told us that we weren't allowed to take the drinks on the elevator. A little poor planning there. I guess we could have just stood by the elevator and finished our drink, but we were in a hurry to see the ship, and there were more people coming behind us wanting to get on the elevator. Since it was lunch time, we went up to the buffet. It was very impressive. There were a large number of "stations" with different choices: A hot food station, with several interesting choices including a person carving roast beef to order, also stations for Indian, Mexican, Asian, pizza, a pasta bar, a salad bar, a sandwich bar, cakes and pastries, ice cream, and more. Everything looked scrumptious. I tried a small sampler of several things. All were delicious. At least at this point, the buffet seems better than on any of our previous cruises. We explored the ship, which is very modern, spacious, and impeccably clean, and then went to the mandatory muster drill. By law, all ships must do a muster drill before they leave on the cruise. In our experience, some cruise lines are more stringent about the drill than others.
true
. His grandfather and my grandfather were brothers. His father was a white Jewish guy, like my Dad, his father's first cousin. I don't know if Lenny considers himself Jewish. I've never met him. Often this gets a reaction like "Really?" and I explain it as I just did. The first time we showed up at Blu, at the hostess station where we had to show our plastic cruise ID cards, the hostess, a very sweet hispanic lady named Miriam noticed my last name and we went through the usual back-and-forth. This time however it had an amazing effect. Every time we entered Blu after that, Miriam recognized us immediately and said "Hello Mr. and Mrs. Kravitz" and was most friendly and helpful and even remembered our room number which she had to enter into her computer. Every time. We had an excellent meal, which we had at Blu almost every time. Our servers were two young women, one a hispanic lady named Edith (my mother's name) and the other an unusually tall Thai woman, whose name badge had a very long, extremely unpronounceable name. She and Edith both said to use her nickname that everybody called her, "Meow". They were both very helpful and friendly and "Meow" was funny. On our previous cruises we had often encountered crew members who seemed friendly but it alway somehow appeared phony, like they were told that they had to greet everyone and ask how they were. On one cruse it was very obvious. Crew members you passed in the hall that were mopping or vacuuming or performing other non-guest-related tasks would alway say "Hello. How are you?" It was obvious that they
had
to do this. This bothered me. On this cruise, when someone greeted you or spoke to you, you somehow knew that it was usually genuine. Edith and "Meow", who were are servers almost every night in Blu, along with Miriam, were genuinely nice, friendly people. Tonight we happened to sit next to a couple from New York, an amazing coincidence. Then we found out that she was from Manhattan and he was from Glen Oaks, Long Island. Donnie was born and grew up in Manhattan, and I grew up in Glen Oaks. Talk about amazing coincidences. The woman talked up a storm, almost forgetting to eat, but it was a pleasant dinner anyway. Today the weather was perfect and so far it has been a perfect day.
Saturday, May 19 Messina & Taormina Sicily, Italy
We awoke to a nice sunny day. We had a very good breakfast in Blu which included fresh squeezed orange juice, a first for any cruise we have been on. Very Nice. The ship pulled into Messina about 9:30. We had read before the trip that many people recommended taking an excursion to the hilltop town of Taormina, which was about an hour away from Messina, so we had booked one. We went down to the ship's theater which was the meeting point for all excursions. The entire handling of the excursions was very efficient and well done. As you entered the theater you showed your excursion tickets to a crew member who then handed you a numbered sticker to wear, the number being both the group you were in, the number your group would be called by, and the number of the bus you would be riding. After waiting for our number to be called, we were told to walk down two flights to the gangway. On some other cruises the whole excursion process was very poorly handled and chaotic. It would turn out that almost everything on this cruise was done very professionally and efficiently, with no chaos.
We found a shop that sold all kinds of brightly painted Sicilian pottery, and Donnie bought a little pottery donkey cart, hopefully
not
made in China. We reached the end of the main street and turned toward the Greek Theatre but you had to buy tickets to go in and we decided we didn't have enough time to explore it properly. At some point, happily, the sun came out. We went to a nice little bakery near the pottery shop, found a table outside and ordered two cannoli. We also wanted something cool and refreshing to drink. Donnie tried to order iced cappuccino but the young waitress shook her head. No iced cappuccino, I guess. She suggested in a mixture of Italian and a few English words that we order coffee granita. When it came, wow! It was the best cannoli we ever had and the coffee granita was a real, strong, sweet, Italian coffee slushy. Fantastic! We walked slowly back down the main street towards the excursion meeting point, but Donnie had to get a gelato fix before we got back on the bus. (are you still keeping count?) We took the bus back to the ship. After dropping off stuff in our stateroom (there were canapés and more fruit again) we had a light snack in the buffet. There was a surprising selection of food at an off hour which was very impressive. We walked 3.7 miles today. Donnie was disappointed. We had dinner at Blu again. The service not very good this time because they sat us at a table that Edith and "Meow" weren't handling. The food was OK but I wasn't very hungry. I have to admit that Taormina was a disappointment. I had read online a large number of comments on what a lovely place it was and not to miss it. It was a lovely place if you like shopping. Too many stores, not really much to see or photograph, except the Greek theater which we decided we didn't have time for. I wonder if Messina would have been a better choice.
Sunday, May 20, Valletta Malta
We watched the ship pull into this medieval city. Everything was made of yellow stone. It was mostly cloudy with rain threatening. Today is the big day! I'm going to search for the Maltese Falcon today. I already have the perfect place for it in the living room. We started on our exploration about ten AM but as soon as we exited the gangway it started to rain heavily, so we went back aboard and relaxed for a while hoping that the rain would stop. About 11:30 the sky looked a little clearer so we went back out to Valletta Malta.
Monday, May 21, At Sea
We awoke late, probably because we lost an hour due to time zone change. Since it's a day at sea with no early morning excursions, it doesn't matter. After breakfast in the buffet we went on a "galley" tour. We have been to two of these on previous cruises and they were interesting. The one on the Island Princess was the most impressive since the galley they showed us was huge and it was on two floors (oops, I mean decks) with an escalator for the waiters to get to the dining rooms. This one started out with the Hospitality Manager introducing all the various Head Chefs and other people. He had a strong German accent and tried to be funny but he wasn't really. This took a lot of time. Then we spent a lot of time waiting for our group to be called to go on the actual tour. The galley tour was pretty short. We learned one interesting fact: this ship has sixteen galleys! The rest of the sea day was spent finding places to chill out or exploring the ship or eating or whatever. Celebrity cruise line seems to have fewer activities on sea days than some of the others we have been on. Holland America had some very good guest lecturers. At one point we went back to the room and while I hung out there Donnie said she wanted to go to the buffet and bring back something to drink but she came back with ice cream. (ding, ding!) We had dinner in Blu again and sat next to another nice couple from north England. We have met a lot of people from the UK on this cruise. It seems like there are more people from the UK than from the US.
Tuesday, May 22, Mykonos Greece
It's a bright sunny morning. We awoke early and looked out balcony door. Amazingly there's an island out there with lots of white buildings. We must be at Mykonos. After the usual showers, etc. we decided to skip breakfast and head out early. Unbelievably the time from when we got off the elevator to when we were on the tender was less than a minute. There were no tender tickets to wait in line for, no waiting for numbers to be called, no big line waiting for the next tender. Maybe going out early had something to do with it, but it was not
that
early, it was about 8:30. We took a very, very windy and bumpy tender ride but it was short. The tender was really a local tour boat, not one of the ship's lifeboats. It was much more comfortable than a lifeboat, which were used as tenders on some of our previous cruises. We walked around a lot of amazing Mykonos. It was indescribable: beautiful, incredibly clean. wonderful. As we walked, we saw store owners or employees out sweeping streets in front of their shops, wiping down benches, cleaning windows. Since
everything
is covered in a thick, white, glossy paint it was already very clean looking, but they were wiping it off before the crowds arrived.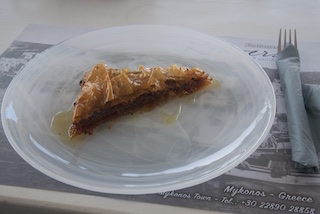 Donnie said that the baklava that her grandmother made was better, but I have to take her word for that. After the windy morning we had beautiful weather in a beautiful place. The day so far: perfect. At one point we went into a local bakery. It was below street level, down some narrow, awkward steps in an old room. The baked goods looked delicious but we weren't hungry and we aren't allowed to bring any food onboard the ship.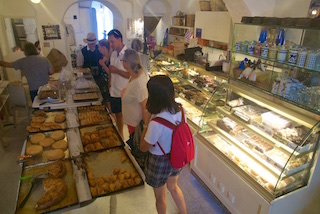 We walked around taking gazillions of pictures. We found out that there are 400 churches on the island, most very small.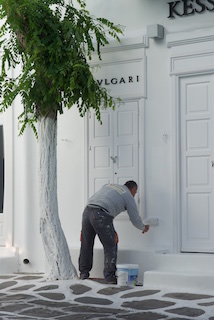 The streets, on first look, appeared to be made of flagstones with wide grout fillings between them, everywhere, but when you looked a little more carefully you saw that the "grout" was painted on and had nothing to do with the shape of the underlying stone. It was a bit of fakery. We did walk a little outside the "touristy" area and there it was a little less clean and new. We had an excellent dinner in the buffet instead of Blu this time. I have tried the Indian dishes several times in the buffet and they have been very good every time. Donnie had ice cream for dessert of course (bing! bing!). When we got back to our stateroom, there was a message on room phone that our "on our own" excursion we had booked in Pompeii was canceled so we had go down to the Excursions desk to rebook the guided tour excursion. Today our iPhones indicated 4.8 miles walked and 29 floors of steps climbed. The latter
must
be wrong.
Wednesday, May 23, Rhodes, Greece
After we left the ship we walked into the Virgin's Gate in the medieval wall and entered the very old city of Rhodes. The city is full of old stone buildings with modern shops and restaurants inside. Unlike Mykonos these buildings aren't new construction disguised to look old. These
are
old. The tourist area was very clean, but the residential area, not so much. As usual, we walked around taking lots of pictures.
was
in a very touristy area. We walked a bit more after lunch and then went back to the ship to collapse. We happened to walk through the buffet. One station had genuine-looking Spanish tapas so good looking that we had to have some. They were great! Then we went to one of the bars called the Passport bar. Donnie had an excellent mojito and I found the one bartender who knew how to make a "Painkiller". We had tried this cocktail for the first time many years ago on the Caribbean island of Tortola, where they make the Pusser's Rum which is supposed to be one of the key ingredients. We had liked it. The one I had today was pretty good too. We went to dinner at Blu again. about eight. It was more crowded than when we went at earlier hours. Donnie had soup and Meze (middle-eastern small dishes). Unfortunately, I had squab that was so tough I couldn't even cut it. I only had a couple of bites, and they were hard to get. This was a major disappointment, since everything we have had to eat so far on the ship has been very good. Today's score: 5.9 miles walked, 17 floors climbed.