Searching for The Maltese Falcon
Thursday, May 24, Santorini Greece
Here we are anchored off Santorini (which is the thirteenth century Latin Empire name of the island. The official Greek name is Thera). The island, actually a group of islands, forms a roughly circular ring. This is because in 1646 BC a huge volcanic eruption took place. The explosion is estimated to have been about the equivalent of 40 atomic bombs. It blew out the interior of the island, leaving just the rim of the volcanic caldera. We got up very early to get to the excursion we had booked. We had read that all the cruise ships anchor just off the small sea-level old port called Skala near the town of Fira, which is the major tourist destination. To reach Fira, you have to take a tender from the ship to Skala, which is really only about four buildings, then either take a cable car up to Fira, or walk up 587 steps or ride a donkey up the 587 steps (walking up also involves avoiding the donkeys and their leavings. It was not recommended).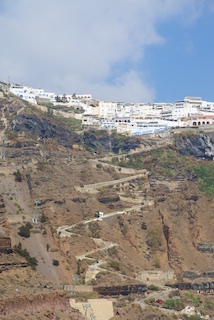 The cable car system can only handle about 600 people per hour in each direction, and there are 3000 passengers on our ship, and we found out that there were three other ships scheduled to be there at the same time. It all sounded unpleasant. There was an excursion offered, however, where you took a tender to a different port, then a bus to the city of Oia (which is pronounced ee-a), spent a little time in Oia, which is supposed to be very pretty and photogenic (we read that most of the classic postcard-type pictures of Santorini are taken in Oia), and then take a bus to Fira. This sounded much better, so we had booked this excursion. The sky got very cloudy while we were on the bus to Oia, but it cleared up later. Of course we walked around Oia taking lots of pictures. Once again the touristy area was attractive but artificial, full of chain stores, restaurants and small hotels, all perched precariously on the side of the plateau. They were all old greek-style architecture, but we were sure that they weren't old buildings. Originally, people used to live in caves in the side of the cliff, and you could see some of them.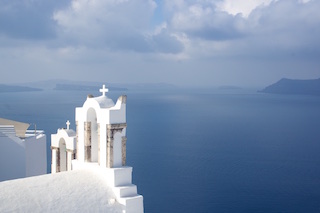 Our tour guide had explained that there are seven Hundred churches on Santorini! Many are not used. It seems that the Greek Church owns lots of land because of something that happened when the Ottoman Empire fell, and the church won't give up the land.
Friday, May 25, Piraeus (Athens), Greece
We awoke early and had a leisurely breakfast. I had a bagel, cream cheese and smoked salmon. The smoked salmon on this ship has been excellent, the best smoked salmon of any cruise we have been on. It's a beautiful day with a cloudless sky. We are docked in Piraeus, the port city closest to Athens. We only have a few hours here, so we can't see Athens the way it deserves, so we are going to see the major highlight: The Acropolis. We have booked another "on your own" excursion, which means they take us in a tour bus to the entrance to the Acropolis, drop us off and then pick us up again at a pre-arranged time. We don't have to follow some tour guide around the Acropolis but can go at our own pace, stopping to take pictures when and where we wish. We prefer this. We got on the bus which drove us the 7 miles to Athens. Even though it was supposed to be just a drop-off and pick-up, the tour guide said they were going to give us a "panoramic tour" of Athens first, so we drove around the center of the city, in heavy traffic, sometimes going around the same blocks several times, stopping at the 1896 Olympic Stadium for picture-taking.
It took at least an hour. Too long. From what we did see Athens is your typical modern, bustling, noisy, crowded big city. It was a bit dirty and had lots of graffiti, but lots of cities do. Eventually we got to the closest place to the Acropolis where the bus could drop us off. The tour guide, after much talking, told us how to get up to the ticket booth and where and when he and the bus would meet us. We could see the Acropolis from many places on the bus ride, and it was extremely obvious that it was very high up. Nobody, but nobody ever mentions how high or how difficult it is to get to the top. Our tour guide said it was easy. The information you find online barely, if ever, mentions the walk up. There is supposed to be an elevator, but only for handicapped people. After some research, I found that the Acropolis is 250 feet higher than the surrounding street level. That's about the height of a 25-story building! From the bus, we walked up and up some steep pedestrian walks and steps for quite a while and finally got to the Acropolis ticket office. There was a pretty long line, probably a couple of hundred people. As we were waiting I overheard somebody nearby say that there was a short cash-only line. I saved our place in line while Donnie went to the front to see if this was true. It was. Donnie came back smiling. Then we walked the many steep, slippery marble steps up to the Acropolis. It took quite a while but we made it! Need I say that it was very impressive. Old... Very old. There were a lot of people but the crowd wasn't too bad. Today, ours is the only cruise ship in town, which no doubt reduces the crowds somewhat. Here I have to be totally transparent and state that my pictures are very carefully taken and sometimes cropped to avoid the scaffolding, cranes, and other incongruities. It wasn't easy. The Parthenon, in particular, probably the most famous ancient building in existence, had a lot of scaffolding and inside was a big, ugly, modern industrial crane. I could only find some obscure angles of part of the building to take pictures without the ugliness. I also found out that the scaffolding has been on the Parthenon since 1983! Come on guys!
Saturday, May 26, At Sea
It's a sea day. Celebrity Cruise Lines, or at least this cruise, doesn't have much in the way of activities on sea days, or at least ones we care about. We are not going to the casino to gamble, nor to the spa for expensive spa treatments, nor are we attending scam "art auctions". After a buffet breakfast outdoors, we went to the Future Cruise desk because Donnie wanted to pick up brochures for other Celebrity itineraries. Then we went to one activity we were interesting in: a lecture by the Captain on navigation. The Captain was very funny. I said that if he got tired of captaining a cruise ship he had a good alternative career as a stand-up comedian. There wasn't much about navigation in his lecture, though. As we left his lecture, we noticed the entrance to a small theater that we hadn't seen before and we went in and briefly attended the end of a pitch on Celebrity Alaskan cruises and tours. We didn't know that Celebrity had cruise-tours of Alaska, which is part cruise and part land-tour. We had considered taking one of these soon on other cruise lines, but now we might consider doing it on Celebrity. Later we tried to sit on the deck chairs near the pool, or even elsewhere, but being that everyone was onboard, they were either occupied, or "reserved". We had read online that many people "reserve" a deck chair by putting a towel or some personal item, say sunglasses, on it early in the morning and leave it there for hours, or even all day. Celebrity says that this is not allowed and that after one hour the crew will remove it, but they don't actually enforce this. I suspect that the crew doesn't want the resulting problems. I won't bore you with the rest of the mundane things we did during the day, except to mention that Donnie had her first gelato on the ship (zing!). After a slightly disappointing dinner at Blu, we went to the late show which had been recommended by a woman we spoke to at dinner. It was mostly acrobatics, something like Cirque du Soleil. It was pretty good. Today's score: 2.9 miles 7 floors. Not too shabby for a sea day.
Sunday, May 27, Naples Italy
We are docked in Naples, Italy, however we are not going to visit Naples. Much as we would like to see the city, we have other plans. On this trip we have seen ancient Roman ruins, in Rome no less, and ancient Greek ruins, the Acropolis, the most famous Greek ruins anywhere, and now we are going to see the most famous Roman ruins outside of Rome. We are going to Pompeii! Today started mostly overcast. This time there was only a short wait in the theater for our excursion to be called. We got on the bus and met our guide, Jose, who was very talkative. It was a fairly short ride to Pompeii. When we got there, the sky was still mostly overcast, which makes it difficult for us to take good pictures. Jose seemed too talkative and kept stopping at non-interesting places outside the site to give history lectures. Eventually we got into Pompeii site proper and were not disappointed. The tour was very fascinating. Although the sun came out and it was very hot and humid, I won't complain too much because it made the pictures better. What isn't widely advertised is that the walking conditions in the Pompeii ruins are treacherous. There are streets with sidewalks, but they are ancient roman streets and ancient roman sidewalks. The streets are made of big, uneven rocks which are very slippery and the sidewalks are at least a foot above them, in some places even higher. There are also "stepping stones" at judicious places to allow you to cross the street. The romans used these to avoid what was in the street itself: there was no sewer system except the streets.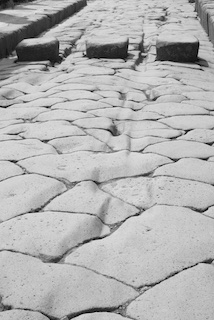 During our tour, one woman slipped and fell and was in agony. She may have broken her leg. Jose whipped into action and called the local EMT. After a few minutes some guys walked in carrying some boxes and a rolled up litter. There is no way that any emergency vehicle could get in. In fact there is no way any vehicle could get it. They EMT guys took care of the woman and after a few minutes got her on the litter and carried her out. We heard that they were going to take her to a hospital, accompanied by her husband and two of their friends. This only delayed the tour by only a few minutes, and afterward Jose continued on, unfazed. I suspect that this must be an almost daily occurrence here, because the streets are really hard to walk on while keeping your balance. Pompeii is amazing. It's huge. You would need several days to see it all. It's a real city, with streets, sidewalks, intersections, apartments, villas, shops, and a huge plaza called the Forum. Most of the buildings are just brick walls now, without the covering over the brick or a roof, but some still have roofs and there are marble carvings and columns and actual signs, in latin, carved into marble. There are even some wall paintings intact.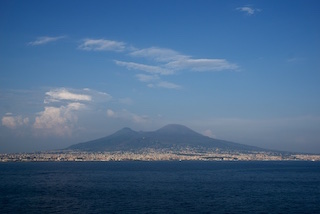 Although it has two peaks today, it originally had only one typical volcanic cone where the "dip" between the two peaks is now. The middle and top blew up in some past eruption, I forget which. The scary thing is all of the civilization: cities, towns, houses, stores, buildings, roads, hospitals, etc. that still surround the base of the volcano, which is
not
dormant. You couldn't get
me
to live there. As I write this, there are homes being destroyed by an unusual lava eruption in Hawaii. Scary! We walked 5.2 miles today, but only 1 flight of steps, according to our iPhone's pedometer and its questionable accuracy.
Monday, May 28, Civitavecchia to New York
We awoke early. We had to. Today is disembarkation day and they require you to be out of your stateroom by 8:00 AM. We had to pack everything yesterday evening and have our suitcases outside our door by 10:00 PM last night. This is cruise life. They have to clean the rooms and have them ready for the next set of guests who will be arriving onboard starting about 10:00 AM! Amazing when you think about it. For the crew, the cruise never ends. After getting up very early and doing the usual washing and dressing routine, we had a leisurely breakfast in the buffet, although it was very crowded. It was leisurely because even though we had to be out of our room by 8, we aren't leaving the ship until 9:45. We had arranged with the cruise line to be transferred directly from the ship to the airport, and our bus won't be leaving until 9:45, so we have to wait. After breakfast, we waited in our designated area until our number was called. Unlike some of our previous cruises, the disembarkation process was fast and efficient. We had to find our bags in the terminal building, but it wasn't very hard because last year I had a brainstorm. We went to a local store and bought a roll of three inch wide ribbon which had big red and white stripes and we tied some to the handles of our suitcases. It really stands out. A cute young female Italian college student was the "guide" on our bus. She tried to turn a simple airport transfer into a tour of Civitavecchia by pointing out landmarks and giving some history as we drove out of town. It was cute. She was very inexperienced, however, and even though she asked everyone which airline they were on and what their ultimate destination was, and called all this information in to somebody and got back some information, we ended up at terminal 3 instead of terminal 1. This wasn't a big problem. After we figured this out, it was fortunately a short walk to the correct terminal. At the terminal check-in and security were fast and efficient, and the airport was spotless. Even the restrooms were spotless. Our home airport, JFK is definitely
not
fast, efficient, or spotless. When we exited security and starting walking through the gate area we passed a large number of extremely high end stores. Famous, expensive designer clothing stores, very high-end jewelry stores, you know the names. I can't remember them all. This airport is more like a luxury shopping mall than an airport. I had read a while back that many airports now make more money from the rental for the stores than they do from the airlines. Donnie had a pass to a very nice frequent-flyer airport lounge which she got as a perk for getting a fancy-shmancy credit card. To get in, Donnie had to show her special airport lounge card. We also had to give them our boarding passes, passports, and Donnie's credit card, which were all scanned into a computer. I expected them to ask for a blood sample too. Inside there was free food and drinks, comfortable chairs, ubiquitous phone charging stations, rest rooms, showers, etc. Very nice. We had fresh personal pizzas, cold cuts and cheese, sodas and, of course, Donnie had gelato. Twice! (Bing! Bing!) Long story shortened: We flew home. The trip was wonderful. We really enjoyed walking around Rome, more than I had expected. I was disappointed by Taormina and a little bit by Malta, but it was fun to be able to say that we had been to Malta. Of the three Greek Islands we went to, Mykonos was the prettiest, if a little phony and touristy. Rhodes was perhaps the most interesting and historic. Santorini was, as I have previously described, disappointing. Athens, actually the Acropolis was incredible as was Pompeii. I didn't total up the number of miles we walked or the number of flights of steps we climbed, according to our iPhones, but it was quite a lot. Neither did I total up the number of times Donnie had Ice Cream or Gelato. I'm not that stupid!