Saturday - Aug 29, 2009.
After our recent episode with pick-pocketers, we were prepared and kept our valuables and IDs in money belts secreted under our clothing. We would foil any Canadian Evildoers! (Actually, Canada is a very safe place. The only Canadian Evildoer I have ever heard of was Snidely Whiplash, and he was probably being kept busy chasing Dudley Do-Right of the Mounties!)
It was a rainy Saturday, and the journey to the frozen north was relatively uneventful, except for a brief stop for a sandwich lunch at the world-famous Roscoe Diner in the world-famous metropolis of Roscoe New York, whose population-count depends heavily on the number of customers in the diner at any given time of day. (The 2000 census put the real population at 597!). One improvement at the diner worth mentioning is "Free Wifi"! We then continued northward, not finding any castles,or gold-leaf-encrusted palaces, or half-timbered medieval villages, or sun-drenched azure coastlines.
Eventually we found ourselves at the Canadian border. On previous journeys into the great white North, we entered into Canada unannounced and without fanfare. This time, however, due to increased security, we encountered an impressive looking "Export Control" area, festooned with a vast array of video cameras, and with lines of cars and trucks awaiting approval of their desired entry into the land of maple syrup. We waited briefly, and then when our time came we handed our passports to a bored young man who recited many questions from memory. Where were we from? Where were we going? What was the purpose of our trip? Was there anything in the vehicle that we were intending to leave in Canada (You never know. We might have been evil Vermont-made maple-syrup smugglers!). In actuality, we believe that the Canadian government now checks passports when you enter Canada because they know that the US government will check them when tourists return to the US and if they don't have them, they won't be allowed back into the US, and the Canadian government will be stuck dealing with the mess.
After being allowed to pass into Canada, we drove a short while into the city (village, hamlet?) of Gananoque, Ontario! Gananoque is known as the "Gateway to the Thousand Islands". It has a population of about 5200, and is quite small, and surprisingly not very touristy. I had been there before when I was a young teenager, but my only recollection was the name, which stuck with me. Its main (perhaps only) tourist attraction is the Gananoque Boat Line, which runs boat tours of the Thousand Islands.
We made a short drive through town, looking for hotels, and found the usual suspects: Quality Inns, Comfort Inns, Holiday Inns, etc. etc. They all looked like old 1950s motels, with a little refurbishment. We stopped at a couple and asked about rooms, but their prices were outrageously high, but the third try was more reasonable, and we had a room for the night. We settled into the room, and then went looking for dinner.
Sunday – August 30, 2009
We awoke and did our normal morning activities, had the mediocre, complementary breakfast, and went to the local Gananoque tourist information office to get a local map. We had to decide whether to take the Thousand Islands boat tour, but since the day was very overcast and it was raining intermittently, we decided to drive along the Thousand Islands Parkway instead. The road followed the St Lawrence River, and there were sufficient views of the islands and the river that we felt satisfied that we had seen the Thousand Islands.
We drove about two hours to Ottawa. We had no good map of the city, so we had to guess how to find some of the hotels that we had previously investigated. We finally found one to our liking, which was close to Parliament Hill and the major attractions. After checking in and settling into our room, we went out to see part of the city. First we walked the short distance to Parliament Hill, only to find that the street was full of people.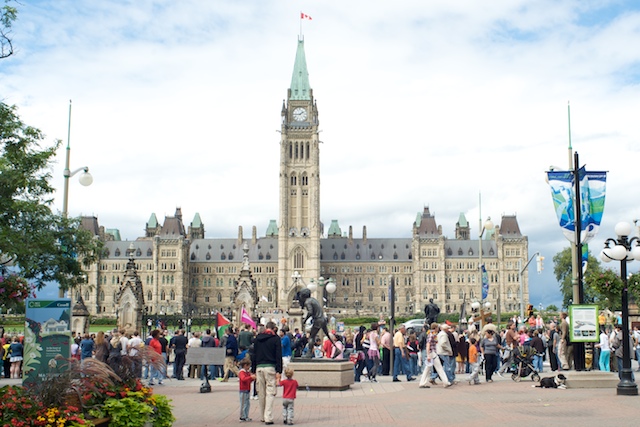 It was the Gay Pride parade! This was the fourth Gay Pride parade that we had come upon by accident, and the third one in a month! The three Gay Pride parades we had seen this summer had been in three different countries and two different continents, and we had not planned to see any of them. I'm beginning to think that they're following us. We went into the Tourist Information office to get a map of the city, and then went a few blocks to the Byward Market. The market is a multi-block area full of shops and restaurants, and we wanted to find a place for lunch (actually, since it was about 3:00 p. m. by now, it was more like drunch). We had a late lunch in a sea-food restaurant, and then walked around the market area. Ottawa is a pretty city. Very clean with lots of parks and flowers and lots of museums.
Eventually, we got tired and went back to the hotel to recuperate. Later that evening, we got hungry and went down to the bar in the hotel for a light meal. Donnie had a very nice salad, and I had some soup and what they called a "Sample Sized" hamburger, which was ideal since I only wanted a small snack. Oops! This is Canada. I forgot. I should have remembered when the waiter neglected to ask how I wanted my hamburger cooked. In Canada they have a law that requires all hamburgers be cooked well-done. Yuk! Well, for a gray, overcooked, dry hamburger, it was reasonably tasty. Hamburger lovers – don't bother ordering hamburgers in Canada!
Monday – August 31 2009
The day was beautiful, not a cloud in the sky. The temperature was in the mid 70's. I wore a short-sleeve shirt and slacks. Since this was Canada, and not the south of France, Donnie wore her parka and mukluks and she kept muttering something like "mush, you huskies". Did I mention that she was a big fan of the Iditarod dog-sled race held every year in Alaska? This is surprising because Donnie doesn't like cold weather, or winter, or northern places.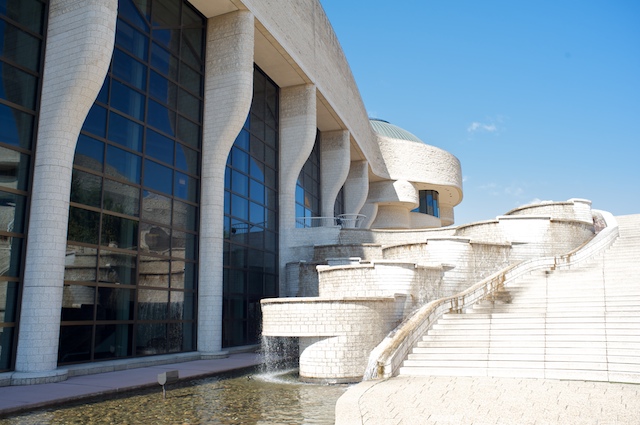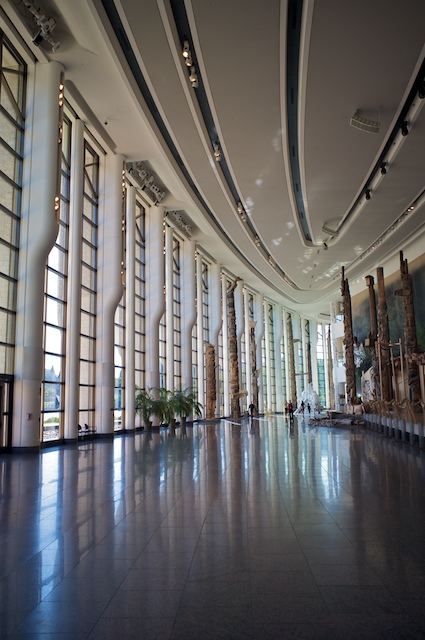 After breakfast, we went to the Museum of Civilization. This place is fantastic! The building itself is an architectural masterpiece. It's modern, curvy, full of beautiful spaces and light, and even though the museum houses ancient artifacts like totem poles, the modernity of the architecture doesn't clash with the exhibits.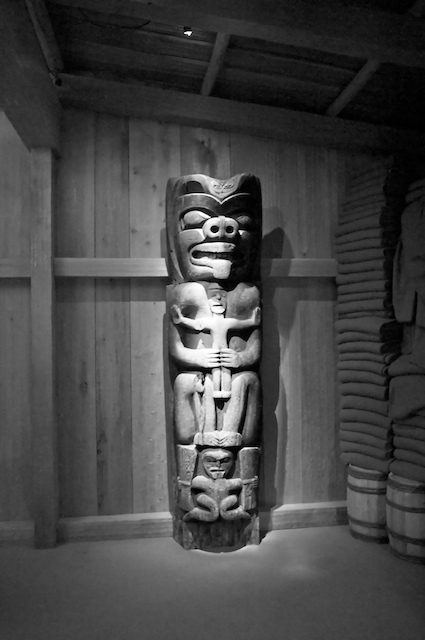 The exhibits are amazing. The ground floor is devoted to aboriginal cultural art and artifacts (aboriginal is the new word for what we used to call "Indian"). However, the difference is that the exhibits are not just items displayed in cases, but designed to look like real aboriginal villages or dwellings. The designers of the exhibits are just as talented as the architect of the building.