Searching for Baklava in the Bazaar
Some notes and other trivia written on a trip to Istanbul
August, 2010.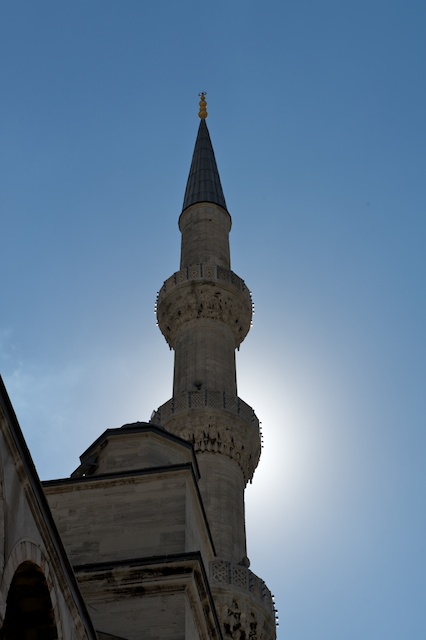 This trip, we are starting off in Istanbul, Turkey! Donnie, my lovely wife, had already been 3 weeks in Turkey with her cousins and her younger son, Chris, visiting a bunch of villages in eastern Turkey where their grandparents had lived. For a fascinating set of stories about this adventure, go to her web site...
I was now going to join her in Istanbul, and then see some other parts of Europe.
Usually, when I start these travel stories, I rant for pages about the New York traffic, and the airports, and the airlines, etc. I'll try to keep the rant short this time.
Saturday, August 21
My trip to the airport, using our local limo service, was quick, efficient, and perfect. The usual rigamarole at the airport was, usual. Nothing worse. The plane, amazingly, left on time, and 9 and ½ hours later, arrived a little early. The only downside was the food on the flight, which was bad, even compared to the usual standards, but that's normal nowadays, given that I was flying with a greedy US air carrier. (We were using up our frequent-flyer miles to get these tickets, so we won't need to fly with this carrier any more. YAY! The carrier, who will not be named, for fear of lawsuits, might be called Gamma Airlines).
Sunday, August 22
Anyway, after the long flight, I arrived in Istanbul's Ataturk airport. As soon as I got out of the jetway, I was shocked, and saddened. Not for the Turks, but for the Americans, and particularly, the New Yorkers. The airport terminal I had left from, in JFK, one of the largest and busiest airports in the US, was dirty, in need of repair, and in many ways a disgrace. Istanbul's Ataturk airport was spotless! More than spotless. The floors shined like mirrors. Everything was new, clean, shiny, and perfectly maintained. Everything! How could this be? Many Americans constantly say that America is the best country in the world. Ah well.
The usual trials and tribulations of getting through the airport were efficient and easy. Donnie, who, as I have already said, was already in Istanbul, had arranged with our hotel to pick me up, and the driver was there and waiting. The trip from the airport to our hotel was interesting since after traveling for about 20 minutes on a highway, the driver turned into an area called Sultanahmet, which is the old area of Istanbul, and contains most of the major attractions, along with our hotel. The interesting part was that the area is honeycombed with lots of narrow, twisty little streets, all the same. (Devotees of the archaic computer game "Hunt the Wumpus" might recognize that phrase!). When I say narrow, I mean narrow. All the streets were one car wide, and sometimes had parked cars or other obstacles blocking the way. Also, even though the streets were only wide enough for one car, they were not one-way streets!
Anyway, I arrived at the hotel, which was a pretty white building in a small street containing offices and bookstores, and went in. The staff was extremely friendly and helpful, which Donnie had told me would be the case. The desk clerk, a young Turkish man, spoke reasonably good English, which was very helpful, since my Turkish vocabulary consists of zero words. He told me that my wife had been expecting me to arrive a bit later than I did, so she and her cousin Roseanne had gone out for a while, but they would probably be back soon, and would I mind waiting in the lobby a bit. While waiting, I sent Donnie a text message on her cell phone to let her know that I was in the hotel, and a minute or two later, a young, pretty, hotel employee came up to me holding a tray containing a champagne flute of orange juice, and a china plate containing a piece of "Turkish Delight", a popular turkish candy. Wow! What a reception.
A very short time later, Donnie and Roseanne arrived, and after switching Donnie's belongings from her old, single room to a double room, we decided to go out.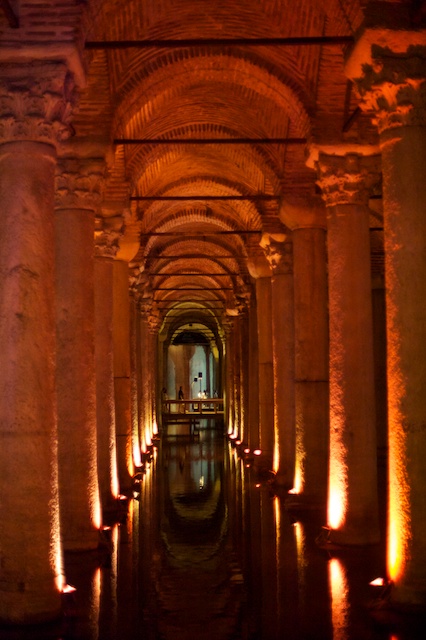 The three of us walked a couple of blocks from the hotel, and Donnie suggested that we see the Byzantine Basilica Cistern, which was only another block away. The cistern is a vast underground "room" containing many ancient stone columns, with fancy capitals, used to collect water during the Byzantine period. The cistern was built in the year 532 a.d.! It was amazing. After spending much time down in the cistern, taking a lot of pictures, even though it was quite dark, we emerged into the light and, walking a few more blocks, passed the Hagia Sophia, a very old, very beautiful, very famous early Byzantine church. Donnie suggested we see it another day, since both she and Roseanne had already seen it, and there was a long line to get in. We determined that it would be closed the next day, Monday, but would be open on Tuesday.
We continued walking another couple of blocks and came to the Topkapi Palace (for you old film buffs, yes, the same Topkapi palace! We wondered where Melina Mercouri, Maximilian Schell, and Peter Ustinov were).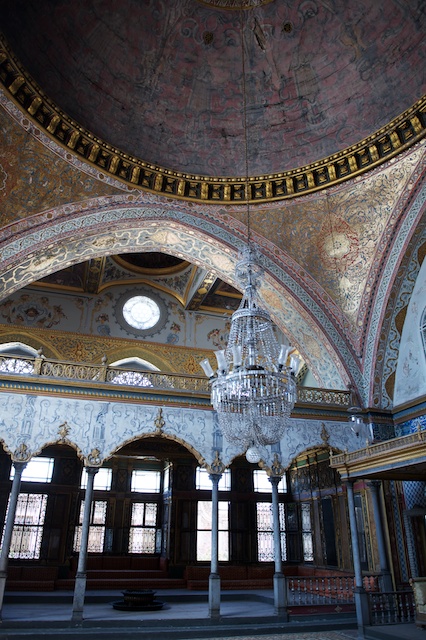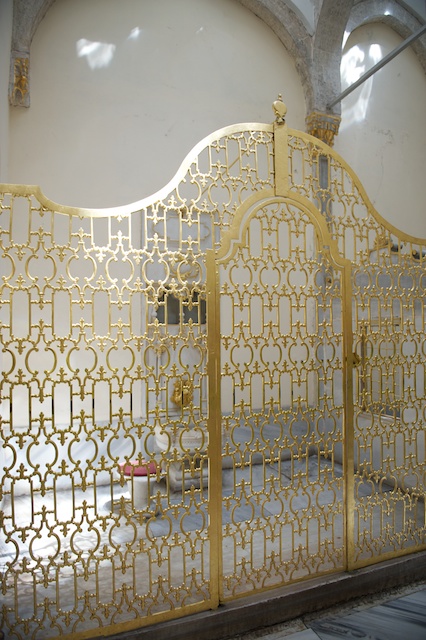 Topkapi palace was the palace of the Ottoman Sultans from 1465 until 1856! There are many buildings inside a parklike compound. The most impressive one that we saw, however, was the Harem. Ok guys, stop snickering. Harem just means private. This was the residence of the Sultans' wives and concubines. The architecture and décor were incredible: Very ornate, very beautiful, and, obviously, very expensive! Also, it was huge. It had to have living quarters for the wives, concubines, the children, the servants, the support staff (quite a few hairdressers, I would imagine) and the eunuchs who guarded the whole thing. It took us quite a while just to see the Harem.
Then we went to the Treasury, where they keep the jewels and lavish gifts from various heads of state to the Sultans. No Pictures allowed, of course. How about a diamond the size of a hen's egg! Seriously, there was a diamond that, if you threw it at somebody, it would cause serious injury. There was also a room containing some ancient artifacts, some of which I had a hard time believing in, such as Moses' Staff, and an actual footprint of Mohammed. It couldn't possibly just be a stick and somebody else's footprint, could it?
After spending a few hours at Topkapi, we went back to our hotel for a while to rest and recover, and then went out again later to have dinner and explore a bit more. During our explorations we came upon Sultanahmet park, a nice grassy park area near the Hagia Sophia, and Topkapi. The park was absolutely packed. Filled to the brim, mostly with families, sitting on the grass, usually in circles, with food spread out between them. But they weren't eating! It was Ramazan. Ramazan, called Ramadan elsewhere in the Muslim world, is a month-long holiday during which the practicing Muslims fast between sunrise and sunset. The families were waiting for the official announcement of sunset so they could break their fast and finally have something to eat. One of the things we found out about Ramazan is that, not only can't they eat, but they can't even have water! In a very hot country such as Turkey, this sounded most difficult and even dangerous to us.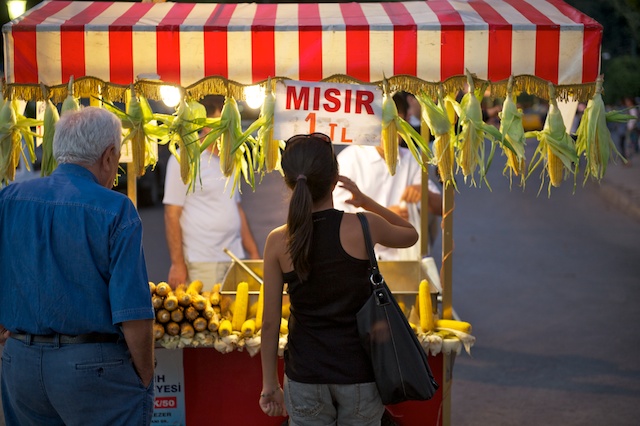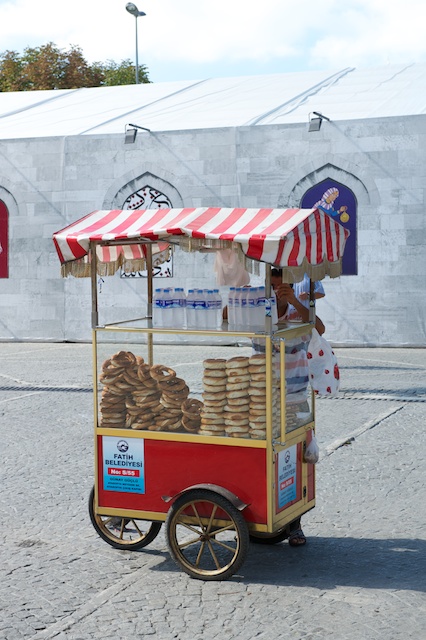 Curiously, there were only a few kinds of food being sold from carts. Corn carts were all over the place. There were also carts selling pretzels, and something that looked identical to a Bagel! The latter seemed to only be selling to tourists, though. I wanted to try a bagel at some point, but I never got around to it.
One thing that Donnie noticed was that, even though there were thousands of people in the park, after dark, nobody was rowdy, nobody was obnoxious. It felt very peaceful and safe. I pointed out that this might be because most of the people there were families, were religious, and nobody was going to drink alcohol and get drunk.
Monday, August 23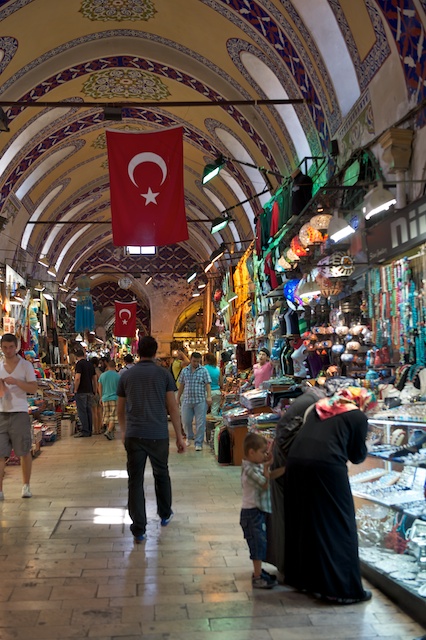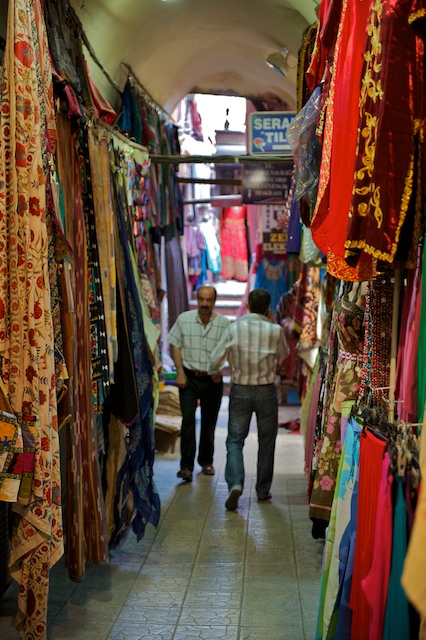 The next morning was our day to visit the bazaars. The Istanbul Grand Bazaar and the Spice Bazaar. The Grand Bazaar is a huge collection of tiny shops, all under one roof, connected by many corridors which were probably once streets. It has domed roofs, some of which were decorated inside, and literally hundreds of little stalls, containing everything from genuine antiques to clearly tourist souvenir junk (mostly the latter). Neither Donnie or I are junk collectors, (or, at least, we are trying to cut down) and so our main reason for visiting the bazaar was to take photographs, which we definitely did.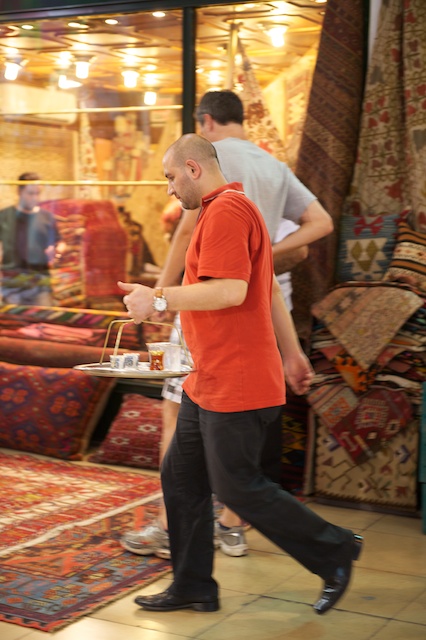 The Bazaar is like a small city. There were banks inside, and a mosque. There were restaurants and snack bars, and many of the merchants would offer you tea (Chai in Turkish) if you came into their shop. There were runners who delivered the Chai.
Now I need to explain the basic marketing technique used by shopkeepers, street vendors, restauranteurs, and others in Istanbul. It is to accost and pester you as much as possible. Whenever you pass a shop, or street vendor, or restaurant, the proprietor will greet you in whatever language he assumes you speak, asking you to buy something or come eat. If you make eye contact in any way, or just point to something he is selling you will get a 10 minute sales pitch. Nothing can stop it, Saying no firmly doesn't work. Walking away doesn't always work, since they sometimes follow you. When restaurant owners keep asking us to come in to their restaurant and eat, even saying that we just ate elsewhere elicits the response "You still look hungry. Come eat something". I finally resorted to playing deaf, dumb, and stupid, so that I gave absolutely no response and pretended that I didn't hear anything. That seemed to work best. The shopkeepers in the Grand Bazaar were actually less aggressive than the ones outside. I never, however, felt threatened or intimidated. Most of the time they were smiling, and seemed to take the whole give-and-take as a game, or even a joke.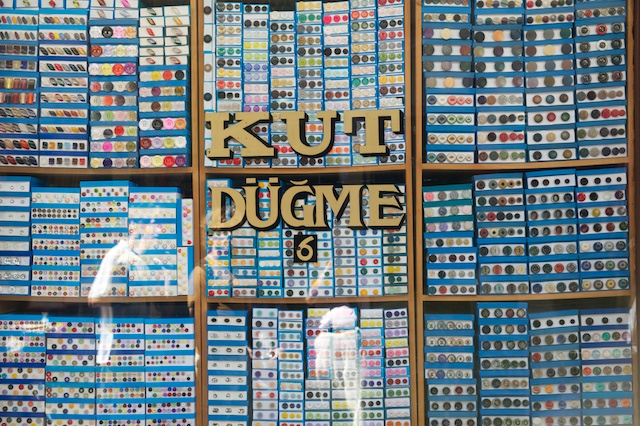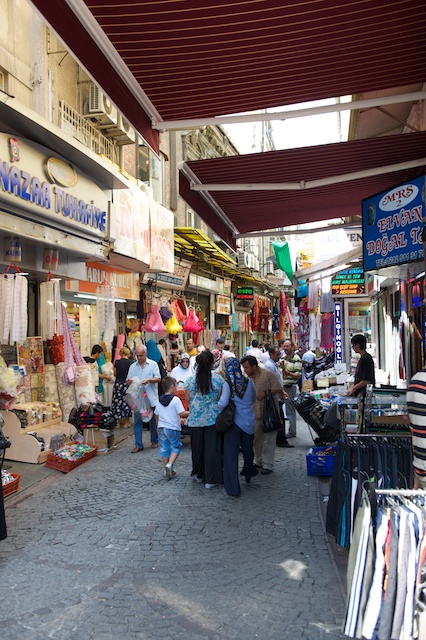 After taking too many pictures in the Grand Bazaar, we left and started walking toward the Spice Bazaar. On our way, we passed by many, many little shops on the outside of the bazaar, selling the usual junk, until we noticed more and more of the shops contained cloth, thread, and other textile-related items. We were now in the textile area, and there were hundreds of little shops selling cloth of every imaginable description, and shops that sold nothing but buttons, or just thread, etc. Amazing. This continued for many blocks.
We got out in Taksim square, which was noisy, crowded, full of people, taxis, cars, buses, modern stores and office buildings. It could be in any major city. It was quite different from the touristy, old Sultanahmet area. Donnie then suggested that we walk down the main shopping street, Independence Avenue. Independence Avenue is a wide, pedestrian-only street lined with shops, restaurants, hotels, snack-bars, etc. There were many of the global chain stores, well known from any shopping street in the world, but also a lot of local places.