Searching for Sunshine in the Benelux
Some notes and other trivia written on a trip to Belgium, the Netherlands, Luxembourg and a little bit of France and Germany
September, 2010.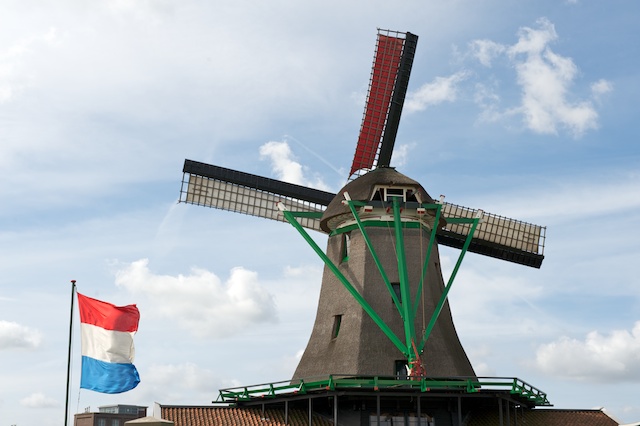 We fly into Schiphol Airport and visit Leiden and Delft
Friday, August 27
We just landed in Schiphol airport, Amsterdam after a fascinating few days in Istanbul.
Schiphol is a huge airport. It is a major hub for much of Europe. It contains a complete train station, hundreds of shops, dozens of restaurants, two hotels, and, of course, an airport. Since we knew that we would be arriving in the afternoon, tired from a long trip, we pre-booked a room at the Hilton hotel which is right in the airport. We took the Hilton shuttle bus from the terminal to the hotel, but later discovered that the hotel was so close that it was really a short walk. After checking in and resting a while, we decided to walk back to the airport terminal to accomplish some goals. We wanted to:
Get some Euros at an ATM. We did that.
Have a snack since we were hungry. We had some great fresh French fries at a little place that sold nothing else, and some pizza.
Reserve a rental car for pickup the next day. That was a problem. We found the Hertz counter and asked if we could just make a reservation for the next day. The lady told us that she could do that, but it would cost 30 percent more than if we reserved it ourselves online. Bummer! What happens to people who don't have computer access? We decided to do it online back at our hotel.
Change our already-issued E-tickets we had gotten as frequent-flyer awards with Gamma Airlines (the name has been changed to protect the guilty!). Total Disaster! We asked how to go about doing this, and were told to go to the Gamma Ticket Sales desk. We walked to the end of the terminal building and found the area, and had to take a number and wait about 5 minutes to talk to a ticket sales person. After explaining to the young lady what we wanted to do, she checked her computer and told us that she could not change our tickets, and that we would have to go online to the Gamma web site. We told her that we had already checked the web site and there was no way to change frequent-flyer award tickets on the web site. She then checked her computer again, and gave us a phone number to call. We asked if we could use her phone to call, because using our cell phone would have been very expensive. She said her phone was only for inside the airport. We asked if there was a Gamma Customer Service desk, She said she was it! Some customer service! So, we went back to the Hilton hotel, paid the ridiculously expensive 21 Euros to get Internet access, made the car reservation, and using the hotel's expensive telephone (cheaper than our AT&T roaming charges on our cell phone, however) called the Gamma phone number, luckily a local Amsterdam number, and got our tickets changed to return home from Amsterdam, rather than Athens. Whew!
After all that, we spent the evening relaxing in the hotel room, and Donnie used the outrageously expensive Internet access to update her blog. I should mention that the lovely, inexpensive, wonderful White House hotel we had been staying at in Istanbul had free Wifi Internet access, as did many of the less expensive hotels we have stayed in over the years. Only expensive, greedy, multi-national hotel chains fleece their customers like this.
Saturday, August 28
After checking out of the hotel, we walked back to the airport terminal and picked up our rental car. The weather was partly cloudy and cool. Donnie was complaining about being cold! I was so happy not to be hot. We had decided to drive around Holland, and maybe Belgium, and maybe even Luxembourg, or even some towns in Germany.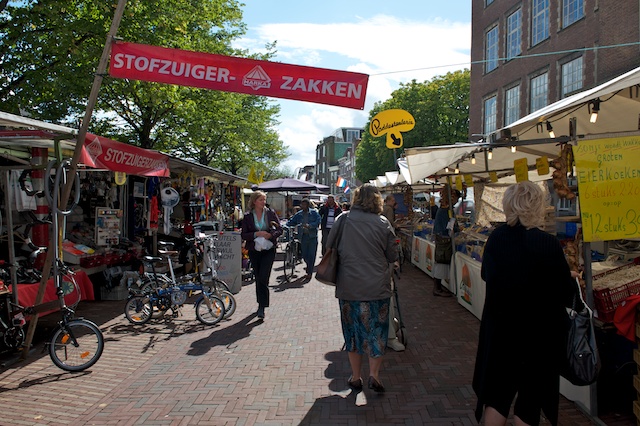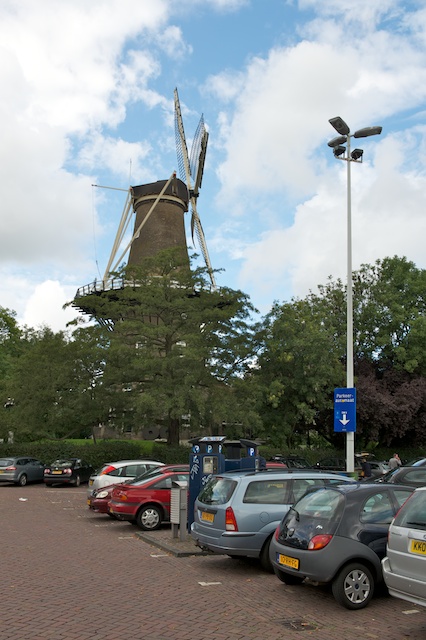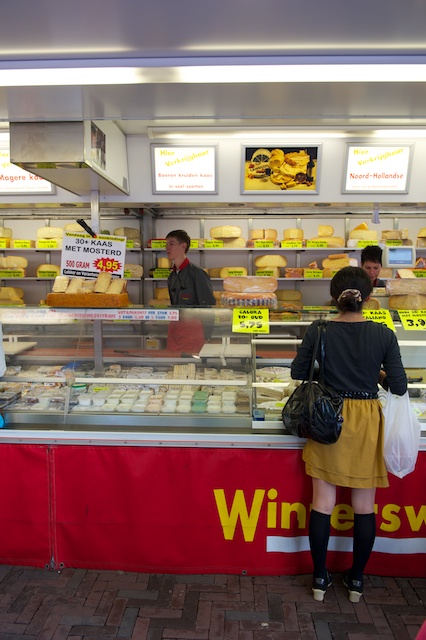 We started by heading south to Leiden, only about 30 minutes from Schiphol. Leiden is a university town, home to Leiden University, which was founded in 1575. We drove into town, and found a parking area, which was about 20 feet from a windmill! We walked to the center of town, and discovered that it was market day. The streets were filled with stalls selling all kinds of things, especially foodstuffs: fish, meats, cheeses, olives, bread, cakes and cookies, herring, and clothing. We bought some weatherproof, hooded jackets because it was colder than Istanbul and looked like there might be some rain (This later turned out to be a big understatement!). Leiden is a lovely town, with beautiful old buildings, and canals, and windmills, and bicycles. Thousands of bicycles. Gazillions of bicycles. You had to be very careful walking, because there was almost always a bicycle coming up behind you, or around the corner. We later found out that every place in the Netherlands was full of bicycles. After walking around, taking pictures, and looking at all the market stalls for a couple of hours, we went back to the car park, and drove to Delft.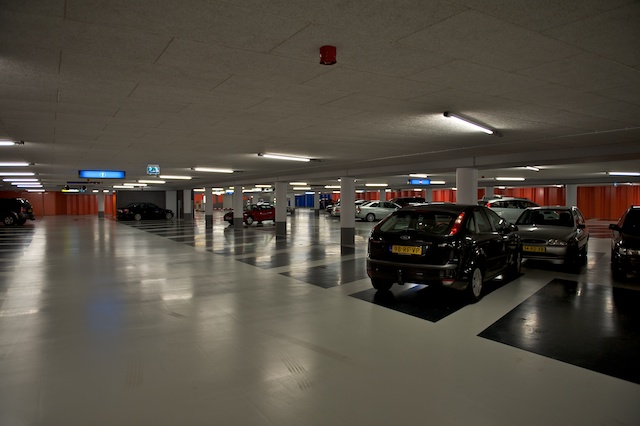 I had been to Delft once before, many years ago, but Donnie had never been there. Delft, as I remembered it, was a lovely, very old, very beautiful Dutch village, home to Johannes Vermeer, and the home of Delft Porcelain. Delft was also the birthplace of Antoni van Leeuwenhoek, the inventor of the microscope back in the 17th century. We drove to Delft, not far from Leiden, had a little trouble figuring out how to get to the center of town, but finally got close and parked in an underground parking garage. I have never seen a parking garage like this in the US. Spotless is not the best word. The walls, floors, and ceiling of the underground parking garage were immaculate. The floor, that cars drove on, was smooth and white, without a mark on it. So smooth and clean that the car tires squeaked when you turned them. The place was brightly lit. Very unlike New York!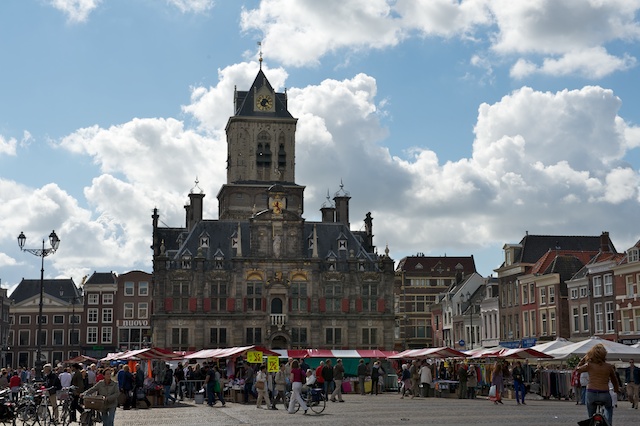 We walked out into Delft, and found it was market day here also. There were lots of people of course. The market stalls here seemed to be specializing in antiques, and we could have spent hours looking at them, but we wanted to see a little of Delft itself, and also find a hotel for the night. We walked around a bit, and came to the tourist information office. The lady inside was extremely helpful and said that she could call some hotels for us. She showed us a list of hotels, and told us the prices. We picked one and she called and discovered that a room was available, and that it was even cheaper than the listed rate. She didn't ask for a credit card, or even charge us for the service. How nice! We asked her about parking, and she said that we should leave the car in the underground garage, and that she had a special discount card that would allow us to park for 24 hours for only 8 Euros. Great! We thanked her, and went to walk to the hotel.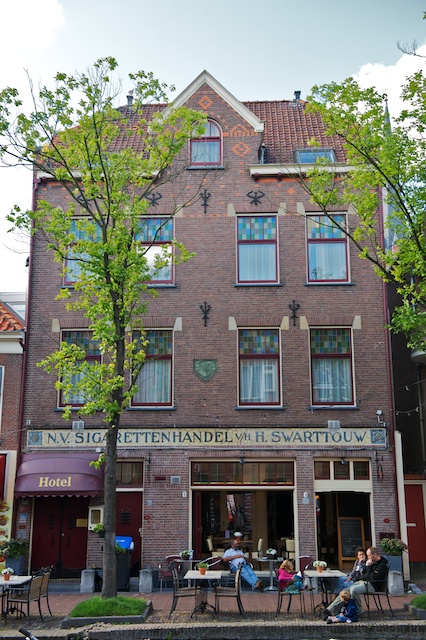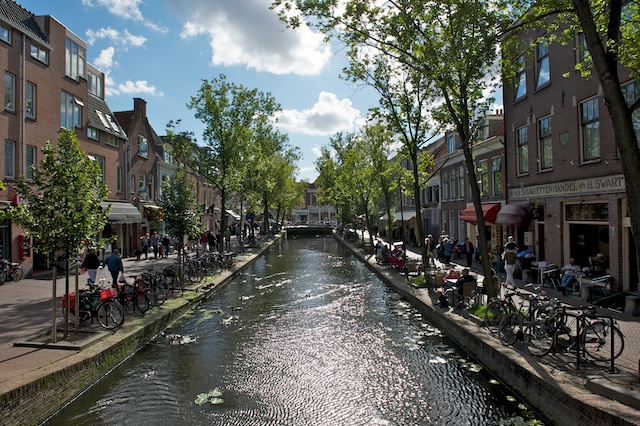 We walked the lovely streets of Delft to the Johannes Vermeer Hotel, formerly a cigar factory. We went in and the young man told us that he had two rooms available, both at the same rate, and we could look at the rooms and decide, and he gave us the keys. The first room we looked at was a little small, but nice, but was up about four flights of very narrow steps. The other room was much larger, and only up three flights! We took that one. We're not as young as we used to be.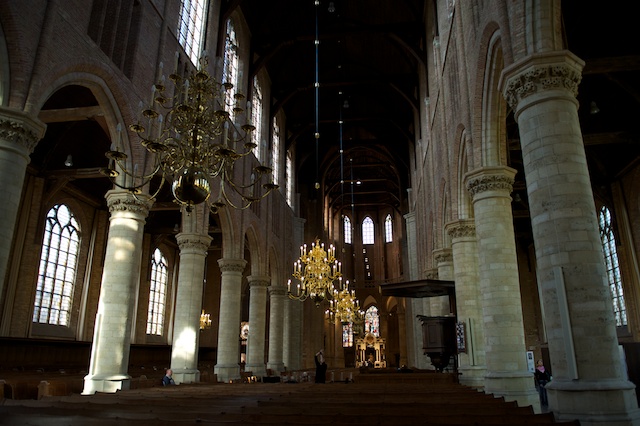 After making our hotel arrangements, we could finally go out and see Delft. Delft is another beautiful, canal-lined Dutch town with lots of very distinctive old architecture, and lots of bicycles. We walked around, and took pictures, and then decided to see the New Church. There are two very large, very old, Protestant churches in Delft. The New Church and the Old Church. Construction of the New Church was started in 1396 and completed in 1496. The Old Church was started in 1246! We got to the New Church at 5:55 p.m., discovering that it closes at 6:00. The nice woman selling tickets said that it was closed, but that it would be open Monday. It was not open to visitors on Sunday.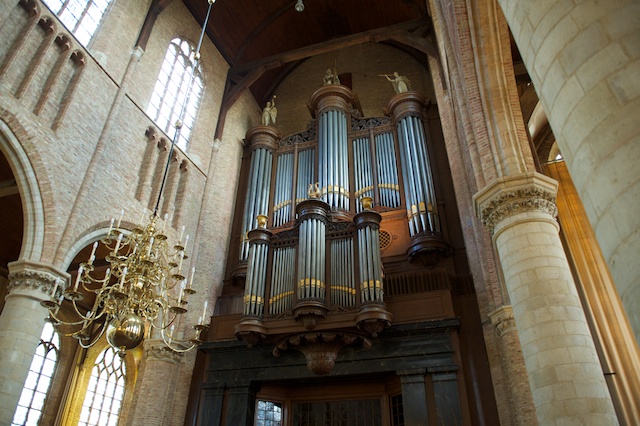 While we were talking to her, we heard the lovely sounds of a huge pipe organ inside the church playing Bach! We asked her, and she said that yes, the church organist was playing. She then said we could take a peek inside and listen for a minute, and she opened the door. We stood in the doorway for a minute or two, enraptured with the lovely sound, and then she came over to us and whispered, "go on in, you have five minutes". We quickly walked into the church, snapped dozens of pictures while listening to the wonderful music, and then after five minutes, went back out and thanked the lady profusely.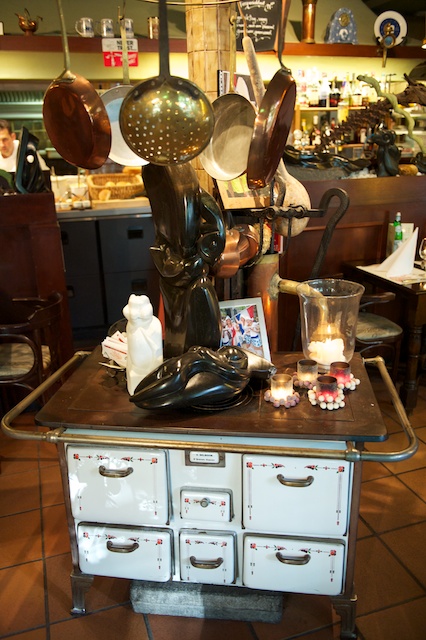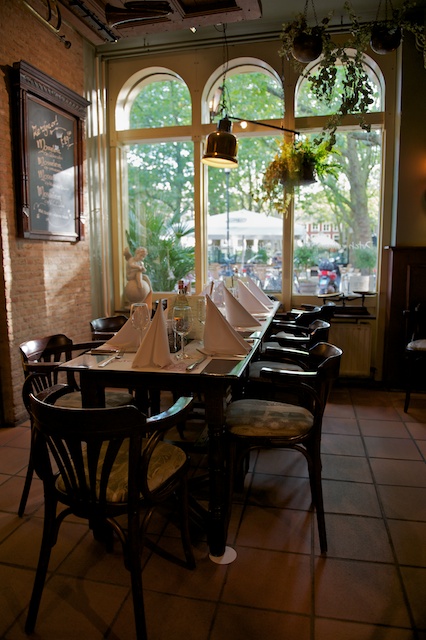 We walked around the main market square, looking for a place to have dinner. Donnie was humorously suggesting a fish-and-chips place. We decided that the market square eating places were a little too touristy, and so walked a few blocks to another square called the Beestenmarkt (I guessed they used to sell cattle and other "Beesten's" here), with some nicer restaurants, and walked around trying to decide where to have dinner. Suddenly, up ahead, I saw something that told me we had found the place. The front of the restaurant had two Dutch flags. Sure enough, when we got closer and looked inside, the place was decorated with lots of antiques and the menu had several interesting Dutch dishes. We went in and had a delicious dinner. The restaurant is called "Spijshuis de Dis". I didn't have a clue how to pronounce that.