Searching for The Maltese Falcon
May, 2018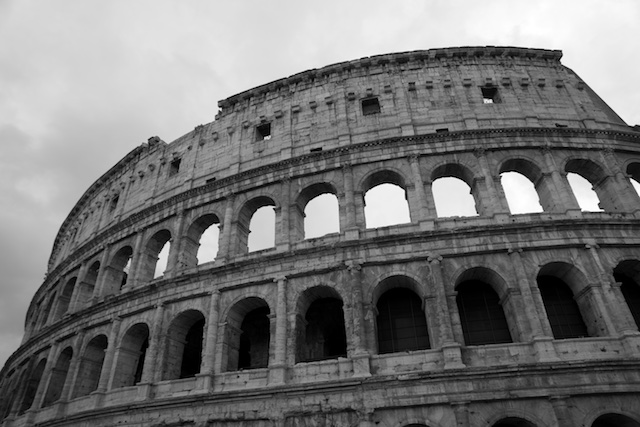 We have been to almost every country in Western Europe, many several times, but we had never been to Greece. We really wanted to correct this omission. We had attempted this before, just around the time of the economic meltdown of Greece a few years ago. The ATM's weren't working, the ferries weren't running, the banks were closed, credit cards weren't being accepted. It was not a good time to visit so we cancelled our plans.
Since then we have been on three cruises on differing cruise lines, some better than others, but none of them perfect in all ways (what is?). We had heard good things about Celebrity Cruise Lines, so when we found a cruise on Celebrity visiting Italy, Malta and Greece, it was something we couldn't pass up. The cruise included Malta, a country we never even expected to visit, so I'm entitling this opus, "Searching for the Maltese Falcon". "Why?", you may ask. If you haven't seen the movie "The Maltese Falcon", based on the Dashiell Hammett book by the same name, see it, or read it. No, see it. Humphrey Bogart, Peter Lorre, Sydney Greenstreet, and directed by John Huston, how could you pass that up? I'm a big fan. I
had
to use that title, even if it has very little relevance to this journey. Donnie had suggested that we go to Rome a few days before the cruise started, both to get over the usual jet lag and to see some of Rome, even though we had been there in the Winter of 2003. She convinced me (my arm still hurts from her "convincing") to go five days early, which I thought was too long since we had seen most of the sights before. As usual, I was wrong about that and she was right. Five days turned out to be perfect.
Saturday, May 12, New York to Rome
In contrast to my previous travel stories, I'm not going to go on and on about our trials and tribulations getting to the airport, inside the airport, and on the plane. Suffice it to say that it was an uneventful plane ride (the best kind) but I was unable to get any sleep on the flight.
Sunday, May 13 Rome
Even though we were delayed taking off in New York, we landed a little early. Our bags showed up reasonable quickly and the driver we had arranged to pick us up was waiting in the arrivals area for us. Having a driver waiting for us in the airport terminal with a sign with our names on it was a new experience for us and very welcome. After a pleasant hour long ride directly to the front door of the hotel, our check in was smooth except that the desk clerk spent a long time giving us a hard sell on package tours, which we declined. I'm sure he gets commissions. We did learn from him that we had to book way in advance to see the Vatican Museum, which we had seen before, and the Borghese Gallery, which we hadn't, and which Donnie really wanted to see. He checked online and the Borghese Gallery was sold out for a month. We should have done our homework better. We dropped our bags in our room and decided to go walking around the area. We had booked a hotel within a few steps of the Campo de' Fiori (Field of Flowers), which is a small piazza in an old picturesque area of Rome, not too far from many of the best sights.
In the middle of the Campo de' Fiori is a striking statue of Giordano Bruno, a 16th century Italian Dominican friar, philosopher, mathematician, poet, and cosmological theorist. He was burned at the stake by the Catholic Church in 1600 for saying unacceptable things, like the Earth went around the Sun. Some people still don't agree with him about that. His statue was erected in 1889 on the spot where he was burned. He stands defiantly facing the Vatican and was regarded in the first days of reunited Italy as a martyr to freedom of thought. Bravo Signor Bruno! The neighborhood is full of little cobblestone streets and small shops, cafes, restaurants, and gelateria's. More about that later. We found the outdoor market in the piazza, which we had read about, and explored it. An outdoor market has been in the Campo de' Fiori since 1869. Unfortunately now, in addition to produce, flowers, foodstuffs, etc. there is also a lot of tourist junk for sale, but we enjoy outdoor markets and this was no exception. Even though we had read that the market wasn't in operation on Sunday, there it was, running on all cylinders. Tourist dollars are a strong incentive.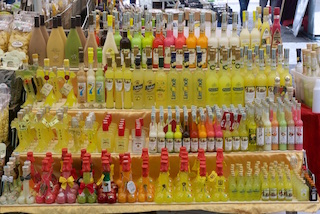 We then walked to the Piazza Navona, a very large piazza which has become one of the major tourist attractions in Rome. We had been there before, but it was nice to see again.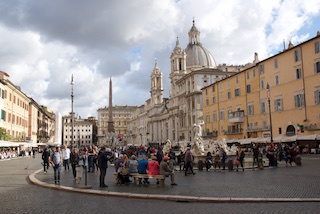 Two of the most famous fountains in Rome are in the piazza. One is called the Fontana dei Quattro Fiumi or Fountain of the Four Rivers by Gian Lorenzo Bernini. The other is called the Fontana del Moro (Moor Fountain).
Monday, May 14, Rome
We awoke early and had a nice buffet breakfast in the hotel. In Europe almost every hotel booking includes breakfast. After breakfast we walked to the Pantheon, one of the most famous tourist attractions in Rome.
built
by him of course. It was undoubtably built by slaves. He probably just paid for it.), but that one burned down and the current building was built by the emperor Hadrian around 126 AD. I guess that's still pretty old. It is now a Catholic church. Given its age, it is in remarkable condition. Almost two thousand years after it was built, the Pantheon's dome is still the world's largest unreinforced concrete dome. At the very top is a big round hole, called an oculus (latin for eye), which lets in light. Since there was no window glass back then, the oculus also lets in rain, but there is a drain in the floor just below it. We had read online before the trip that after two thousand years of free entry, the Italian government was going to start charging admission in order to recoup some of the costs of maintaining the building, but even though it was reported that this was going to begin just at the time of our trip, when we got there it hadn't happened yet, so we just walked right in. There weren't big crowds of tourists there that early, but later we happened to walk by again and there were bigger crowds and a long line waiting to get in. After taking lots of pictures of the inside and outside of the building and the fountains in the piazza in front of it, we walked to the Vittorio Emanuele II monument, about a mile away. Donnie wanted to see the city from the top of the monument. She had read that there was supposed to be an elevator to the roof where there was a great view of the city. The marble stairs in front of monument looked steep and long so Donnie suggested taking a shallower stair which she thought was around the back. Donnie always does a lot of research before every trip. She enjoys doing it. These stairs were wide and long, and slightly sloped, sort of a ramp with steps. Still, there were a lot of them. We trudged up and up, and found ourselves in a plaza surrounded by some buildings and a small park which did have a good view of the ancient Roman Forum. We were only a few feet from the upper floors of the monument building, but there was no way to get there that we could see.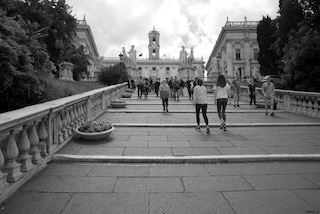 It turned out that two of the buildings surrounding the plaza were the Capitoline Museums, so Donnie asked a museum guard how to get to the elevator to the roof of the Vittorio Emanuele II monument. In broken english he said "down, down" and indicated that we had to go back down and around to another set of steps. So down we trudged, and turned right and found another set of steps, this time very steep, with no handrails and made of slippery marble. Donnie was sure that these were still a shortcut to the elevator. So up we went, slowly. We had to stop and rest every ten steps. Naturally, the only thing at the top was an old church. Again, we were almost touching the monument building, but there was no way to get there.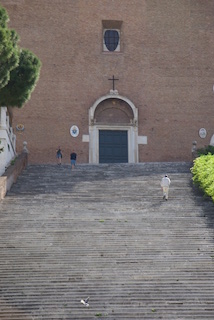 We went inside the church just to avoid going down right away. So we slowly and carefully went back down these steps. There was now no other choice, so we finally went back to the front of the monument and took the original steps we had tried to avoid. There were about fifty or so outside the monument. Then we encountered another fifty inside before finding the elevator. I didn't actually count the total number of steps we climbed that afternoon, but my iPhone pedometer said we climbed 20 floors worth! Finally, after paying the hefty ten Euro per person fee, we took the elevator to the roof. The elevator ride was shorter than the walk up to the elevator! We did see a nice view of Rome from the roof and spent some time taking pictures.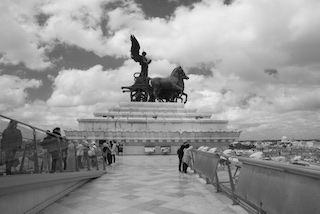 Then back down the elevator, back down the fifty or so steep, slippery steps inside the monument, back down another fifty or so steep, slippery steps outside the monument and then a slow, tired walk back to Campo Di Fiori. Donnie said that I would never let her forget the many, many steps we climbed in vain. She's right about that. Since it was now afternoon and we were hungry, we decided to have a snack. We didn't want a big lunch or we wouldn't be hungry for dinner. At our age, three meals a day isn't possible any more. We had read online about a wonderful place right in the Campo de' Fiori, called appropriately enough, "Forno Campo de' Fiori", which basically means the Oven in the Campo de' Fiori. It's a bakery, but is famous for its Roman style pizza. The bakery is only open in the morning and later in the afternoon. It closes for a few hours, for lunch! There are no seats, just take-out. It is so good that the locals line up there for the pizza, which is sold by the piece and is priced by weight.
Tuesday, May 15 Rome
Important item: We had breakfast in the Hotel again. Well, maybe not so important. Since we had breakfast in the hotel every day in Rome, I won't mention it again. Take it as a given. Don't fret about it. It's a grey day. Cold. Rain is predicted. So, it's clearly not the best day to visit the most famous sight in Rome: The Coliseum. Oh well...why not? It's a bit of a longish walk from the hotel, so we walked to a nearby taxi stand and took a taxi to the Coliseum. The driver had very little English but tried to talk to us anyway. He was friendly and even though he told us that he spoke almost no English, we had a sort of conversation. The taxi ride cost less than six Euros, which was cheap. The metro would probably have been almost as much, and the Rome Metro doesn't go many places and is nowhere near our hotel. The driver managed to explain that the lines for tickets were shorter at the ticket booth across the street from the Coliseum, at the entrance to the Roman Forum. We had read this before so we were fine with his suggestion. After buying the tickets, with nobody in line, we walked a block to the Coliseum and got on the line to enter. You had to pass through a security check before you could get in. The Security line was not moving, at all. Totally stopped. We probably waited half an hour before the line started moving. Nobody knew why there was a delay but we eventually got in.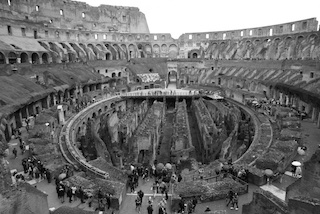 We wandered around the Coliseum for a little while in cloudy, drizzly weather, taking a few really, really bad pictures, until it started to rain heavily. We waited a while under the stands, along with the rest of the wet, dripping crowd hoping the rain would stop or at least ease up a little. Eventually, we had seen enough (We had been here before fifteen years earlier. It hadn't changed much. I guess since it hadn't changed much in the two thousand years before that, it makes sense.) We then walked through the Roman Forum with rain on and off, again taking some truly bad pictures. (We're getting good at taking bad pictures.) I have to say that the Forum, supposedly one of the major tourist sights in Rome, was not all that impressive. In ancient times it was chock full of temples and statues and important government buildings, all of beautiful classical architecture with columns and marble everywhere. Only little bits are left to show you a tiny glimpse of what it might have been like. Other Roman ruins in other cities and countries are more impressive.
After the Forum, we went across the street where there were several touristy restaurants but we picked one to sit in to avoid the rain, and have a snack. The restaurant wasn't too bad considering it was in one of the most touristy places in Rome. Afterward, we walked back toward the hotel in a mixture of clouds, rain, and sun. On the way we stopped at very nice looking bakery for snacks and a supermarket for drinks and went back to our hotel. I devoured the best Sfogliatella ever! It's shell-shaped filled Italian pastry with a crispy, multi-layered outer crust and this one had a filling of orange-flavored ricotta. Yummy! After resting, we went back out around seven for dinner. After some online research, we went to a little, family run place called Hostaria Farnese, which was only a three minute walk from hotel. I'm attempting to avoid too much food description in this masterful literary effort, but this little place was so good, I'll give it a brief mention. I had an absolutely fabulous Cannelloni and Donnie had Gnocchi. Dessert was Tiramisu for me and Donnie had strawberries and whipped cream. Prosecco also, of course. We have been enjoying Prosecco with dinner almost every night. Ever since we were first exposed to Prosecco via a complimentary glass we were given in a restaurant in Florence a long time ago, we found that we much prefer Prosecco to Champagne. We also tried Cava in Barcelona and we like that too. While we were eating, a young woman sat down at a table marked "reserved" and one of the waiters spoke to her and brought her a plate which looked like some kind of vegetable dish. After she ate, he brought over the receipt books that the waiters use to write down their orders and she was looking through them. After a while the waiter came back and was talking to her and eventually they were holding hands. She must have been his wife or girlfriend. Cute. Definitely a family owned restaurant. After we left the restaurant, we went across the small street to take a picture of the Hostaria. The waiters came to the glass doors to wave while we took the pictures.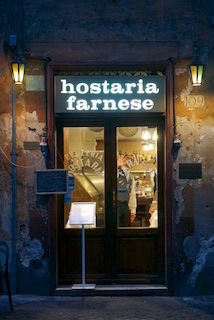 Even though we took a taxi this morning, and only really visited the Coliseum and the Forum, we walked 4.8 miles, and climbed 5 floors of steps today. Donnie, my exercise-obsessed task-master wife is thrilled.
Wednesday, May 16 Rome
We had a slightly late start today. Since our hotel is close, we walked across the Tiber to the Trastevere neighborhood including the Isola Tiberina, an island in the middle of the Tiber. This was a seedy place back in ancient Roman times. It's improved now, with more narrow cobbled streets lined by ancient houses. It's an up-and-coming gentrified area with lots of nice apartments, cafes, restaurants, shops, etc. The Jewish quarter is located there also. We enjoyed walking through the narrow streets and even came upon unexpected ancient ruins.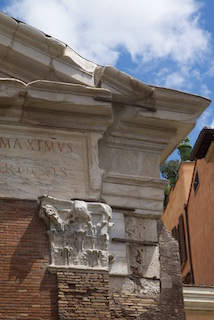 It was interesting going through the Jewish quarter and seeing all the restaurants advertising Kosher Roman cuisine. We trudged back to our usual haunt and went back to the Forno Campo Di Fiori for delicious pizza for a lunchtime snack. This time I had Pizza with sauce and cheese, but I actually liked the Pizza Rosso with just tomato sauce better. We rested for a while in the hotel and given that the weather was good, we went back out. We again walked to the Pantheon which was much more crowded than before. Then we walked to Trevi Fountain. It was very, very crowded. There were a huge number of tourists standing around in a crowd or sitting on the edge of the fountain. Strangely, none of them seemed to be interested in the fountain. Almost nobody we saw was doing the touristy "thing" of throwing a coin in the fountain to ensure that you will return to Rome. Even though this was our second trip to Rome, Donnie wanted to do it. She didn't have a coin though. So, she fished one out of the fountain and threw it back. Does that work?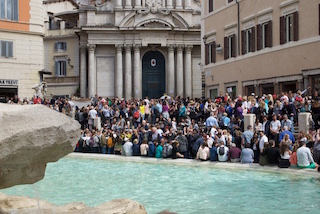 Then we walked to the Spanish Steps. They too were crowded, but not as crowded as the Trevi fountain. I don't really understand why these two things are such tourist attractions. OK, the Trevi fountain has some nice sculptures, but it isn't ancient. It was built in the mid-1700's. I guess it's one of those "You have to go there" tourist things. Same with the Spanish steps, which is just a bunch of steps. Then we started walked back along the Via Del Corso. We walked slowly back to Piazza Navona and had dinner at a restaurant we had tried on a previous night. Afterward Donnie had gelato at Frigidarium again. Are you still counting? Finally, we hobbled back to the hotel. According to our iPhones, today we only walked 8.2 miles! Donnie keeps telling me that I need exercise. Right.
Thursday, May 17 Rome
This morning it looks like good weather. Perfect for visiting a museum, right? After reading about them online, we decided to walk to The Capitoline Museums, which we hadn't been to before. These are the two buildings at the top of the stairs that we went up in our attempt to get to the elevator to the room of the Vittorio Emanuele II monument. After the longish walk to the monument we went up the slanted wide steps again. At the top are two museum buildings. The first had the impressive statues. Some really nice ones, including a huge head (and foot) of the emperor Constantine.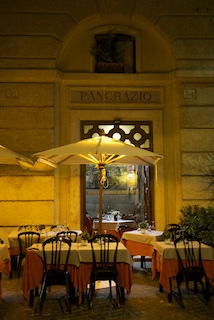 We went to dinner there and had the best meal of the trip so far. The restaurant is called Da Pancrazio. I won't describe the whole meal, but it was great. I will mention my entree which was a very traditional Roman dish which I had read about and wanted to try. It's called Cacio e Pepe which is a simple sounding dish of spaghetti (more traditionally, Tonnarelli, which is spaghetti with a square cross-section) with a sauce made of Pecorino Romano cheese and pepper, which sounds boring but which was fabulous. Not only that, but the restaurant was built on the ruins of the Pompeo Teatro which is where Julius Caesar was killed! (If you remember from your school days that he was killed in the Senate, it turns out that the regular Senate building was under repair at the time and they met temporarily in the Theater.) They have a basement room which is part of the ruins of the Teatro. Unfortunately, it had a party there that night so we couldn't see it. After dinner we walked around the area some more and then Donnie had another gelato fix (keep counting!). Then we went up to the roof terrace of the hotel to look out over Rome after dark. There was a really nice view of Rome. We have definitely seen a lot of the best sights of Rome, except the Vatican and the Borghese Gallery (Donnie always reminds me that we can go back. She wants to go back to every place we have ever been.) Rome has changed in the last thirteen years. No. Not the Coliseum, or the ancient ruins. There are a lot more tourists, and therefore there are a lot more places selling pizza and gelato. Every restaurant serves pizza. (Well, not
every
restaurant, but the ones in the touristy areas do.) Except for the authentic slices we got in the Forno Campo de' Fiori, we didn't have any pizza in Rome. We saw a lot though. Some looked good. Some looked like it was fresh out of the microwave. Tourists were gobbling it down. That and spaghetti with meatballs, a distinctly non-authentic-italian dish. We attempted to eat genuine Roman cuisine whenever possible. Tomorrow we say goodbye to Rome and start our cruise. The five days went quickly and were a lot of fun. We ate well, no bad meals and several very good ones, and did a lot of walking, 4.8 miles and 15 floors of steps today.