Searching for Sunshine in the Benelux - Part 2
We visit The Hague and Delft in the Rain, and then search for cheese in Gouda
Sunday August 29
We decided to check out of the Johannes Vermeer hotel, mainly because of the three flight walkup. We hadn't taken our suitcases on the long walk from the parking garage to the hotel, but even our small carry-on bags were cumbersome and heavy (with laptops and netbooks, and power supplies and iPhone chargers and external disk drives), especially since it was raining. We carried them back to the car. We then decided to check out a nice looking, very modern hotel just a half-block from the parking garage, called the Hampshire Hotel Delft Centre. Not only did they have a room, it was very reasonably priced, and the place was brand new, only open a few months, very clean, very modern, with an elevator, and free Internet access. The Johannes Vermeer was more quaint and interesting, but the three flight walkup was too much. The modern hotel had a music theme, with musical instruments everywhere and music pictures and music-oriented decorations throughout. In fact, each room was dedicated to a different performer. Unfortunately, we got the Brittany Spears room. You can't win them all!
We took a room for two nights, and decided not to lug our bags even the half-block from the parking garage, but to go back to the car and drive to The Hague, since it was a very rainy day, and there were indoor museums we wanted to see there.
The drive to The Hague (Dem Haag in Dutch, which a guide book said meant "The Hedge") only took about 15 or 20 minutes, but we did have a little trouble finding the center of town once we got off the highway. Finally, almost by accident we found the center, and found a parking garage. We walked several blocks in the pouring rain to the Mauritshuis.
The Mauritshuis is a museum contained in an old mansion house (Maurits' house). It contained several hundred paintings by Dutch painters in a beautifully decorated, wood paneled home. It reminded me a lot of the Frick Collection in New York, one of my favorite places. The paintings were very beautiful, and I found I like the Dutch artists of the 16th and 17th century a lot. They painted real subjects, mainly portraits, with incredible attention to detail and light. There were two rooms that were the main attractions. One contained the Mauritshuis masterpieces, two paintings by Vermeer: a painting of the city of Delft, and "The Girl with the Pearl Earring", one of the most famous paintings in the world. It's impossible to describe how beautiful these paintings are. Any reproductions you have seen, in books, or posters or anywhere do not do them justice. They seemed to glow with light. The other room contained eight or nine paintings by Rembrandt. These were magnificent! I saw several that I had not even seen in books. I fell in love with a few, especially one called "Simeon's song of praise", and one of Rembrandt's many self-portraits. I don't think the Mauritshuis would sell them to me though, at least not at a price I could afford (Do you think they would take $100?). The Mauritshuis was a wonderful experience, and a really nice museum.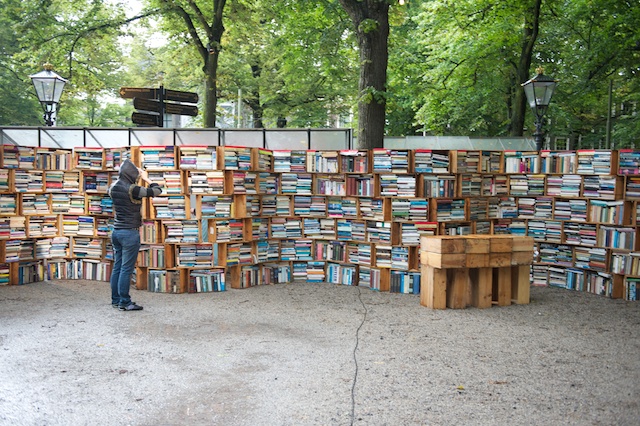 We then went out again into the pouring rain and walked across a park. In the park there was a market which we discovered was an antique flea market. Somebody was also selling books, piled up in wooden boxes. The rain was not doing them any good. We looked briefly at some of the stalls, but even though they were covered by canvas tents, walking between them was too much of a pain in the rain and wind, so we continued across the park to the next museum we wanted to visit, called "Escher in the Palace".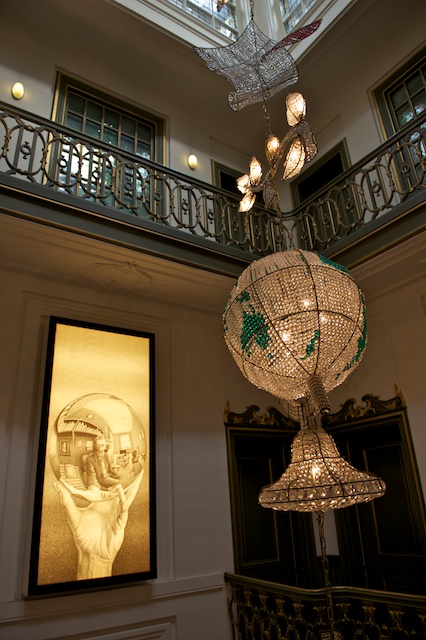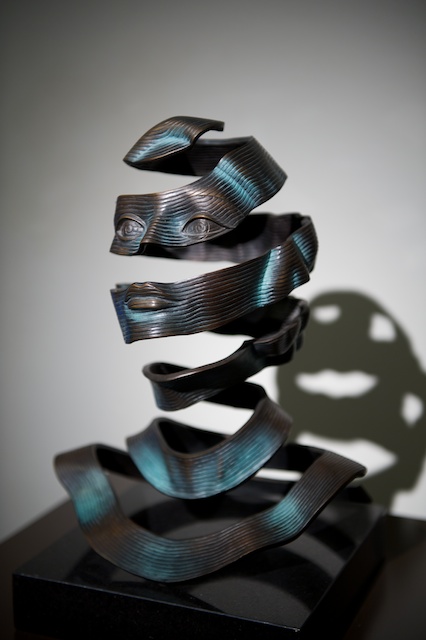 This was the former home of the queen mother Emma, great-grandmother of the current queen. It was more of an old mansion, rather than a traditional Palace. The palace is used for temporary exhibitions, and, fortunately, the current one was art by M. C. Escher. If you don't know Escher, look him up. I have liked Escher's work for a long time, but the museum showed a lot of his work that I had never seen. He is famous in the U.S. for his work that is unusual and strange, however the museum also had pieces of more realistic subjects, and yet all of his prints have an incredible attention to detail and precision, and even a mathematical feeling that I like a lot. We enjoyed the Escher exhibit immensely. At this point, it was late afternoon, and the weather was even worse, raining very heavily with high winds, so we decided to go back to our hotel. We drove back to Delft, and dropped off our luggage at the hotel before taking the car back to the parking garage. We then walked the half-block back from the garage to the hotel, and went to our room to rest and do a little blogging and emailing. We then went and had a wonderful, delicious, not too expensive meal at the restaurant in our hotel, which was very, very convenient. In summary, except for the rotten weather, we had a great day.
Monday, August 30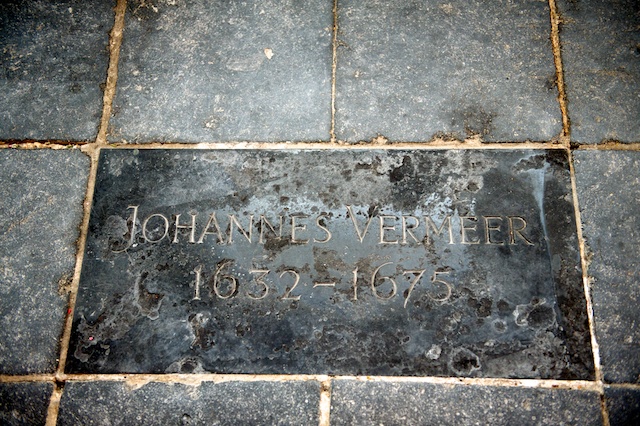 Yecch! The day started out overcast and cold and windy. Donnie decided to stay in the room for a while and rest (and stay warm). I foolishly decided to walk into town and look around. As soon as I went a few blocks and reached the old part of Delft, it started to pour. I decided to visit the churches, the New Church and the Old Church, out of curiosity, nostalgia (I had been in them about 15 years before), and mainly to get out of the rain. The New Church was interesting, but, being a protestant church, somewhat plain. The Old Church was even less interesting. The old, attractive chandeliers had been replaced with modern, ugly lighting fixtures, and the rest of the church was almost barren. The only item of interest was that the floor was made up of graves, with many carved flat stones. I had remembered that during my previous visit, there was a small vase containing one flower placed on the supposed grave of Johannes Vermeer. I had made this visit partly to pay my respects. However I couldn't find the grave where I had remembered it to be, and after looking around, I found a very small stone plaque with just his name and dates of birth and death, and a sign indicating that this plaque commemorated the place where his grave had been. No indication of where it might be now. No flowers. How sad.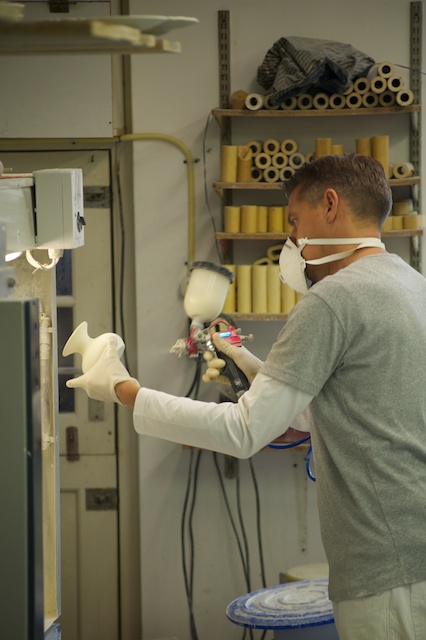 When I left the Old Church, it was raining so hard I decided to call Donnie on the cell phone to tell her not to bother coming out in the rain to meet me. After I called and got her phonemail recording, I realized that my watch was slow and it was now just 5 minutes to the time she said she would meet me. I went, in the pouring rain, to meet her at the entrance to the New Church, and we walked in the rain around Delft, not taking any pictures, not seeing much of interest. Then we decided to visit one of the three remaining porcelain factories in Delft. This one was a tiny one, really just a store, with a small work area in the front and a larger one in the back. The lady there explained to Donnie how the "authentic" Delft porcelain pieces were marked, and we took some pictures of a man putting some glaze on some porcelain pieces. Finally we went back to the hotel for a while. In the afternoon, I suggested we drive somewhere. The rain had subsided a bit. I suggested Gouda, which wasn't far.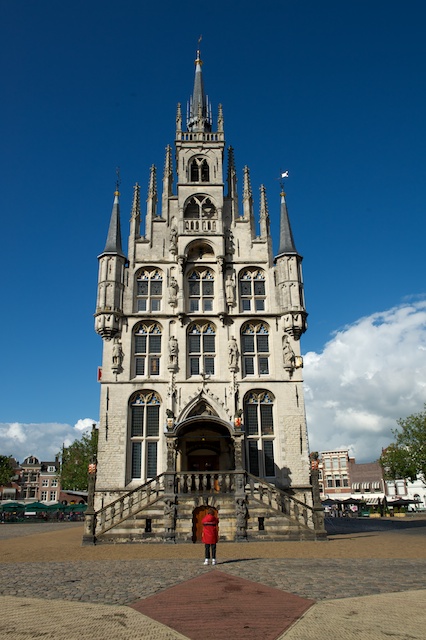 We drove to Gouda and parked in an underground garage, and went up into town. The town was too modern. Perhaps we had been spoiled by Amsterdam, and Leiden and Delft. There were some nice old buildings in the central market square, and took some pictures of them. We walked around a while and found an old church, which was just closing, and took a few pictures. Since it was about 5:00, we thought we might find a place to have dinner, but we discovered that everything was closing. Shops, restaurants, snack places, everything was closed or closing. At five o'clock on a Monday. Very strange. The other strange thing was that we didn't see a single cheese shop in Gouda! We drove back to Delft and our hotel, and had a nice dinner in their restaurant.