We tour Luxembourg and visit a tiny bit of Germany
Sunday, September 5
We got up, and I took a shower, then Donnie took hers. While she was showering, the water stopped! She yelled for me to come and figure out what she did wrong and fix it. She did nothing wrong. No water came out of the shower. No water came out of the sink. The toilet still worked. We were thinking "is this hotel so cheap that they ration the water?". Donnie was still covered in soap and was not happy that she had no way of rinsing it off. She stepped out of the shower and was toweling off when the water came back on. Weird!
After showering and dressing, we went across the street to the beautiful train station to take pictures of it and have some breakfast. Our hotel did not include breakfast in the room fee, and they wanted a lot of money for their breakfast and I figured that we could get a better, cheaper breakfast in the train station. We took a lot of pictures of the train station, had a nice breakfast, and went back to the hotel and checked out. We drove a bit through Liege, and then got on the highway to Luxembourg.
We were on the highway for a while and when we were about a half-hour from Luxembourg, I decided that we were getting a little low on gas. We had passed a couple of rest-stops, or Aires as they are called in French, and so I resolved to get gas at the next one. The next three rest-stops on the highway did not have gas stations, so I decided to get off at the next exit. We did, and went into a small Belgian town. Reminiscent of Namur, this place had no gas station that we could find. So we got back on the highway and went to the next town. Nope, there was no gas station in this town. Finally, in desperation, with about a quarter tank of gas, we resolved to head into Luxembourg and hope that we found gas before running dry. Well, almost as soon as we got over the border between Luxembourg and Belgium, there was a big rest-stop with a huge gas station, with lines of many cars waiting to get gas. I guess nobody else driving to Luxembourg was able to find gas in Belgium either. What is it with the Belgians? No hotels, no gas stations, just good fried potatoes (and the world's best Chocolate!).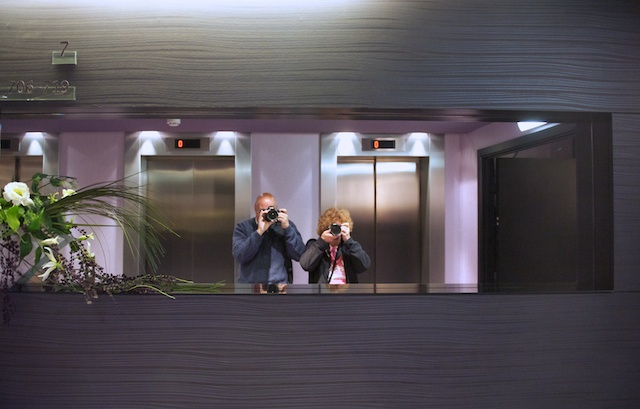 After getting gas, and feeling very relieved, we drove into Luxembourg city. It was a pretty city, very clean and inviting. We passed lots of hotels. In fact, it was hard to decide. It was tricky driving around though. Lots of twisty, windey, one-way streets. Similar to lots of European cities. We finally went to the tourist information office in the train station and they gave us a large magazine-sized booklet listing all the hotels in the whole country. We went through it, picking out a few that met our requirements. We didn't want to spend a huge amount of money, but neither did we want to stay in a dump. I wanted two things: private parking, and an elevator. I didn't want to deal with parking on the street again, or parking in some faraway garage and having to wheel our suitcases through the city streets. I also didn't want to carry our heavy bags up any stairs. Donnie's main criterion was Internet access. We found about three hotels in the book that we liked, and tried to drive to them. We had a lot of trouble negotiating the complicated streets and traffic, and weren't able to find two of the hotels. After going around the same streets several times, we gave up on the first two and went to find the Sofitel. (There are actually two in town. We went to the fancier Sofitel Le Grand Ducal). Donnie was concerned that it would be too expensive, because the booklet showed a wide price range of between 90 and 500 Euros a night.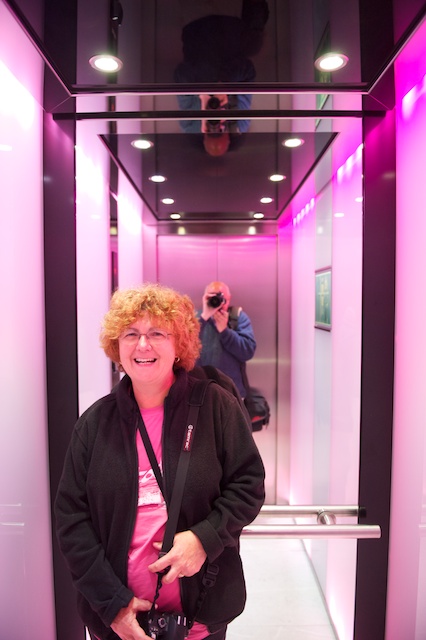 We found the Sofitel and Donnie went in to see about a room. This part was written in a lovely, large, luxurious room in the very luxurious Sofitel, which wasn't very expensive, had valet parking, very modern elevators containing lights that change colors as you go up and down, and had Wifi (OK, it wasn't free Wifi. You can't have everything.). It even had a complimentary mini-bar. We have never seen that anywhere! OK, it only had cans of Coke, orange juice, bottled water and San Pellegrino, no alcohol, but it still is a very nice touch. It also had a complimentary espresso machine in the room.
After seeing the luxurious room, and the very inviting shower, and the terrycloth robes, and the Wifi, Donnie asked if I wouldn't mind if she stayed in the room and "chilled out" while I had a bit of a walk around town. She had booked us in the hotel for two nights, so she had the entire next day to see Luxembourg. I said sure, and went for a walk around town.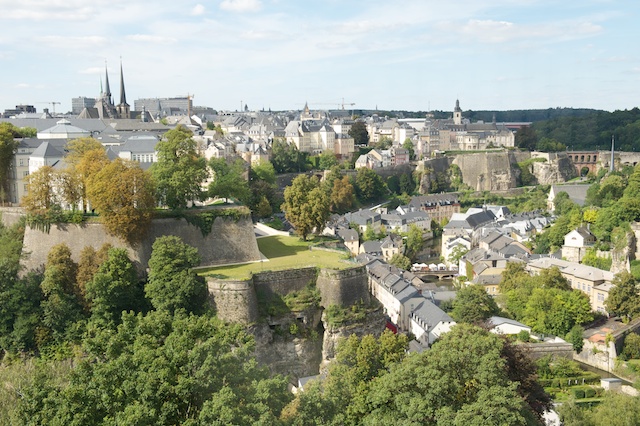 Luxembourg is hard to describe. It isn't as lovely as Bruges, but then few places are. It was still a very pretty, clean, tranquil, nice place. The tranquility might have been because it was Sunday. The buildings are a mixture of old and new, but the old doesn't look as old as in Bruges. The architecture is somewhat plain, without a lot of ornamentation, but still there is something about the place is that just pleasant. That's the best word I can come up with, pleasant. The city is actually on two levels. The old town is in a deep valley that bisects the newer city. The old town, which, in most old European cities, would be somewhat tourist-oriented with old buildings and shops and restaurants, was very different. It was mainly residential. There were a couple of restaurants, but no shops that I saw. There was also a nice park in the lower town, but it was deserted on the days we were there. Donnie later wondered how they defended the lower town in the medieval times, since it seemed very vulnerable, but we then saw the remnants of a wall that encircled the old town up around the outside of the valley. It seemed to me that Luxembourg city was not actively pursuing the tourist trade, which is certainly a valid decision for them to make. It seemed more like a business city, but old enough to have some interesting things for tourists to see, and there was definitely an attempt to preserve the old buildings.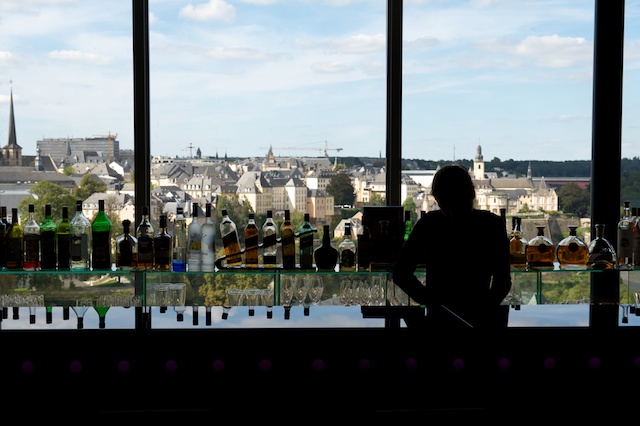 That evening, we didn't feel like taking the somewhat long walk to where the restaurants were, so we decided to eat in the French, gourmet, somewhat pricey restaurant with the "panoramic view" on the 8th floor of the hotel. First, we had a drink in the bar, also with a "panoramic view". The "panoramic view" was indeed beautiful. The service was perfect. The food was excellent. A nice end to the day. We liked Luxembourg. We really liked this Sofitel. It was one of the nicest hotels we had every stayed in, and it wasn't very expensive. (Actually, we later looked in our Zagat guide on our iPhones, and the regular rate for this hotel was listed at almost 4 times what we were paying! Very strange, but very convenient for us.) The staff were the friendliest, most helpful we could imagine.
Monday, September 6
We woke this morning, and went down to breakfast. I don't want to keep using superlatives about this hotel, but the breakfast was very, very good, and the staff were very, very nice. Enough said. We then went for a walk around Luxembourg. The city, which I had walked around a bit yesterday, but Donnie hadn't, was still very quiet on a Monday. We walked a lot, took some pictures, but not many. The architecture here is very un-photogenic, for me, anyway. It's too simple, with almost no ornamentation. We visited the Cathedral of Notre Dame, the biggest church in the city. The décor inside was very 1960's, even though the church was supposed to date from the 1300's. Donnie suggested we visit the crypt, assuming that it might contain the ruins of the foundation of the older church. The "crypt" was actually another chapel, even more in the 1960's boring style. I was not impressed. We continued to walk around town. In the afternoon, the beautiful weather disappeared and it became overcast and windy, so we started to walk back to the hotel early to rest and relax.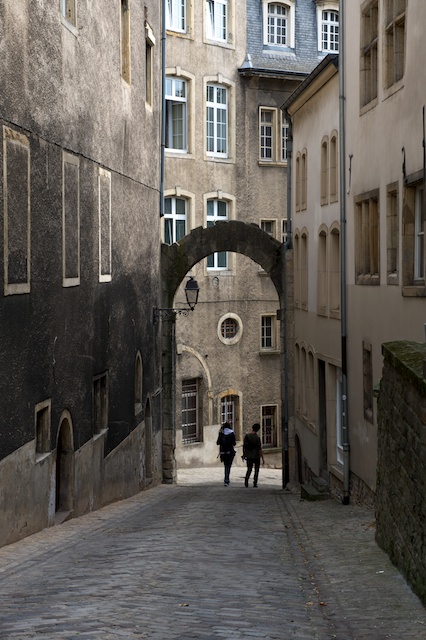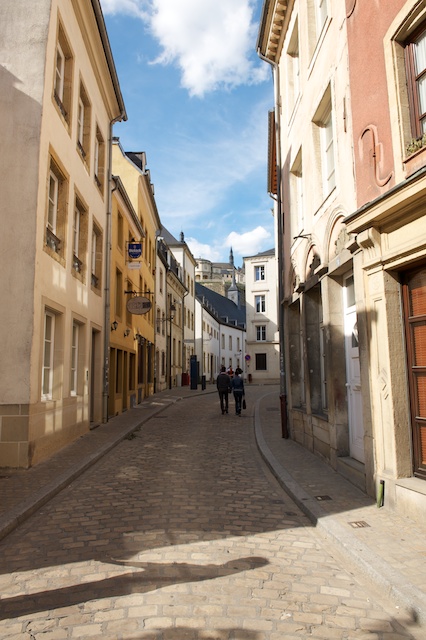 Luxembourg is a nice, pleasant city. It's very clean, and very relaxed, however from a photographic point of view, it's not my favorite. We enjoyed seeing it however, and really enjoyed the stay at the hotel.
Tuesday, September 7
Today we left Luxembourg city to drive to a little town in the country of Luxembourg, called Echternach. We drove around Luxembourg city, looking for the correct road to get to Echternach. We got lost, of course, and ended up on some unknown road out of town. After driving a while, looking for place to turn around so we could go back into the city to find the right road, we discovered that we were on the road to Echternach. Talk about "Dumb Luck"! It was only 30 minutes to Echternach, a very small town, and once there we saw signs directing us to the hotel we had booked via the internet, the Eden au Lac resort hotel. It was a big place, looking like several large Swiss Chalets, on a hill, in an area called Little Switzerland. We parked and checked in, and went to visit the town. It was an overcast day with some occasional rain. We decided to have lunch, and Donnie suggested a little Italian restaurant we passed. We had soup and a very, very good pizza for lunch. We walked a bit more and then saw the main attraction in the little town, the church founded by Saint Willie, (OK, actually St. Willibrord), in 962 a.d.. Inside the crypt, they had the tomb of St Willie. I remarked that we were in the presence of St Willies willy. (Sorry about that. I couldn't resist.)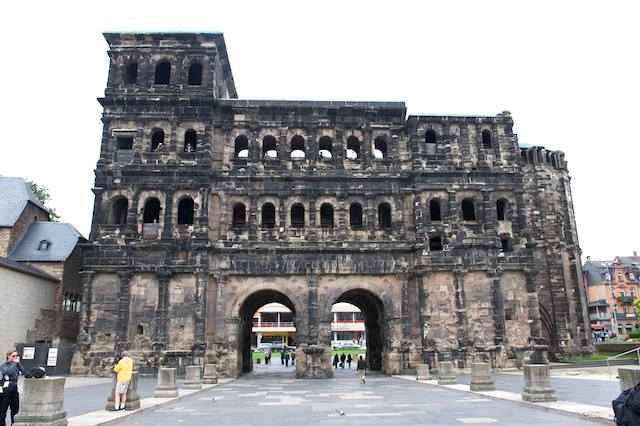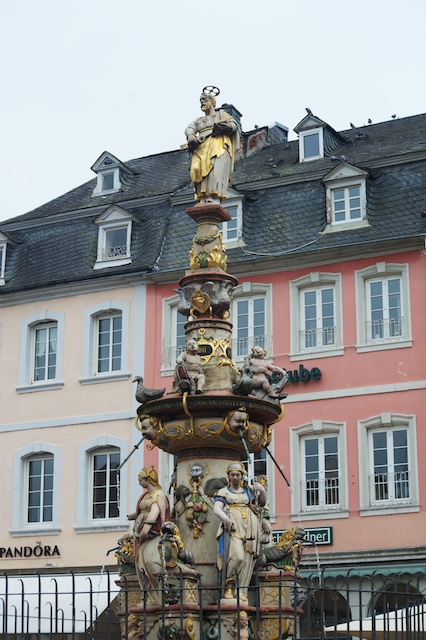 We then decided to drive to nearby Trier Germany. We drove along the river Sure, a small river. The other side of the river was Germany. When we got to Trier, it was much bigger, and much livelier than Echternach. We walked to the Haupt Markt which was a very nice market square in the old town. There were lots of people, lots of shops and restaurants and pretty old buildings. Much more impressive that Echternach. We saw the very impressive Cathedral of St. Peter/Dom. Even though we have seen a lot of churches and cathedrals in Europe, the carvings and decorations in this one were very elaborate. Trier is the oldest city in Germany (Echternach is the oldest town in Luxembourg). So we saw an old Roman town gate and tower in Trier. They had other Roman ruins, including an amphitheater, but we didn't want to walk that far to see it. We stopped and had tea in an outdoor cafe in the Markt, and walked around the old town taking some pictures, even thought the light was bad because it was overcast. Then, when we passed a bakery selling pretzels, I remembered I was in Germany and what that implied. We got a pretzel. It was one of the large, soft and fluffy in the inside, chewy on the outside pretzels that I remembered they used to sell in the carts on the streets of New York City when I was a kid. The ones they sell in New York now are poor imitations. The German ones are fantastic. This one was still hot from the oven. I could have bought a dozen, but they would cool off and harden and not be the same, so I just luxuriated in the one. There are some things that just cannot be obtained anywhere but where they are meant to be. German Pretzels are not the same anywhere else. Neither are Croissants outside of Paris.
We would have walked around Trier more, but it started to rain so we drove back to Echternach. We went back to the hotel for a while. They wanted us to book a reservation at their restaurant. We looked at the menu. It was clearly a very fancy, quite expensive, haute cuisine, French restaurant, and we really didn't want to eat that much or spend that much, so we decided to drive back into town for dinner. Donnie suggested we have dinner in the same Italian place where we had the very good pizza lunch. We each ordered a different pasta dish, and they were extraordinary - very fresh homemade pasta with delicious sauces and toppings. A very, very good Italian dinner in a tiny town in Luxembourg. We must be in Europe!
Wednesday, September 8
We got up this morning and had a very nice buffet breakfast in the Hotel. We then checked out, or at least tried to. The desk clerk/manager was telling us the history of the hotel, his experiences working on a river cruise boat, why we might be interested in river cruises, where to visit, what rooms we might want if we re-visited the hotel, how to contact him if we want to book there again, and on and on. I think he almost forgot to charge us for the room. We also found out that, even though he is German, his first name is Mario, and how this happened (his mother liked some TV show, which had a big St. Bernard dog and a little boy named Mario). Finally, after many thankyou's and goodbye's, we managed to leave.
After leaving the Eden au Lac, and Mario, we drove along the little back roads of Luxembourg. We saw pretty little villages, unlike Belgium. The pretty little villages all had hotels, unlike Belgium. Some of the pretty little villages were tiny, maybe one street two blocks long. They still had hotels, unlike two major cities in Belgium! We saw a couple of castles, but since it was very overcast we didn't take a lot of pictures. Still the scenery was very pretty. It was a hilly, forested area, called Little Switzerland, and did remind me of Switzerland a bit. We continued to drive North in Luxembourg, passing lovely towns and scenery. Just as we got near the Belgian border, we passed a large number of gas stations, still in Luxembourg. Once over the border into Belgium, we drove for a long time and passed no gas stations, except one, and that one was closed! We did pass quite a few snack bars selling French fries (actually, Belgian fries) called Fritures. I finally figured it out. The Belgians are very smart. Unbeknownst to the rest of the world, they have figured out how to run their cars on French fries! No gas stations are needed. I really don't want to insult Belgium or the Belgians. Bruges is a lovely place, one of my favorite places in Europe, and the Belgians have the best fries, and the best Chocolates and some really good beer (over 400 kinds, each served in its own special glass), and, of course, Hercule Poirot!