Searching for Medieval Mediterranean Marvels
Or, more accurately, Eating Our Way Through Europe
Part One - Mortadella is no Baloney
October, 2022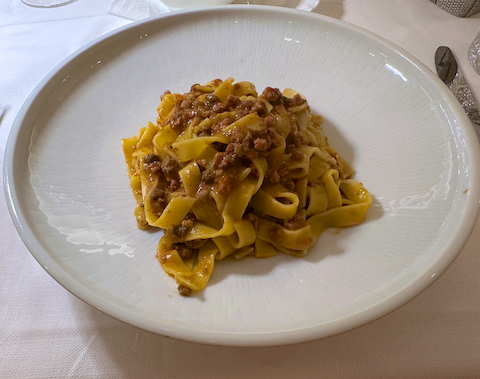 My wonderful wife Donnie has been talking about going to Croatia for a long time. She even had a tour booked when the pandemic hit, but of course it was cancelled. Now that it was supposedly relatively safe to travel she wanted to take a land tour and I didn't. I don't like land tours anymore. You don't want to read my long-winded reasons.
But then I found another one of my brilliant (Ok then, lucky) compromises. I found a seven day "intensive" cruise that visited several of the places that Donnie wanted to see. The upside was that the cruise was on a small ship that could visit towns that a larger ship couldn't but the downside was that it only spent a day, or even only a few hours in the towns. Donnie wanted to spend a week in Dubrovnik for example.
The thing that clinched it was that I found another cruise leaving only a few days after the first one that went to several interesting islands in the Mediterranean and ended up in Spain. Since our granddaughter is currently living and working in Spain, and we would end up a train ride away from her, that sealed the deal. Another bonus is that we would be visiting Rome for a couple of days and Barcelona for over a week - two of our favorite cities.
This time we'll be gone a month and a day - so here we go again...
Day 1 - Thursday, October 6 - Traveling
We ran into heavy traffic getting to the airport but we made it with plenty of time to spare. We avoided the long check in lines since we had premium comfort tickets, whatever they are. The plane flight had a few amusing occurrences. A few minutes after we were all onboard, they called out about six names, unusual Eastern European sounding ones, and asked them to identify themselves to the cabin crew. Several minutes later they made an announcement that our departure from the gate would be delayed slightly because some passengers hadn't shown up and their bags had to be removed from the plane. The slight delay was an hour.
Later, the in-flight entertainment system was freezing up occasionally so they finally announced that would reboot it and this would only take twenty to twenty-five minutes. This made the third time Donnie had to restart the movie she was watching and skip to where she left off. Rebooting takes twenty to twenty-five minutes? When was this thing built, 1978?
Later still, since we had declined the meal (We ate at the Shake Shack in the terminal before getting on the plane. We know what airline food is like nowadays.) the flight attendant brought us some snacks. One was a small cubical brown cardboard box that claimed it contained cheese crackers. Inside was a sealed metalized plastic bag, like one of those reflective Mylar balloons. Donnie opened hers and didn't like the contents. Try as we might, neither of us could get mine open - no great loss. Other than these minor hiccups the flight was as pleasant as modern commercial aviation typically is - boring, uncomfortable and not at all pleasant.
Day 2 - Friday, October 7 - Still Traveling
Eventually the plane arrived at Schiphol, the Amsterdam airport. Not only weren't we late because of the hour delay, we were actually a little early - amazing.
Schiphol was a madhouse. The place is HUGE, and very confusing. There are actually signs giving the walking times to various places inside the terminal. Following the signs to anything was very difficult, mainly because there were so many of them. Typically these days, they were mostly in English. Sometimes the signs with arrows directing you to something seemed to point in different directions at the same time.
We had a five hour stopover before our flight to Bologna. We had read that we would be able to buy day passes to the KLM lounge which would give us a quiet, comfortable place to spend the time as well as "free" food and drinks. It took us an hour to find out where the lounge was and walk toward it and go through passport control to get to the lounge only to discover that day passes weren't available that day.
So we found a small place that sold beer and other stuff and we sat at a table there and nursed a couple of soft drinks surrounded by a large group of young men and two young women talking loudly and excitedly and drinking round after round of beers. I counted at least five beers apiece. Every few minutes, more young men showed up and joined the group. Eventually there were about twenty of them. They looked like they might have been members of a sports team.
We eventually boarded our KLM City-Hopper flight to Bologna. That's really what they are called. "KLM City-Hopper" is painted on the side of the plane. The flight was uneventful except that they handed out pre-packaged cheese sandwiches which were better than any airline meal we have had in a long time.
After arriving at the Bologna airport, we had to wait longer than we expected for our luggage and then discovered a very long line of people waiting for taxis. We patiently waited, got a nice taxi driver who only spoke a little English, and arrived at our hotel around 6 PM.
Bologna was the first stop on our trip because cruise ships can no longer go into Venice. The Italian government, or maybe the Venetian government has done something intelligent. The cruise ships and the cruise ship passengers were destroying Venice, so, they banned them. Therefore, the cruise lines had to find an alternative. Our cruise was listed as leaving from "Venice (Ravenna)". That's the cruise line marketing department's way of saying "We pretend we're leaving from Venice, but we're really leaving from Ravenna".
Now Ravenna is supposed to be a very pretty small Italian city with a big port area, but it isn't easy to get to. It has no airport and getting to it by train requires two trains and a long stopover between them, so we chose instead to fly into Bologna, a much larger and more interesting city, spend a few days, and then hire a car and driver to take us to the ship on the day of embarkation. I probably should mention that Bologna has the oldest university in continuous operation in the world, founded in 1088. It's still there and the town was chock full of college-age people.
Did I mention the other reasons why we chose Bologna? They invented Tortellini - they invented Lasagna - they invented Pasta ala Ragu - they invented mortadella; and they are reputed to make and serve the best of all of then, anywhere. Sorry Ravenna. We later found out that people from all over Italy come to Bologna on weekends and holidays, mainly to enjoy the food.
So, here we were at a hotel right in the center of the old town in Bologna. The bell-boy, who was a "boy" in his late 50's walked us and our luggage a block from the hotel proper to the apartment we had been assigned since it was the only room available when we booked the hotel. It was really an apartment in a nearby apartment building, with real tenants. It was large and very strangely decorated. We dropped our stuff, and explored it a little.
There were two bathrooms, a kitchen area, a wild looking bedroom, several closets and even a laundry outside in the hall. There were push buttons everywhere some of which seemed to control lights but it wasn't always obvious which lights they controlled. Others didn't seem to do anything, as far as we could tell. In the three days we stayed there we never figured out the light switches.
Donnie got worried at one point because the window "curtains" were just hanging colored strings that didn't block the light. She was worried that people could see in at night and in the morning the sun would wake us. Then, I noticed a little push button on the wall next to the window, which I had assumed was yet another confusing light switch. I pushed it and heard a soft whirring sound and when I looked out two metal shutters were unfolding in front of the window - cool.
Even though we were exhausted we wanted just a little snack and something to drink so we went back to the hotel reception desk and the nice young woman directed us to a little wine/coffee/pastry place only a few steps from the hotel entrance. It was called Piano Piano. Donnie said that it meant "slowly slowly".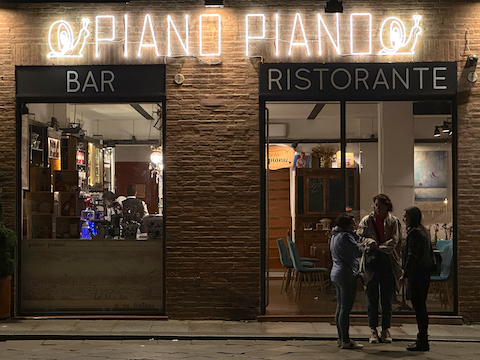 I had always read that in Italian, "piano" meant "soft", because in a lot of articles it says the musical instrument called the Piano is really called a Pianoforte, which means "soft loud". Googling the translation of "piano" was no help. Google, which is all-seeing and all-knowing, said that "piano" means "floor". On the other hand, Apple Translate said that "piano" meant "flat". So we had a snack at a place near the hotel called either "floor floor" or "flat flat". Actually, Donnie was probably right because the sign that said Piano Piano also had two drawings of snails - slowly, slowly.
We had wine and complementary snacks. The snacks were little bite-sized finger sandwiches. Three of them were rectangles of soft focaccia bread with olive oil, fresh Italian tomato, and genuine bolognese mortadella. Wow! I have read many times that mortadella was the Italian version of our bologna. You might as well compare Brunello di Montalcino to Welch's Grape Juice. The mortadella was delicious and not American baloney.
Afterwards we walked around the Piazza Maggiore which is the major square and tourist attraction in Bologna. Even at night there were a lot of people around. After a while we went back to the hotel and crashed. We had been traveling for 21 hours and awake for 37!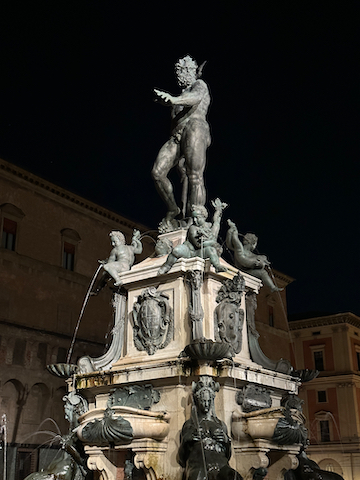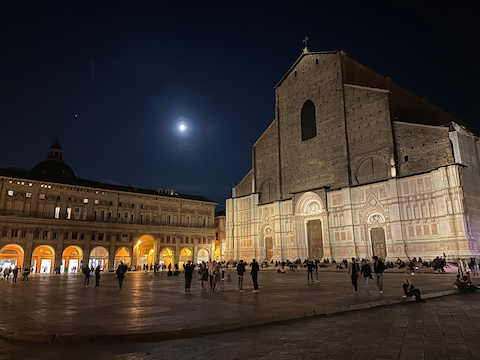 Day 3 - Saturday, October 8 - Bologna, Italy
I'm going to subtitle this section because there aren't very many tourist attractions or museums or other major sights to see in Bologna. So this section will be called
A Foodie's Guide to Bologna
We seemed to have gotten a good nights sleep but were still a bit groggy this morning. We got a pretty slow start and after waking at 6:00 we didn't get out of the hotel until 9:30. We went back to Piano Piano for coffee and pastry. The cappuccino's were a little weak but the croissant filled with pastry cream was fantastic.
Afterwards, we walked and wandered around old Bologna. The weather was beautiful, in the high 60's to mid 70's and sunny. One of the special things about Bologna is its porticos, or covered sidewalks. Bologna has more porticoes than any other city. They cover more than 38 kilometers only in the historic center, but can reach up to 53 kilometers including those outside the medieval city walls. Everywhere we wandered there were porticoes, many having very fancy decorations on their vaulted ceilings.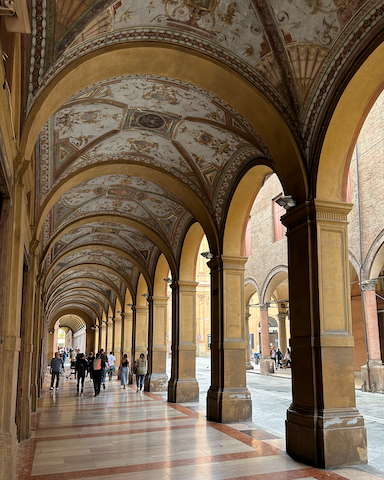 For lunch we went to a famous place we had read about called Pigro Mortadelleria. It's a very tiny hole-in-the-wall where the owner, who was described as "reminding you of an 80's Rock Star", makes only one item, mortadella sandwiches to go.
These sandwiches are very simple - bread and mortadella - no lettuce, no tomato, no condiments. We got two, and some bottled drinks at a nearby convenience store and sat on the basilica steps and ate lunch and people watched. The sandwiches were great.
After picking up some milk, water, and juice at a tiny grocery a few steps from our hotel room, we went back to our apartment for a little rest and later we went out again. Every single person in Bologna was out walking! We had experienced this before in other cities in Italy, even in Rome. They call it passeggiata. Everyone, even whole families, goes out walking in the early evening. They chat, they window shop. It's a tradition and we think a wonderful one.
The streets were jammed. The piazza's were packed. The outdoor bars and cafes were full. We wanted to sit outside and enjoy a Spritz but after wandering around for an hour in vain we elected to go to Piano Piano where we enjoyed two large, very refreshing Spritz's accompanied by some very, very stale potato chips. Potato chips are evidently not a Bolognese specialty. Who would have guessed?
After our Spritz's, more wandering occurred. Bologna is mainly a college town and a business town, so there aren't really many tourist attractions here, except some churches, and we're a little tired of churches so we just wandered and enjoyed seeing interesting buildings and fun small shops. One nice thing is that the giant corporate chain stores haven't driven out the small stores like they have at home.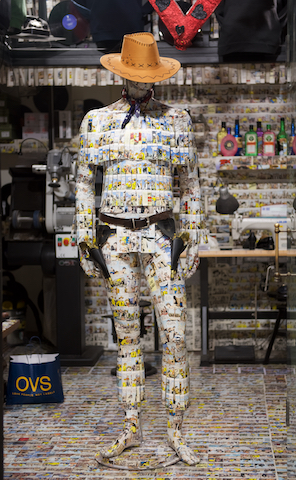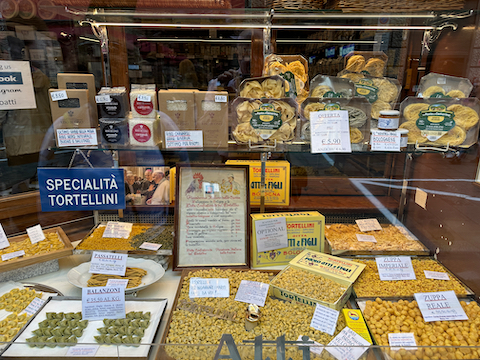 We had thought earlier that we would go to a somewhat fancy restaurant which had good online reviews but with the crowds out we assumed that it would be too difficult to get into so instead we went to a little place a few feet from our hotel, called Trattoria La Mela.
I started with Bresaola as an appetizer. Bresaola is thinly sliced, air-dried, aged, salted beef. It was delicious. Donnie had octopus, one of her favorites. For our next course Donnie had Tortellini en Brodo - Tortellini in chicken broth. I had Lasagne Bolognese which was totally unlike anything called Lasagna in America. It has no ricotta cheese, the sheets of noodle are very thin and flat, and it is made with bechamel sauce and Bolognese ragu, or meat sauce. It was superb. Remember, the Bolognese invented it. We finished up by sharing a Baba au Rhum for dessert.
Everything was excellent. As I said to Donnie, it's not impossible to have a bad meal in Italy, but it's hard.
Day 4 - Sunday, October 9 - Bologna, Italy
We got a very late start today. We left the room at noon. We immediately went for lunch. Even though I didn't want to eat pizza in Bologna since I wanted to enjoy traditional bolognese dishes, we went to a pizza place only a few steps from our hotel, called The Gallery Pizzart Food & Drink. It was inside a small shopping mall so we didn't find it at first. There were elegant tables, fancy black tablecloths, fancy black dressed waiters, fancy menus, and very cheap pizzas. The pizzas were ok, but not wonderful. Pizza is not really a Bolognese specialty.
We did lots more wandering among the streets of Bologna. There were lots of medieval buildings, occupied now by modern stores, offices, and apartments. Also, perhaps one, perhaps two million places to eat. They were cheek by jowl, everywhere. I guess I already made it clear, Bologna is a foodie town.
One fantastic place we found was an old, authentic shop, called Paolo Atti e Figli (Paolo Atti and Sons) which was founded in 1880. They made and sold every imaginable kind of homemade fresh tortellini. We were dying to buy some, but we still had almost a month left on our adventure and the tortellini needed to be kept refrigerated, hard to do on a cruise ship.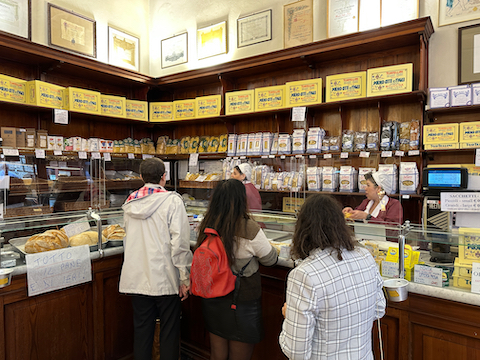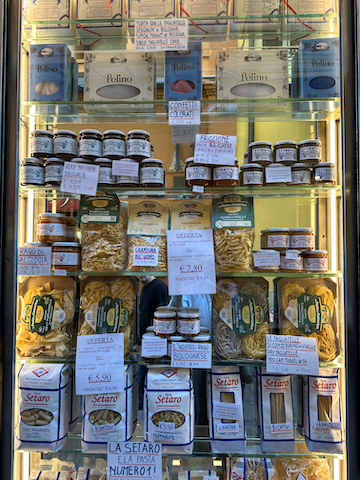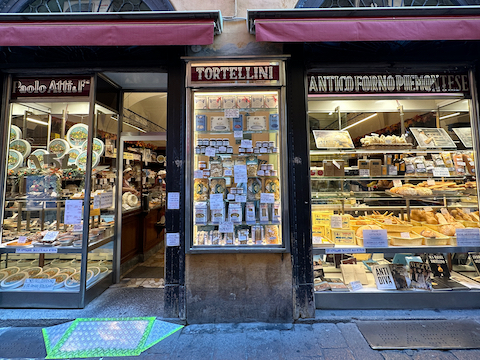 So instead we bought two small bags of Italian candies - chocolate covered cherries and gummy candies like large gumdrops but in different shapes. Later, back at the hotel, we tasted the chocolates filled with cherries and cherry liqueur - wow! We didn't try the gummies until much later, after we had left Bologna. If we had, we would have needed another suitcase for the additional bags of gummies we would have bought. Donnie, who says she doesn't like gummy candies, adored them. The taste was unlike any other gummy candies we've ever had, more like real fruits.
Later in the afternoon, after many miles of wandering, we stumbled back into the Piazza Maggiore and sat at an outdoor cafe and had beverages (non-alcoholic this time).
We had elected to go to dinner at a restaurant called Ristorante del Nello which was one of the few recommended places open on Sunday. But, when we got there it was full and we were told that if we came back in two hours we might get in. So we adopted plan B and went to another place nearby, which I found online just before we went out. It was called San Pietro and turned out to be more elegant, had a better review rating and we got a table instantly without a reservation.
The atmosphere, the service, and especially the food were all magnificent but especially the food. First we both ordered Aperol Spritzes. Donnie started with a mortadella mousse with Parmigiano Reggiano cheese and a drizzle of balsamic vinegar. I started with Tortellini in Brodo. Both were superb.
For the main course we both had Tagliatelle Al Ragu. In America we call it Pasta Bolognese. If you think you have eaten Pasta Bolognese, you haven't. If you think you've eaten Tortellini, you haven't. If you think you've had Lasagna, you haven't, unless you've had them where they were invented, in Bologna. Dinner at San Pietro in Bologna was a wonderful experience.
After dinner we slowly wandered back to our hotel through the nighttime streets of old Bologna, taking more night pictures and enjoying the atmosphere.