Searching for Pancakes in the Palace
Some notes and other trivia written on a trip to Russia, The Netherlands, and Brittany
July, 2009
Episode 1 - The "Jeff and Donnie Show - On Tour"
Hi Gang! It's time once again for the "Jeff and Donnie Show - On Tour". Any of you who don't want to spend the next hour or two reading this lengthy document can hit 'back' on your browser now.
We decided, this time, that our trip would be to St. Petersburg (Russia, not Florida), Amsterdam, with some touring around other towns in The Netherlands, Mont St. Michel in northern France, and touring around Brittany (the northwest part of France). Because of the complexity, and a little apprehension about going to Russia, we made use of a travel agent, which is not usual for us. The travel agent made arrangements for everything in St. Petersburg, including a guide and driver, and the hotels, trains, and car rentals for Amsterdam, and Mont St. Michel in France. After that, we were pretty much on our own.
I'm sitting in our hotel room at the Hotel Dostoevsky in St. Petersburg, typing this saga. We just discovered a free Wifi hotspot in the coffee shop 10 feet from our hotel lobby. In fact, there is a door directly from our hotel lobby leading into the shopping mall behind the coffee shop!
Yesterday was spent mostly traveling, but I have to say that this experience was much better than some of our previous trips. The limo driver arrived a half-hour early to pick us up to take us to the airport. There was very little traffic going to JFK, even on the dreaded Van Wyck Expressway. When we got to the Air France check-in counter, there was a long line, but an Air France employee looked at our paperwork, and since we had done an on-line check-in she redirected us to a different line that only had three people on it. The plane boarded on time, but was delayed about a half-hour before leaving the gate, but we still arrived at Charles De Gaulle airport in Paris close to our scheduled time and had no trouble making our connecting flight.
That flight was a little interesting. It was another Air France flight from Paris to St. Petersburg, and was only about a quarter full. It was a three hour flight. During the flight, they made an announcement about some Russian government "migration" form that we had to fill out, in duplicate, and they passed out the forms. We filled them in. Then about an hour later, they made another announcement about some "Health Ministry" form they needed filled out so that the government could find us in case anybody on the plane had swine flu. This of course is because they couldn't possibly know where we would be in Russia, even though we had to give the name and address of our hotel in two places on our Visa applications and in 3 places on the "migration" document. So we filled out the form, and then a flight attended collected them one by one, checking each one off on a passenger list and then sorting them alphabetically! Then when the plane landed, and we were taxiing to the gate, they announced that we must stay in our seats after the plane stopped at the gate so a "health inspector" could come on board to inspect us! We stopped at the gate and everybody remained seated, except two other Americans, who, as always, got up to get their bags from the overhead and were ordered back in their seats by the flight attendant. We then waited about 5 minutes and they announced that there had been a change in plans and we could leave the plane. As we walked out of the door there was a hefty Russian woman in a white coat pointing a device that looked like a Radar gun at each of us. I suspected that the gun was taking our temperatures. We got through the passport control quickly and our bags were two of the first ones off the plane! We made it to Russia. When we got past the customs area, our guide was waiting for us with a sign with our name on it.
Our guide's name is Sergey, and our driver is Gyorgi. Sergey is in his thirties, and has a PHD in Russian History, and he teaches at the St. Petersburg University. He also is an expert in English and wants to get another PHD in English. Gyorgi has only a few words of English and is probably around our age or older. They're both very nice, and Sergey is amazing with his depth of knowledge. They took us in an old black Mercedes to our hotel, and said that they would pick us up the next morning at 9:00.
That evening we walked from our hotel to Nevsky Prospekt, a wide main shopping boulevard, and we walked along it. Except for the cyrillic signs, it could be in any major European city. Lots of recognizable shops, and several McDonalds, KFC, Sbarro, and many other "American" names, except in cyrillic. I'll see if I can write McDonalds in cyrillic.
МАКДОНАЛДС
Thursday, July 23
Today was very eventful. We had a very nice buffet breakfast at our hotel, which was included with the room price, and then Sergey and Gyorgi took us for a car tour of the city. Sergey explained more information, details, and dates than anyone could remember and we stopped at several places to take pictures.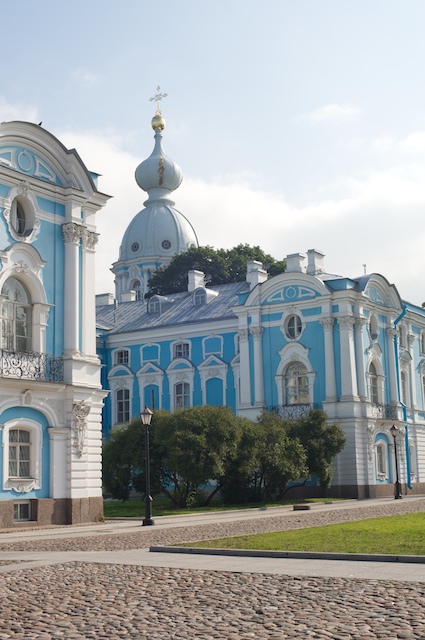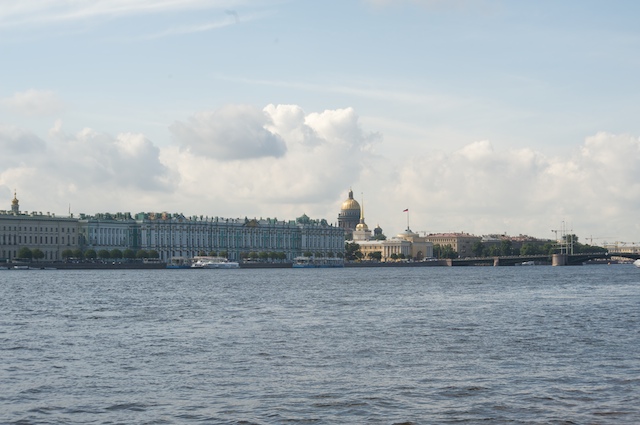 We saw the area down by the Neva river, which was a very beautiful part of St. Petersburg, and the University of St. Petersburg, where Sergey teaches, and in fact drove around most of the interesting parts of the city.
St. Petersburg is a beautiful city, with lots of old, beautiful, multi-colored, European-style buildings, sculptures, etc. It also has several canals.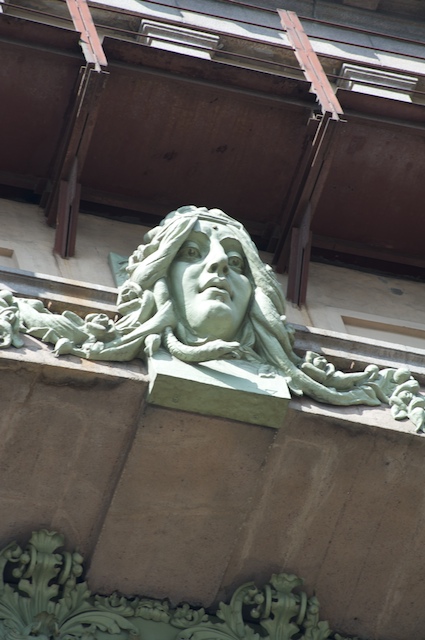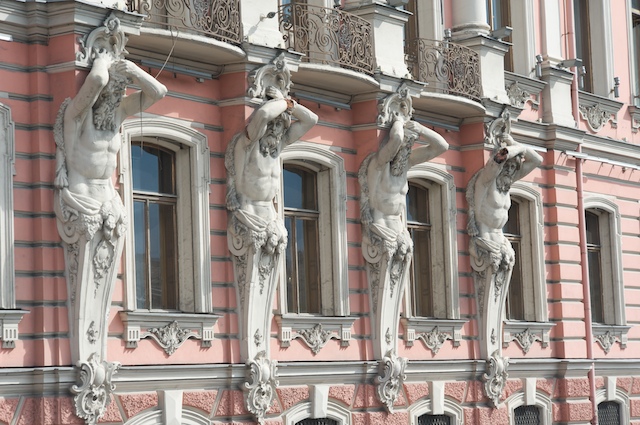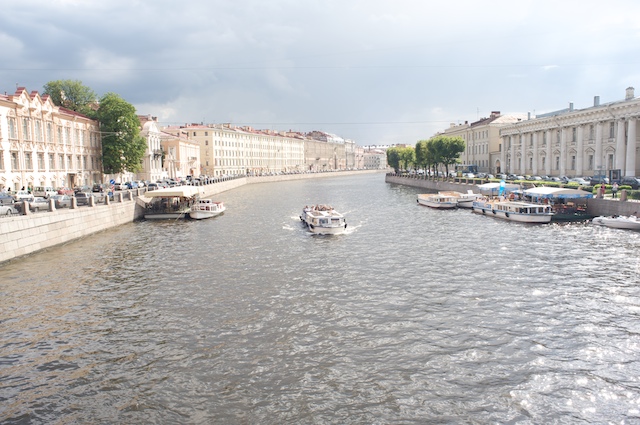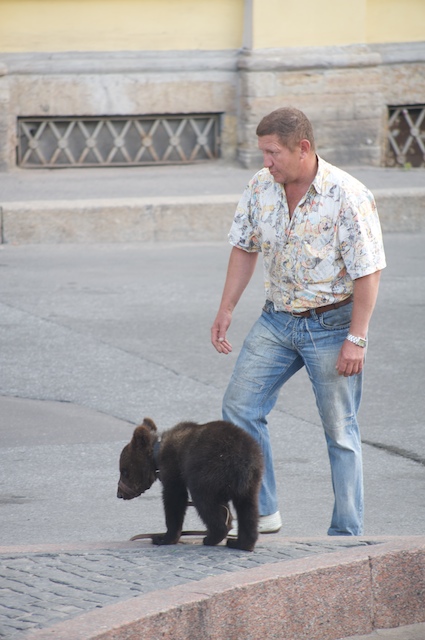 We were stopped at a spot near some bridges over a canal when we saw something we thought might be unusual: A man walking his pet bear cub. No, St. Petersburg residents don't generally have pet bear cubs. The man, and the bear, turned out to belong to a circus, which was in town in a building nearby.
After a lunch of traditional Russian filled pies (both sweet and not-sweet), we went to the Hermitage. Donnie and I had read about the Hermitage for years, and had always had a secret desire to see it. We both love art museums. I have been a member of the Metropolitan Museum of Art in New York for over 20 years, and we have been to many, many art museums in the world, including the Louvre several times, but we had always heard that the Hermitage was something special. We never expected to be able to see it during the Soviet Years, and now here we were!
There are not enough superlatives in the English language to describe the Hermitage. There was gold leaf everywhere, with lots of marble, and parquet floors and mirrors and huge vases, and paintings on the ceilings. The most amazing thing though, for us, was the artwork. It was part of the Russian Czar's winter palace and it is HUGE and filled with an amazing collection of art. Sergey gave us our personal guided tour of the winter palace and the Hermitage for three hours and we were dazzled. Maybe it will give you an idea to say that Sergey told us that if you stopped to look at each art object for 1 minute, to see the entire place would take 9 months. It almost puts my favorite place, the Metropolitan Museum of Art, to shame. The Met (as we know it) has a unbelievable collection of art from every culture in the world, but the Hermitage has a similar collection housed in a Palace!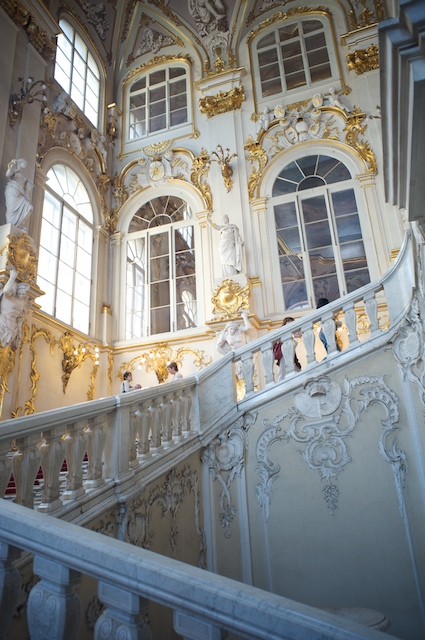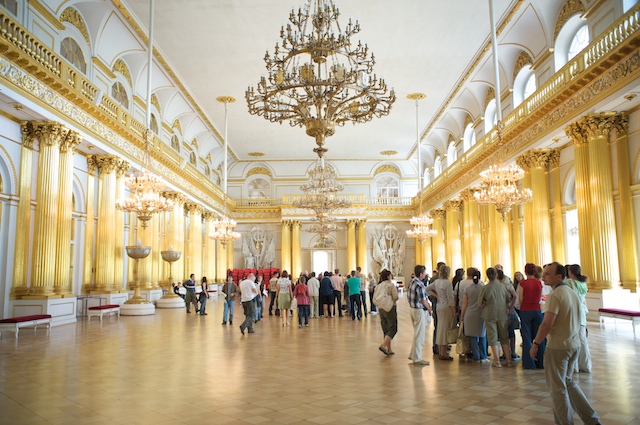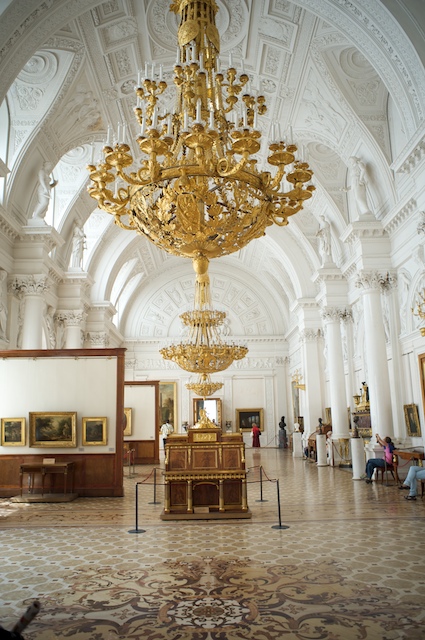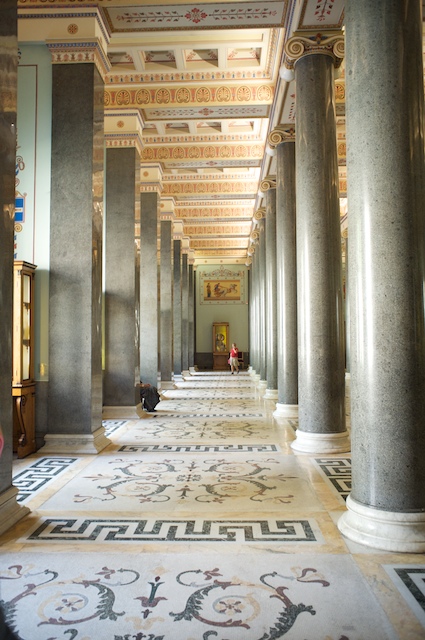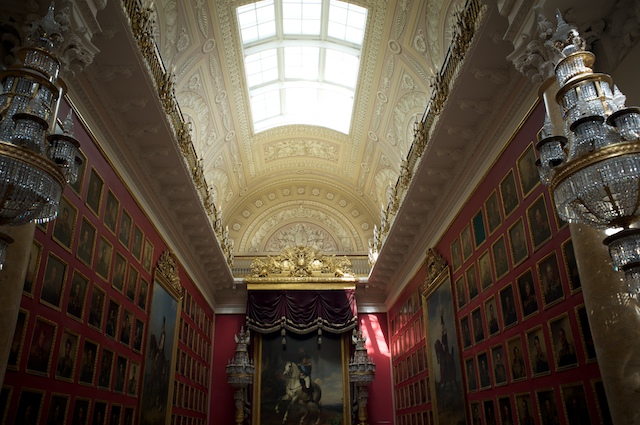 That evening we went to a little restaurant a block from our hotel that, according to one of our guide books, has the best Blini in St. Petersburg. Blini are thin pancakes, very similar to crepes, filled with various things. We shared two. One was filled with mashed potatoes and mushrooms and one was filled with cheese, sauce and chicken. They were delicious. (You may notice the pancake and palace theme in later parts of this epic, thus explaining the name of this saga).