Searching for Pancakes in the Palace
When we last left our intrepid explorers, they were trapped in their hotel room by the throngs of people in Mont St. Michel. Will they survive? Will they be able to get out? Will they reach a restaurant for a gourmet dinner? Will this episode ever get started? Wait and see...
Episode 12 - Ye Olde Celle-phone shoppe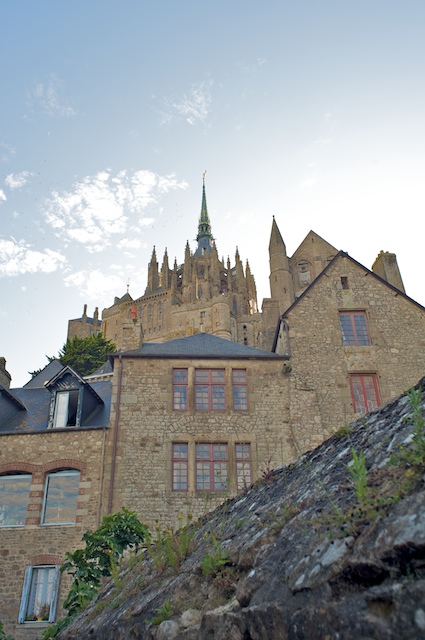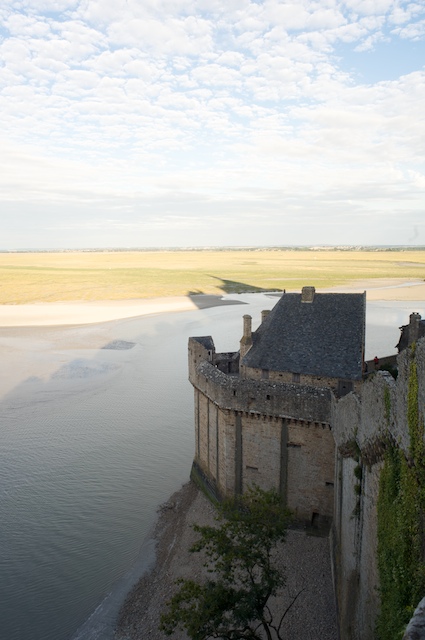 We relaxed in the Mere Poulard Hotel for a little while, and about 8:00 we decided to attempt an escape. Upon descending from our room, we discovered that the crowd was mysteriously gone. The main street was almost empty, as was the parapet. Even more importantly, the sun was out. The day so far had been completely overcast, which drives us photographers crazy. We had taken many, many pictures in the gray, shadow-less, poorly-lit day. Now the sun was out! We walked along the parapet, re-taking as many pictures as we could, quickly, because sundown was approaching. We wanted to walk around the island again to re-take more pictures, but the tide had come in, and the walk around the island was now impossible (at least without scuba gear).
Finally, when we had exhausted all the picture-taking opportunities, we walked around looking for a particular place to eat which had been recommended by one of our guide books, and found a place which might, or might not, have been the right one. It didn't really matter, because Donnie had the best Moules et Frites (Mussels and French Fries) that she ever had.