Searching for Pancakes in the Palace
Episode 2 - Crime and Punishment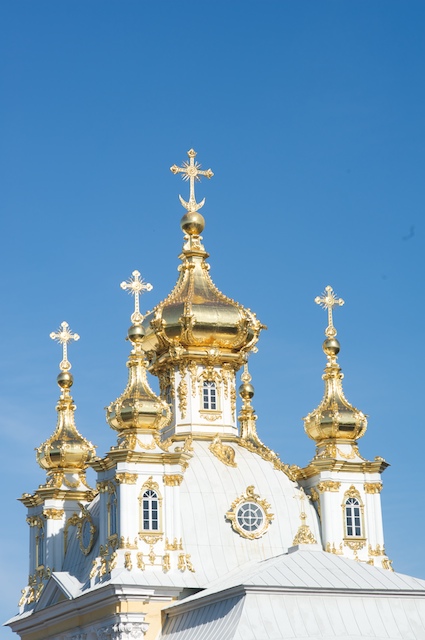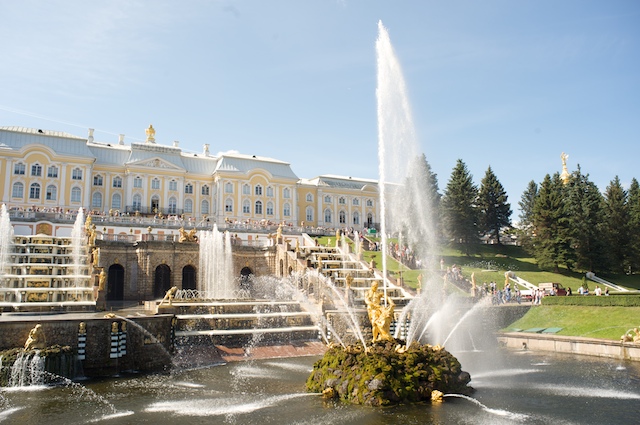 On Thursday we went to the Peterhof palace. Miles and miles of rooms covered with tons of gold leaf. Parquet floors everywhere (you had to put little booties over your shoes to get in). Chandeliers everywhere. (No Pictures allowed inside, alas). The Czars had LOTS of money (and lots of serfs who worked for nothing). The gardens had 200 fountains (Peter the Great wanted to out-do Versailles), and Sergey threatened to show us all of them. We walked around the palace and gardens from 10:30 until about 1:00, and then drove back to St. Petersburg (the palace is about 20 miles out of town).
Sergey then took us to St. Isaac's Cathedral and gave us a guided tour, once again giving us more information than anyone could absorb. He then had to leave, so we wandered around the cathedral for a while.
We then had lunch at a place Sergey recommended, called Cafe Idiot (named after a Dostoevsky story). It was down a flight of steps and was like a grotto with nice antique-looking comfy furniture and lots of antique bric-a-brac, like old typewriters and stuff. I ordered Palmeni, which turned out to be like Pirogies (dumplings) and Donnie had Russian-style herring and we shared. They also gave us complementary shots of Vodka, which we tried, and, to my surprise, I liked. Donnie didn't like hers.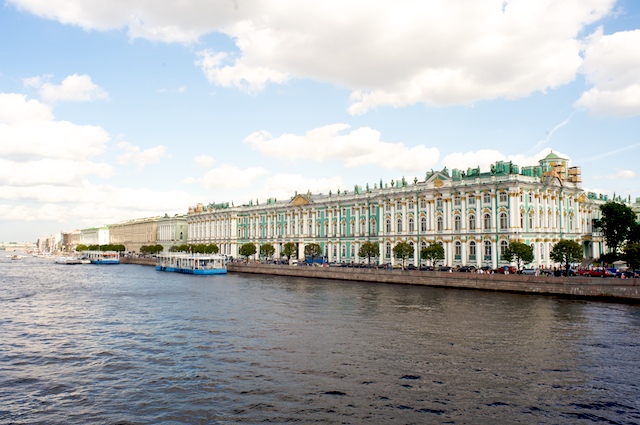 After lunch we walked over to the Neva River to take more pictures of the most beautiful part of the city. We then started the long walk back to our hotel. We walked along the Nevsky Prospekt for many blocks during rush hour, which was our downfall. I was pick-pocketed! Just a few blocks from the hotel, while we were waiting in a crowd of people for the light to change, two burly guys suddenly appeared in front of me and bumped me and started shouting and within 1 second I realized what was happening and reached into my pocket, but it was too late and my wallet was gone. It was my stupidity. We had been warned many times on many trips not to carry anything of value in your pockets and to use a money belt, but we had a false sense of security because this was the first time this happened in all our trips. Anyway, we floundered around for a while trying to figure out what to do, and then went to a very fancy hotel, the Grand Hotel Europa, to see if they could help us. They didn't. We were extremely tired and upset, so we decided to take a cab back to our hotel, only to find that the cab drivers are also rip-off-artists. One wanted 700 rubles (about $23) for a 10 block ride, and the next one we asked wanted 850! (about $28!!) So, exhausted and frustrated, we went back to the first one and spent the 700 rubles to get to our hotel.
Our hotel desk clerk wasn't very helpful and he said to talk to the concierge, who didn't speak English. Finally, I just decided to call all my credit and debit card companies from my cell phone, even though the roaming charge for that is $5 a minute. I couldn't get any cell calls to work, and the phone in our room was not operating, so we went down to the desk again and asked if we could get our room phone working. He said to call from the "business center". So we went to the business center, where the woman who worked there didn't have a lot of English, but she was reasonably helpful and dialed the numbers for us.
All my credit card and debit card companies' staff were very understanding and helpful, and told us that none of the fraudulent charges would be charged to us. In a very few minutes after the theft, the thieves had charged $1000 for a computer at a computer store, and attempted to charge another $5000, which was rejected.
The major hassle is that I lost my driver's license, and so Donnie will have to do all the driving we intended to do in the Netherlands and Northern France. The other major annoyance was that the "business center" charged us $150 for the phone calls! She said that was the price for 26 minutes of calls.
Anyway, this whole mess took about 2 hours, start to finish, and we were left hot, exhausted, frustrated, and somewhat upset. After a good night's sleep, however, we recovered and didn't let the episode detract from our vacation. The lesson, of course, is to heed the warnings and don't carry anything of value in your pockets.