Searching for Pancakes in the Palace
Episode 14 - Chartres
We had to bid farewell to lovely Pointe St. Mathieu, so we got back in the car and headed East, back to the ring road around Brest, and then to the highway. We drove until noon, Donnie complaining that she needed some coffee. No, she NEEDED some coffee. We kept looking for rest stops on the highway, (called Aires in French) but the ones we passed were only gas stations. Finally, we saw a sign indicating that the next Aire would have a snack area and coffee. We got off at the rest stop only to discover a tiny little snack stand and some picnic tables. We got a coffee for Donnie, and since it was noon, and we were hungry, and since they were advertising them on the snack stand, we shared an order of frites (French fries). And no, they were nothing special, and the coffee was a bit below French standards, but it gave Donnie the necessary caffeine hit. We continued to drive for a while, looking for a place to really have lunch, but we didn't want to get off the highway in big cities, and then have to navigate the city streets, and look for parking garages, etc. just to get lunch. Finally, we came to the little town of Broons.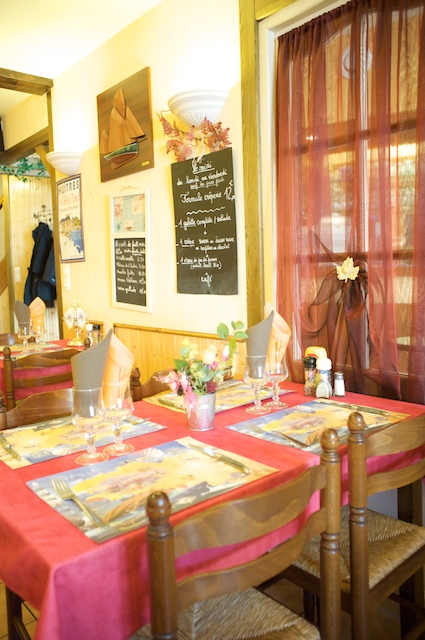 Broons was another tiny, pretty French town, but not the same architecture as the ones in Brittany. We parked on the street (no need to pay for parking in Broons), and walked across the street to a little mom-and-pop Brasserie (literally, mom was the server, and pop was the chef). The little place was very pretty and homey inside, and the few patrons looked definitely like natives, not tourists. We had crepes and cider, of course. Since this was a little restaurant in a little town in France, Mom, the server, would not be rushed, and so our little lunch took about 2 hours.
We drove out of Broons, wishing we had more time to explore, and got back on the highway. After driving a while, it suddenly got very dark and started to rain, and then the rain got very, very, very heavy. It was one of the heaviest downpours we have experienced. I would call it "large chunks of water falling from the sky". It was so bad that all the cars put on their emergency blinkers and slowed to around 10 or 20 mph. Then it started to get so bad that many cars pulled over to the shoulder and stopped. After a few minutes Donnie had to also. Usually when we have experienced this kind of thing in the US, it lasts at most a couple of minutes. We sat there in the incredible downpour for at least 15 or 20 minutes. Finally it slowed enough that we thought it was ok to start moving again, but as we were slowly going along, still with our emergency blinkers on, it got heavy again. Finally, we got out of the downpour and were able to continue our drive normally.
We continued to drive, and hadn't really decided where to stop for the night. We didn't really know how far we could get, but we set a tentative goal of reaching Chartres, because we thought it would be really nice to see the cathedral again (we had both seen it on previous occasions, but not together).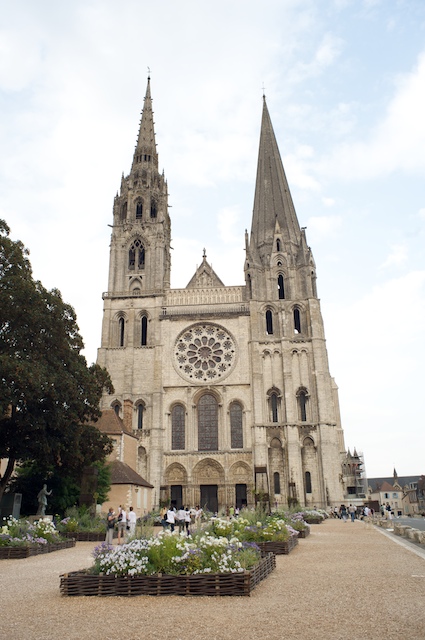 We did, in fact, get to Chartres fairly early. We got to the Chartres exit on the highway, and started into town. Both of us remembered that in our previous visits to Chartres, you would be going down a small road and then suddenly see the cathedral, looming huge on a hill, standing alone. This time, we couldn't figure out how we had those memories, because the cathedral was surrounded by a town and buildings and wasn't really on a hill.
We got into town, and parked in an underground garage, and needing a hotel, walked over in the direction of the cathedral, hoping that there would be a tourist information office nearby. There was, but it was after their closing time. We walked back near to the parking garage looking for hotels, and saw a "Best Western" sign on a building. The building was a large Beaux Arts style building, and the name was the Hotel Grand Monarque. We went in and discovered a very fancy lobby and very fancy, expensive-looking furnishings with lots of flowers and marble and mirrors and chandeliers, etc. We were worried that this would be a very expensive hotel, but when we found the reception area, and asked the clerk about a room, we found it wasn't too expensive, and they had a room available, and in fact upgraded us to the best class of room. The corridors in the hotel, and the room, had walls that were all covered in very fancy fabric (not wallpaper) with old scenes on it. We asked about the hotel parking garage, and the desk clerk was very apologetic and said that the hotel garage was full. He said it would be fine to leave the car in the underground garage all night, or any of the other underground garages (there were several).
We now had a bit of a problem. We had to get our suitcases and things from the car, but there was a several-block walk from the car, along cobblestone streets, and the way out of the garage included a flight of steps. We then noticed that directly in front of the hotel was an entrance to another underground garage, and the elevators that allowed people to enter and leave the garage were directly opposite the hotel lobby, so we decided to get the car, leaving the garage it was in, unload the bags near the hotel, and park in the closer garage. We did this, and discovered that the closer garage was very modern, clean, and well-lit, which made us feel more secure about leaving the car all night. By now it was dinnertime, and we decided to walk to the area around the cathedral, were there were restaurants. We found a place directly next to the cathedral, called Cafe Serpente where we had dinner, and then went inside the cathedral.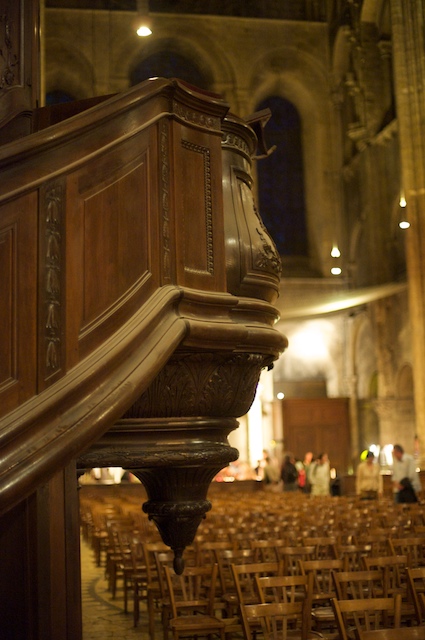 As we walked in, we heard applause. It turned out there was a free concert that evening in the cathedral, but we walked in at the very end. We walked around the inside of the dark cathedral for a while, trying to take pictures by the dim lamps (it was now almost 10:00 PM), and after a little while they made an announcement that the cathedral was closing for the night.