Searching for Chili in the Southwest
Day 4 - September 15 - Springdale, Zion, Bryce Canyon, and Brian Head Utah
This morning we woke up reasonably early, and had a bad breakfast in the hotel. It was free. That's the best you can say about it.
After checking out, we drove on route 9 through Zion again taking pictures by morning light. Once again, it was very, very beautiful. We then drove through Dixie National Forest and eventually reached an area called Red Canyon where we photographed some more very beautiful red rock formations. These were right next to the road.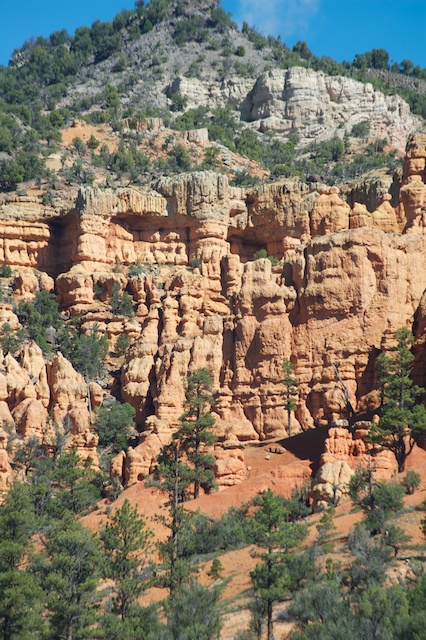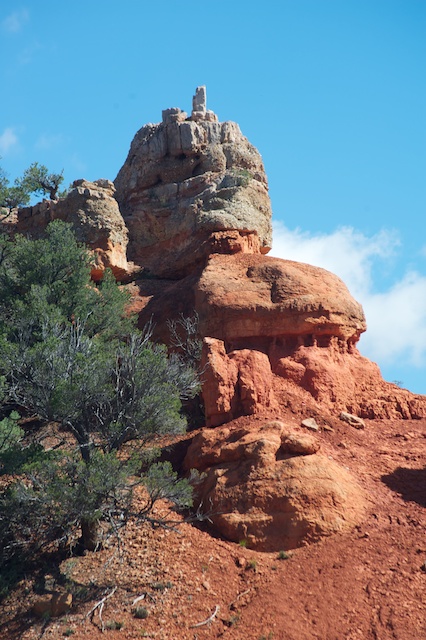 Driving further, we stopped at a place called Ruby's Inn in Bryce Canyon City, just outside Bryce Canyon National Park. It was an inn, a motel, a gift shop, a buffet restaurant, a grocery and camping supply store, etc. etc. There were lots of RV's and tour buses parked in the large parking lot. We bought some pre-made sandwiches from the grocery and then drove into Bryce Canyon National Park. The park drive is misleading because it looks like you are just driving through a flat, wooded area which is not very interesting. The interesting parts are in the canyons on one side of the park drive, which are only visible if you drive into the designated lookout points, park your car, and walk a few yards.
The day was sunny, but there were a few white puffy clouds - the kind that lend interest to landscape photos. We had read in a guide book that the best thing to do was to drive to the end of the park drive, and then come back and stop at all the lookouts on the way back, because they were all on the left side of the road if you were going in, and on the right side if you were going out, and it was easier to turn right into them, so we did this. As we were driving along, not stopping at the lookouts, it started getting cloudier and darker. The white puffy clouds weren't white or puffy, just dark and menacing. We finally reached Rainbow Point at the end of the park road where heavy rain and clouds moved in almost immediately, so we sat in our car during the rain and ate the sandwiches we had bought in Ruby's Inn for lunch. They were terrible.
It was cloudy and rainy most of way back through the park, but we stopped at most of the lookouts and saw the amazing formations called hoodoos and other unique rock formations until we reached the last lookout at Sunset Point where the sun finally came out and we got to photograph the scenery with some decent light. Bryce Canyon National Park was quite incredible. The scenery is like nowhere else that we are aware of.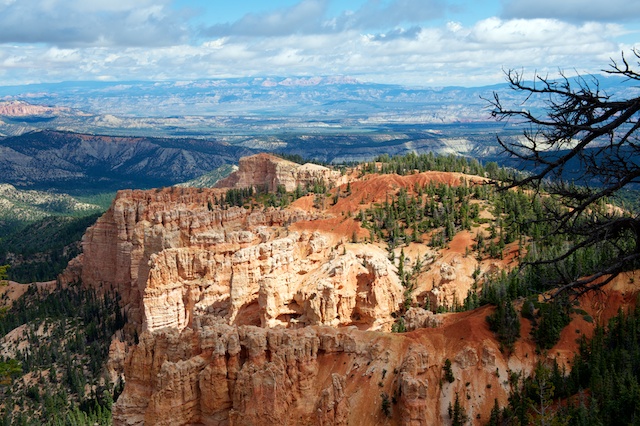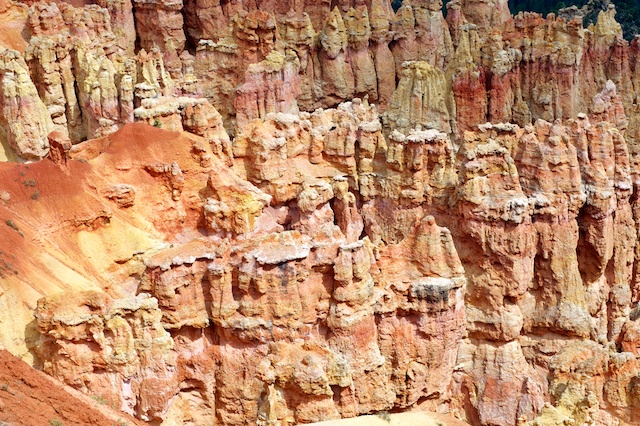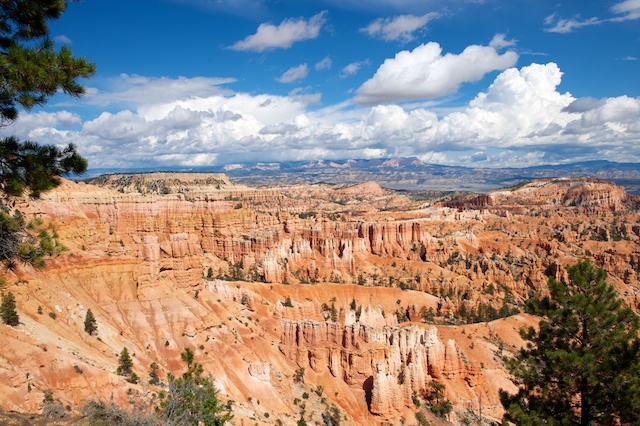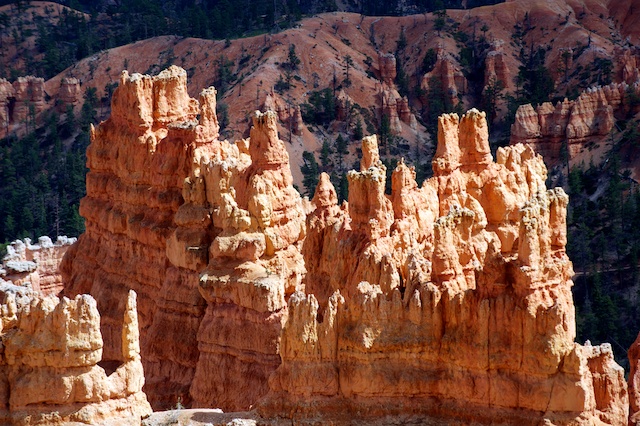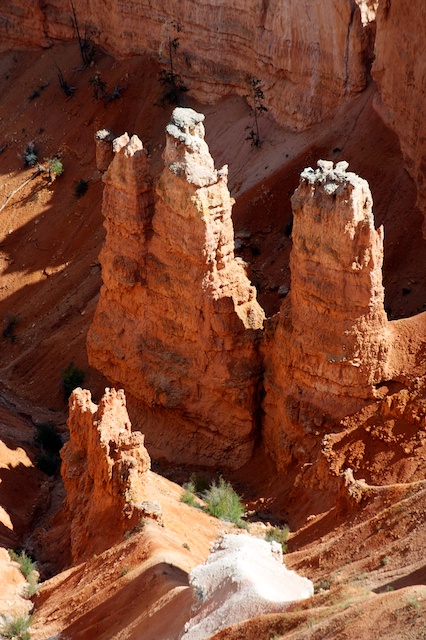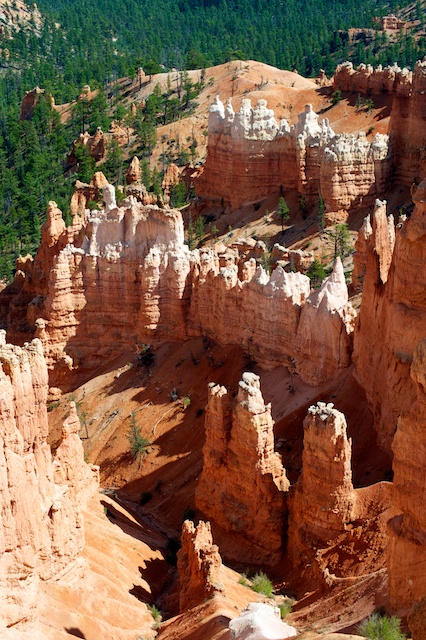 Interestingly, during our travels through the park, we heard many foreign languages, and very little english. There were a lot of European tourists. We heard a lot of German, some Swedish, and a lot of French. There were also quite a number of people from China and Japan.
On our way out of the park, we stopped briefly at Bryce Canyon Lodge, which looked smaller and older than we had anticipated. As we were leaving, we stopped to see Utah Prairie Dogs which were in a field across from the visitor center. They were too far away to see clearly, and impossible to photograph. We then left the park and drove along route 143, once again through the Dixie National Forest. We had to go this way because the only hotel room we were able to find for the night was an hour and a half away from Bryce Canyon in a town called Brian Head. Just before we reached Brian Head, we unexpectedly came upon a sign for Cedar Breaks National Monument where there was a lookout, so we drove in and saw a very beautiful vista similar to the ones in Bryce Canyon. As we were photographing it, the Sun disappeared behind clouds once again.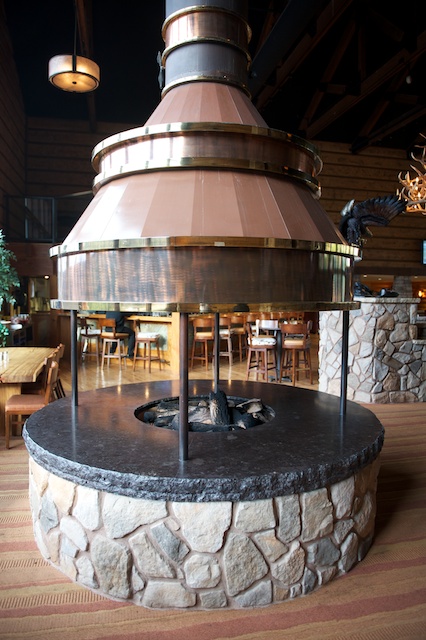 We then drove into the town of Brian Head which, it turned out, was a ski resort town containing many condominium apartments and hotel rooms, but many seemed to be under construction and almost all of them looked deserted. We found the Doubletree Hotel which we had booked online and which turned out to be a lovely, western themed, clean, huge, beautiful hotel that turned out to cost half the price of the hotel we were staying in the first night in Springdale. Our first impression was that the hotel was still under construction, or empty, but when we went in there were two very friendly young female desk clerks who seemed very happy just to see some human beings. They checked us in and gave us some warm cookies.
After taking our bags to our very nice wooden decorated room, we went and had drinks in the bar and a delicious inexpensive dinner.
Another interesting fact is how high up we were. During our time at Bryce Canyon, Donnie was experiencing a little bit of elevation sickness. She has asthma and was having a little discomfort. I also was feeling a little 'funny'. It turned out that every place we visited on the trip after Zion National Park was at a high elevation, most above 6,000 feet. Bryce Canyon is about 9,000 feet. Brian Head is almost at 10,000 feet! Santa Fe is at 8,000 feet. Durango is at 6,500 feet. Moab is only at 4,000 feet. We became acclimatized pretty quickly and the elevation didn't really bother us much, except at Mesa Verde. More about that later.
Day 5 - September 16 - Brian Head Utah to Moab Utah
We woke relatively early this morning. We had debated whether to take the faster highway route to Moab, where we had booked the last available hotel room, as far as we could tell, or to take the slow, scenic route. We had previously decided to take the fast, boring route, but after waking early, we did a little more research and discovered that a lot of reviewers on the web had absolutely raved about the beauty of the slow route, Utah Route 12, so we decided to chance it, even though it meant 7 or more hours of driving.
We left the very nice hotel at Brian Head, deciding to not have breakfast in the hotel but to have coffee on the road. We drove back on route 143 to the little town of Panguitch and after an hour and a half arrived in Panguitch, where we had breakfast at the "Flying M" Coffee Shop, an institution out of the 1940's or 1950's. The plates and cutlery probably dated from that era. Certainly the staff did. We probably should have had breakfast in our hotel.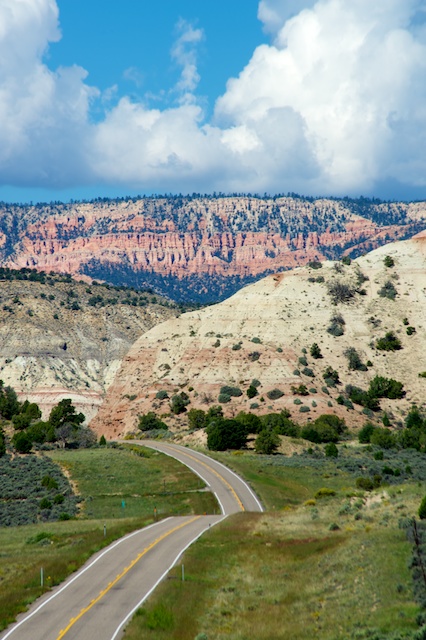 We then drove back to route 12 once again going through the amazing red rock formations and hoodoo's in Red Canyon. Once we passed the turnoff to Bryce Canyon, we were now on a road we hadn't traveled.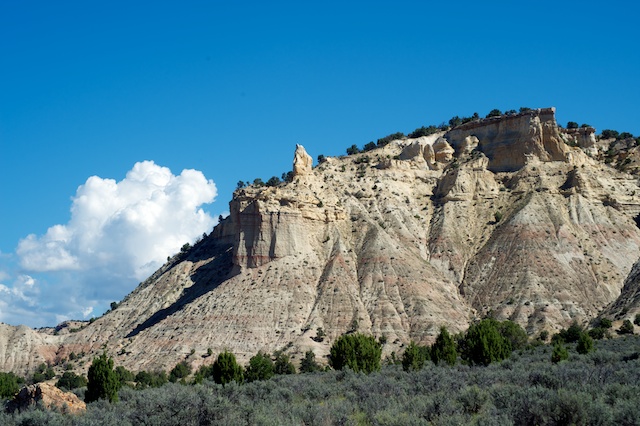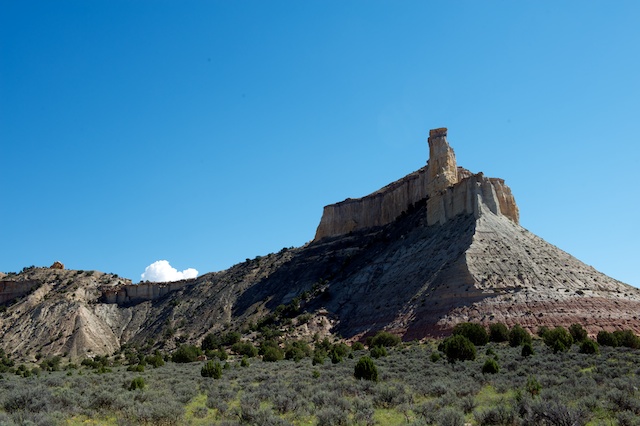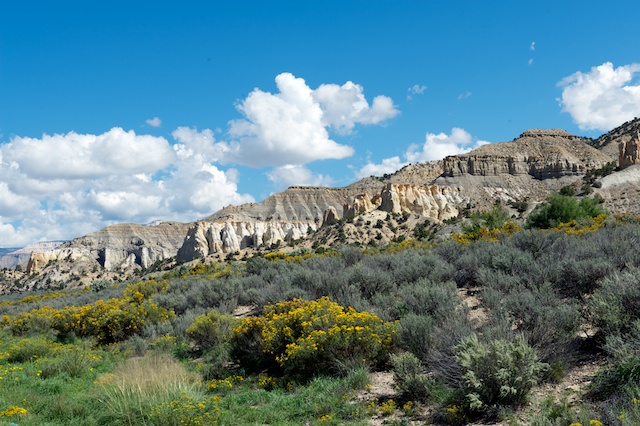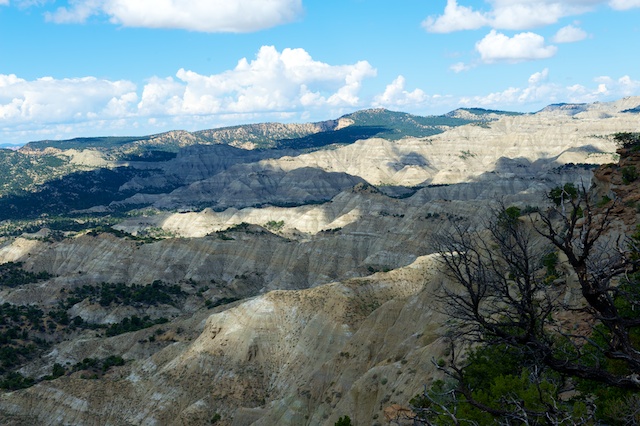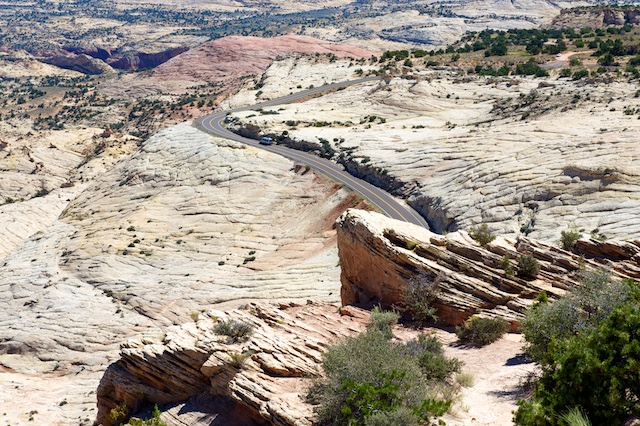 Here are some adjectives to describe the scenery along Utah Route 12 ... Unbelievable, Incredible, Amazing, Magnificent, Stupendous, Astounding, Astonishing, Extraordinary, Remarkable, Phenomenal, Staggering, Breathtaking. We spent hours marveling at the rock formations and colors. We discovered that the canyons and rock cliffs and other formations covered hundreds if not thousands of square miles. We would see an area of rock formations and colors that we were certain were the most incredible we had ever seen, only to go around a curve in the road to discover an area of completely different formations and colors which was even more amazing than the last. Even when we were sure that we had finally come to the 'boring' part of the road, we suddenly came on yet another unbelievably beautiful section. It was the most fantastic, beautiful drive we had ever done. (I have now run out of superlative adjectives. I will have to recycle them.)
When we reached the end of Route 12, we continued on Utah Route 24, on our way to Moab. We then discovered that the 50 miles of the east-west part of the road were as scenic and beautiful as route 12. In fact, route 24 goes right through the middle of Capitol Reef National Park, which had even more beautiful, colorful, and varied scenery. Finally, we reached the supposedly 'boring' part of route 24 that goes north to the highway. This part was merely scenic, as opposed to mind-boggling. During the ride we passed through parts of the Kodachrome Basin (pretty soon, nobody will understand that name) and the Grand Staircase-Escalante National Monument.
Another fantastic event occurred on the drive. At one point we were driving a very straight part of route 24 when the pickup truck in front of us put on his brakes and started to slow down. We noticed some animals in the road in front of the truck and as we slowed we saw that it was a herd of black steers crossing from one side of the road to the other. Then we noticed a real cowboy and a real cowgirl on horses guiding the animals across the road. Then, one calf started back in the wrong direction, so the cowboy and his horse tried to get it to go across the road, but it was very stubborn and kept changing direction and running away from the road, forcing the cowboy to chase after it and try to force it in the right direction.
While this was going on, the cowgirl was having trouble managing the rest of the herd by herself and so instead of crossing the road, the herd started walking down the middle of the road away from us. Eventually she gave up trying to get the herd to cross the road, and got them to go back to the side of the road they started on.
Then the most wonderful thing happened; The reluctant calf started running along the side of the road past our car, and the cowboy starting twirling a lasso and actually lassoed the calf a few feet from where we were! Donnie photographed the whole thing. I was driving and didn't have access to my camera. We now know that lassoing a calf isn't just a rodeo trick, but is something that is done in real life. We were sure that now we were in the west.
The rest of the drive was on Interstate 70, and route 191, and we finally pulled into Moab, just past some incredible rock formations at the entrances to Arches National Park and Canyonlands National Park, which we plan to see tomorrow. From the moment we reached Red Canyon about 11 in the morning until we reached Moab around 6 in the evening we didn't see a single part of the road that wasn't scenic and most of it was breathtaking. We were constantly congratulating ourselves for making the right decision to take the 'slow' route.
Eventually we got to the hotel we had booked for three nights, checked in, and went to a nearby restaurant, which even though it didn't look very good, turned out to have very good service and excellent food. Altogether, it was a fantastic, wonderful day.
Day 6 - September 17 - Moab Utah, Arches National Park
We woke up and went down to the 'free' breakfast room at the hotel and had quite possibly the worst breakfast ever. Donnie took one sip of the coffee and discarded the rest in the trash bin. She then became fascinated with an automatic pancake machine, which looked like a big stainless steel box with a big slot on the side and a button on the front, with instructions. You were instructed to place your plate (paper of course) on the side of the machine where there was an obvious exit from a conveyer belt, and push a button, which would then, using magic presumably, deliver a 'serving' of fresh, hot, delicious pancakes. Donnie pushed the button and after a couple of minutes this pancake-like object started coming out of the side of the machine. Donnie caught it on her plate and started to leave when somebody told her another pancake was coming out. Evidently a 'serving' of pancake-objects was two of them. She got the second pancake-object and then came to our table and, after pouring a little syrup-like liquid on the pancake objects, tasted them. It was every bit as good as the coffee, and ended up in the same place.
After our 'interesting' breakfast, we went to see Arches National Park. The day looked beautiful, mostly blue sky with a few white, puffy clouds, which always lend interest to landscape pictures. We drove to the park, which was only a couple of miles from the hotel. After entering the park using our truly amazing life-time free senior pass, we drove along the park drive, once again staring at the indescribable, huge, red, impossible-looking rock formations.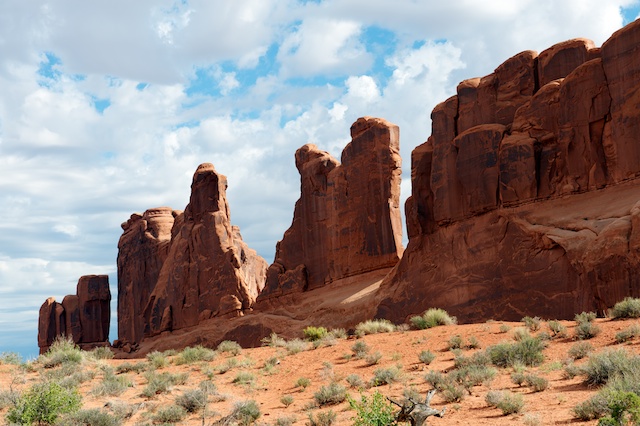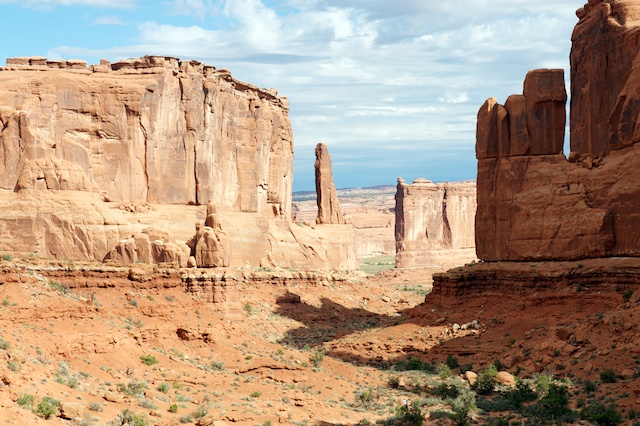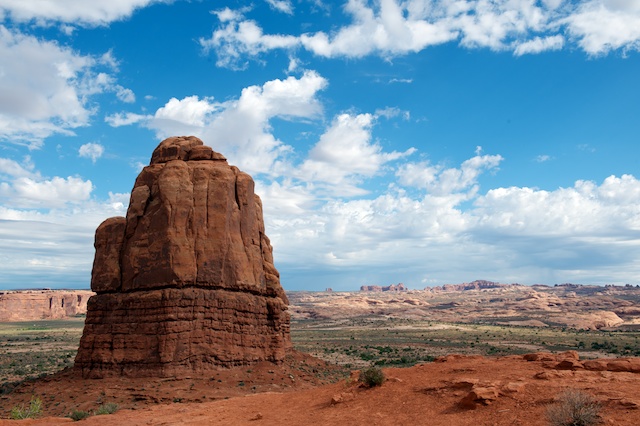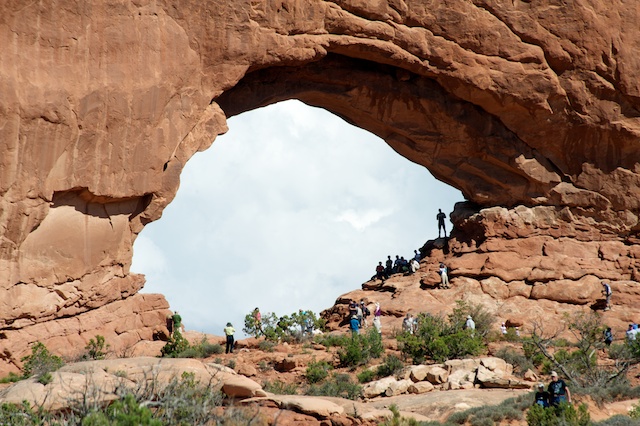 As we drove further into the park, stopping at the various turnouts to take more pictures, the sky filled with dark, ominous clouds and it became clear that the whole area was going to be covered with clouds and there would be no sun at all. We stopped at a few more turnouts before the sun disappeared, and then decided to visit more of the park to get the 'lay of the land' so we could see which area were worth a return visit when the sun returned, either later that day, or the next day.
The rock formations were incredible: Thin columns topped with huge balancing boulders. Thin 'fins' of solid rock hundreds of feet high. Natural arches, also hundreds of feet high. We drove around and stopped many times and even took a few pictures even though the light was terrible for photography. Once again, we heard many foreign languages. At one point I asked Donnie if we had somehow been transported to Germany, since we heard so many people speaking German.
Eventually we decided, since it was past lunchtime, and since the car needed gas, and since the light was so poor, that we would exit the park and go into town to get gas and have lunch, and then see what to do afterward, depending on the weather. We drove into town and got some gas, and Donnie mailed some postcards at the post office. We then decided to have lunch at the 'Moab Diner' which was decorated like a diner from the 1950's. Donnie had a vegetable sandwich which came with yogurt and fruit and I had an open face roast beef sandwich covered in melted cheese and, once again, great green chile sauce. We enjoyed our lunch a lot.
By the time we finished lunch, the sky had cleared and was a beautiful blue, with a few white puffy clouds again. It was about 2:00 P.M. so we decided that since we had good light we would go back to Arches National Park to photograph the sights that we had been unable to photograph in the morning. We did this. We think that Arches had the most incredible, beautiful scenery of any of the parks we saw on this trip.
Later that afternoon, after taking more pictures, we decided we had seen and photographed enough in the park, so we went into town and did a little shopping for some items we needed. During the day, when the sun was out, I was wearing a hat to protect my head, face, and neck from the sun. The hat was a cheap floppy white thing with a Disney World logo on it. Donnie hated it and said it made me look silly. So, we worked out a deal, she would buy me a 'Tilley' hat, and I would wear it instead of the 'stupid' one.
I have to explain. Donnie has been extolling the wonders of the 'Tilley' to me for years, but I had resisted buying one, until now. She had one for decades, signed by Mr. Tilley himself. The hat is supposed to be virtually indestructible and carries a lifetime guarantee. They claim that even if you lose it, they will replace it (for only 50 percent of the cost). I have alway thought that they were silly looking, but I gave in. We found the only store in town that carried 'Tilley' hats, and she bought me one.
We went back to the hotel, and once again did our photography and computer chores. We then booked a hotel for the next leg of our journey, and also booked a fun adventure that will be described further on. We then went to dinner at the Moab Brewery.