Searching for Chili in the Southwest
Day 10 - September 21 - Durango, Chama and Santa Fe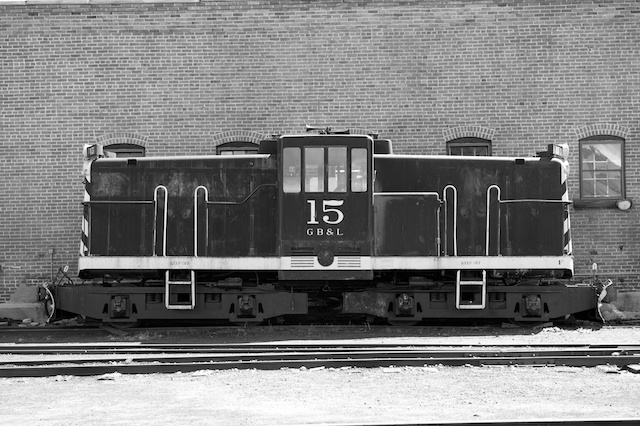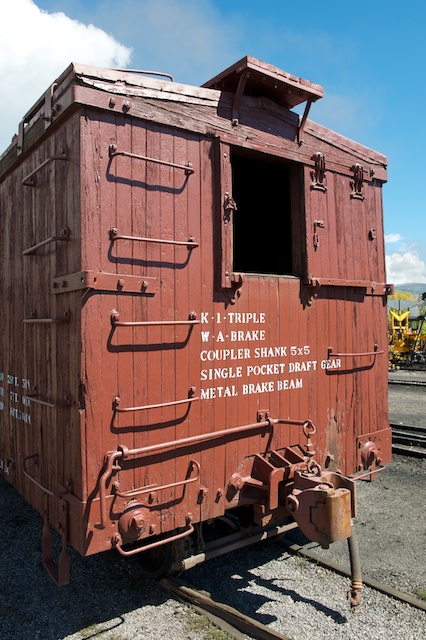 We departed Durango and drove for several hours taking the scenic route. We stopped for lunch in the tiny town of Chama, NM, where we also visited the Cumbres & Toltec Scenic Railroad where we took pictures of the old locomotives and rail cars. Once again, it looked like the town of Chama existed only because of the tourists visiting the old railroad. Almost all of the shops in the little town had signs advertising 'Train souvenirs'.
We stopped for lunch at a restaurant that was attached to some old inn. It was an old, greasy spoon kind of place, with some old native american regulars inside having coffee and chatting. The place looked old and tired, as did the waitress, even though she was probably in her thirties. I got a hot open roast beef sandwich with gravy and mashed potatoes. I was leery about ordering it, but Donnie said that we were in 'beef country' so I did. I shouldn't have.
We then continued driving toward Santa Fe, only to discover that we should have filled up our gas tank in Chama. We took route 64 which went through the Carson National Forest, which of course had no gas stations. After a long journey, we finally got to the 'town' of 'Tres Piedras' (actually, more like an intersection than a town), hoping to find a gas station. We didn't see one, except an old, abandoned, defunct one, so Donnie went into a little old, run-down, grocery store/restaurant to ask. The owner, who Donnie said was a very grumpy old lady, pointed in one direction and said 30 miles, pointed in another direction and said 30 miles, pointed in a third direction and said 50 miles. So, we took the road in the direction we were going anyway and drove another 30 miles, warily watching the gas gauge needle go down. I should mention here that in most places in rural Utah, New Mexico, and Colorado, there was no cell phone coverage. If we ran out of gas, we were spending the night in the car until a friendly driver stopped and maybe brought a message to the nearest gas station owner to bring us some gas. What fun!
We finally reached the town of Ojo Calientes, where we looked for a gas station, and didn't see one. We actually found a fancy spa resort! So we drove in and asked a security guard there where the nearest gas station was. He told us about a quarter mile down the highway. There we found an old, beat-up, no-name gas station and, breathing a sigh of relief, filled up the tank. Needless to say, a few miles further down the road were lots of gas stations.
We drove into Santa Fe, found our hotel and checked in. The hotel I had picked was only two blocks from the historic central plaza, so after resting for a few minutes, we walked to the plaza. It was a lovely evening, sunny but cool. We admired the Native American pottery and art in the many shops we passed, and especially the architecture, and took a lot of pictures. Santa Fe looked to us like a very nice place. Possibly even a nice place to retire to. There were lots of art galleries and shops selling very nice things, as opposed to tourist junk. The buildings were all adobe brown, but the simplicity and elegance of the architecture was lovely.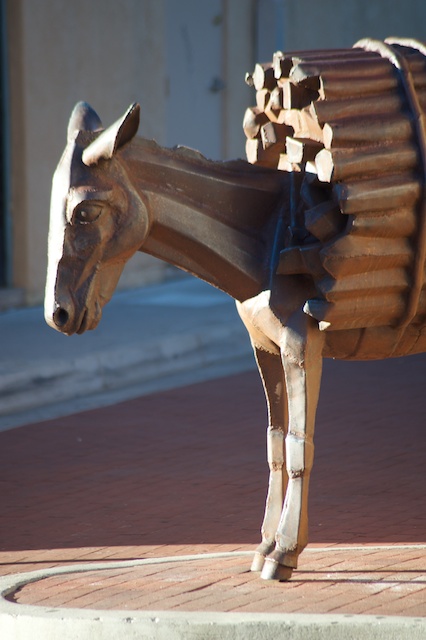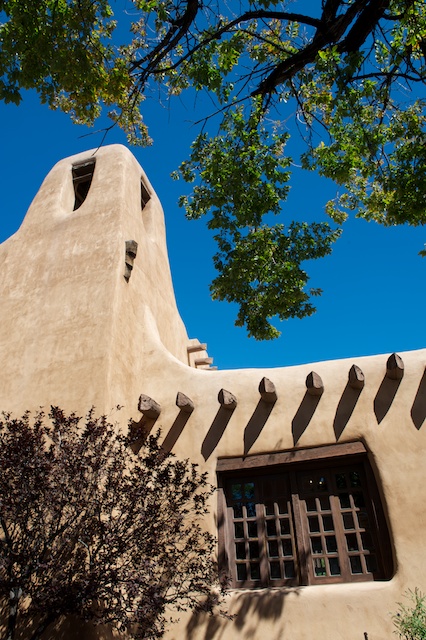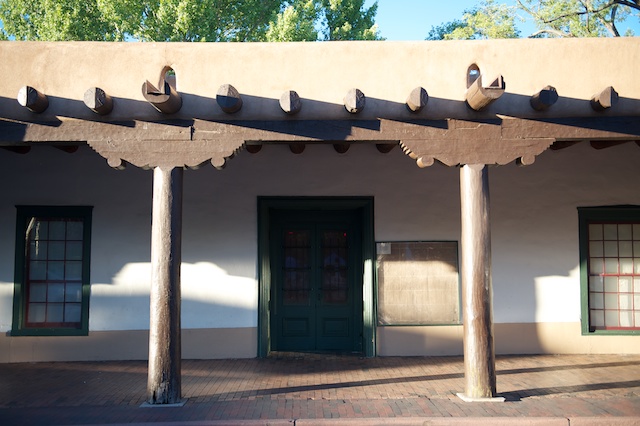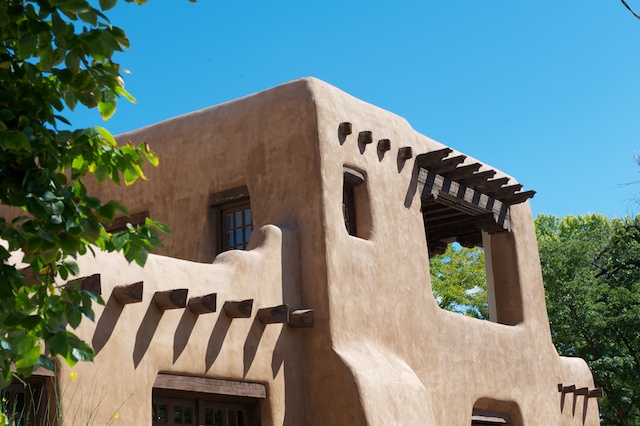 Later that evening, we looked for a place to eat. One that was recommended online for good 'Santa Fe style' food was called 'The Shed'. We found it and discovered we had to wait a little. They had an outside eating area in a courtyard, with some benches which we waited on. The weather was a little cool. When we finally were called, we discovered that 'The Shed' was a good name because we were led through a veritable maze of little rooms until we were seated in a small, nicely decorated one. The food was very good. Once again I had some enchiladas covered in a really good green chili. It turned out that the restaurant was founded in 1953!
Day 11 - September 22 - Santa Fe
Today was a 'down' day. We went and had a terrible breakfast with incredibly bad service. It took 2 hours! I won't risk a lawsuit by naming the place, but it was on the corner of San Francisco street and Burro Alley.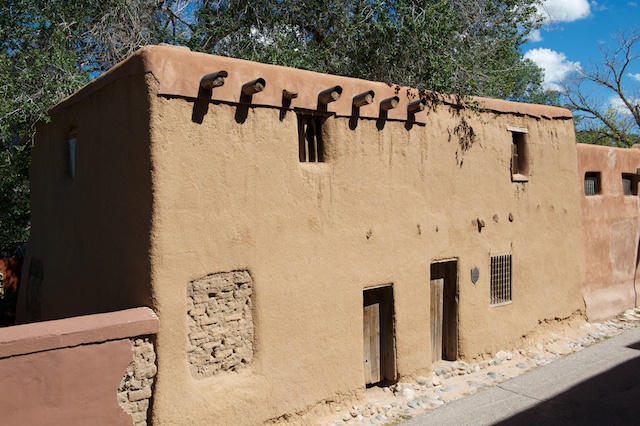 We walked a bit and then Donnie decided to go back to the hotel, do some chores, and rest. I went back out briefly to explore and take some pictures One of the places I went to was supposed to be the 'oldest house in America' I wandered around taking more pictures of the adobe architecture but the midday light was not good, so I went back to the hotel soon also. We chilled out the rest of the afternoon.
This evening we decided to try another restaurant for dinner. This time we went to a place in the La Fonda hotel. The restaurant was called La Plazuela at La Fonda. It was a lovely room inside the hotel lobby, with skylights and walled by french windows and painted glass panels. The food was excellent. I had some more green chile.
Day 12 - September 23 - Santa Fe … and home
We woke this morning and went to a nice breakfast at a french bakery that was one of the shops inside the famous La Fonda hotel, which we weren't staying at, and then Donnie suggested we take one of the little tours of Santa Fe that we saw running around in what can only be described as large golf carts. We found one right near the bakery and bought two tickets.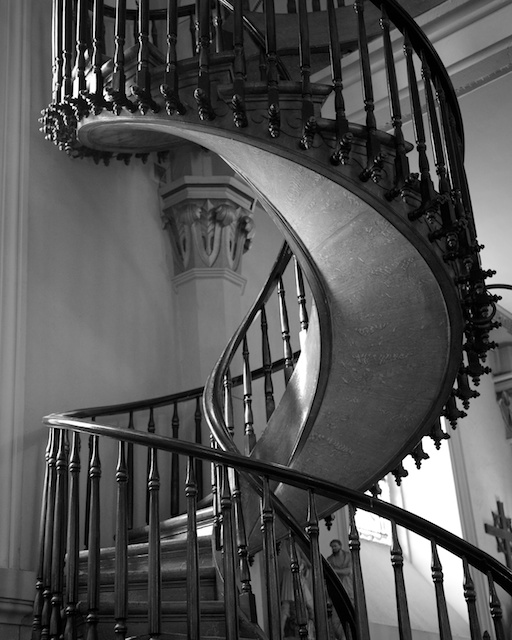 While we were waiting for the tour start time, we walked over to the Loretta Chapel, which houses what was described as a 'miraculous' spiral staircase, supposedly built by an anonymous carpenter in the late 1870's. The stairway was supposed to have been built using only primitive tools: a saw, a square, and some warm water, and is not supported by any walls or central pole. It also has no nails or screws. The chapel, it turned out, is really a commercial establishment, which charges $3 to enter, has a big souvenir shop, and rents itself out for weddings. We photographed the staircase, which was remarkable, even if the stories are a little hard to believe.
We then returned to the tour 'bus' and I got us a pair of seats while Donnie went into the La Fonda hotel to use the restroom. When she came out however, the whole trip changed. Donnie had received a phone call and found out that there was a family emergency back home. We had to go home as soon as possible. The tour operator very kindly refunded our money. We had a hectic day, checking out of the hotel, making alternate flight arrangements, driving to Albuquerque and flying to Chicago and then New York. It was hectic and traumatic but the hotels, car rental offices, and even the flights were more pleasant than we had expected. In fact, the flight from Chicago to New York was very pleasant. The plane pulled away from the gate on time, and more miraculously, was in the air ten minutes later. The seats were very comfortable and had plenty of legroom. We arrived in New York a few minutes early and didn't have to wait for a gate to become available. I am now quite pleased with Alpha airlines, and will use them again. (OK, it's American Airlines)
It's now a week later as I write this. The family emergency has calmed down for now. We never got to see Monument Valley or the Grand Canyon, or the Petrified Forest, or the Painted Desert, or Sedona Arizona, or even some of the shows in Las Vegas, but we'll definitely be going back. The Southwest US is a beautiful place. We want to go back and see all of the things we had planned to see but couldn't and we definitely want to spend more time in Santa Fe.