Searching for Chili in the Southwest
Day 7 - September 18 - Moab Utah, Canyonlands National Park
Today we skipped (or maybe a better word would be 'avoided') the free breakfast at the hotel and went to a nearby bakery and cafe and had some decent coffee and bought home-made sandwiches and wraps for a picnic lunch. We then drove the 30 or so miles to the entrance to the Canyonlands National Park - Island in the Sky district.
The park is divided into three 'districts' because they are separated by impossible-to-cross river canyons and so must be visited separately. Some of the districts are really only accessible to hikers and off-road vehicles, so we chose the 'Island in the Sky'. It's called that because it is essentially an isolated mesa-top surrounded by deep, wide canyons. When driving the park road, all you see is a flat desert plain, with short bushes and other small plants dotting the reddish soil. When you drive to a lookout area, and walk a few yards to the actual mesa edge, then a vast vista opens up and you can see amazing canyon rock formations for many miles.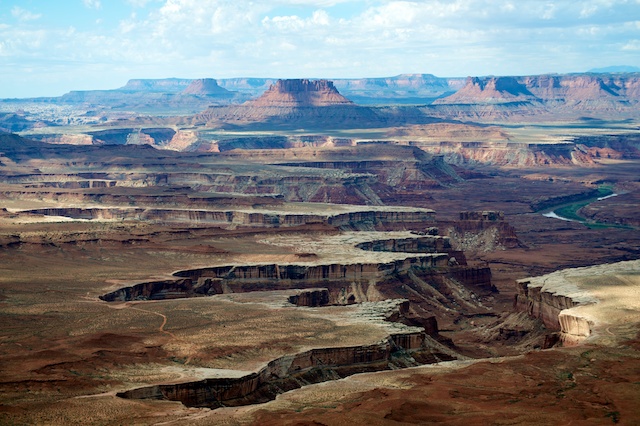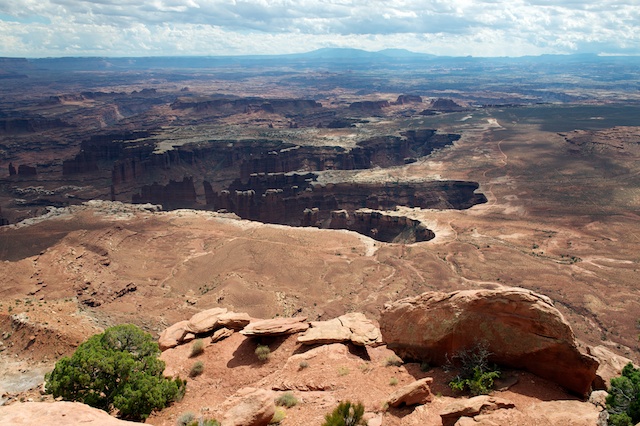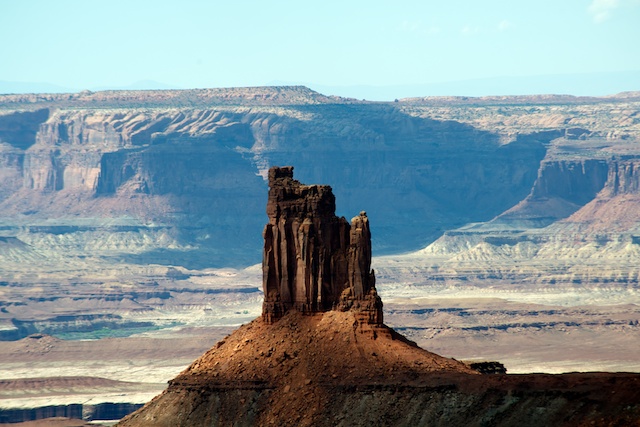 I realized that there are basically two types of National Parks in Southern Utah. There is the 'view from the top' park, like Canyonlands and Bryce canyon, which means that you drive along the road without seeing much scenery until you park and walk to the edge of the canyon to see the breathtaking views, and there is the 'view from the bottom' type of park, like Zion, Arches, and Capitol Reef, where you are at the bottom of the canyon and are looking up at the amazing hoodoo's, rock cliffs, arches, and many other weird shapes of rocks. I think the latter are more interesting because you are constantly in view of something amazing, where as in Bryce and Canyonlands, you only see the amazing sights at certain points in your journey.
As expected, after a short time taking pictures, the clouds started to move in! We did see some beautiful scenery, and had a nice picnic lunch, and the clouds were broken by areas of sun so we did get some nice pictures, if we had the patience to wait for the sun to peek out. I think we are both getting a little tired of seeing rocks however. We went back to the hotel early in the afternoon to rest and do some chores. Tomorrow we say goodbye to Utah and head to Colorado.
Day 8 - September 19 - Moab Utah to Mesa Verde, Durango Colorado
We got coffee and a picnic lunch at the same bakery as we had the day before. We then drove to Mesa Verde National Park, Colorado. Mesa Verde is famous for the ancient cliff dwellings built and occupied by Native Americans over a thousand years ago. It was a very long drive from the park entrance to the actual sights, over 30 minutes. Like the other canyon parks, there wasn't much to see until you reached the place where there was a pullout or walkway to the sight.
Most of the cliff dwellings in the park were either in a section that was closed for the season, or were only accessible via a guided tour and were considered very strenuous and required climbing ladders or crawling through tunnels. We went to the only one that was open and considered accessible, however it did turn out to be a long, strenuous walk to the Spruce Tree House Ancient Pueblo Cliff Dwelling. The path was paved but involved steep inclines and many switchbacks. What with the high altitude, and the heat from the sun, and the inclines, it was tiring. We had to stop and rest a couple of times during the walk down, and several times during the walk back up. The altitude (6,000 to 8,500 feet) and the exertion meant that we were out of breath a few times. We did do it, and the view was worth it.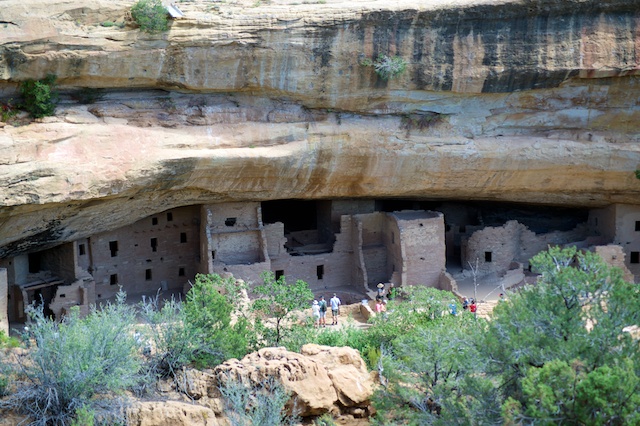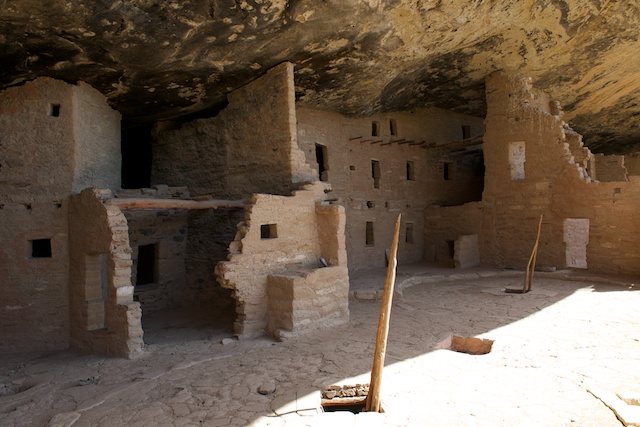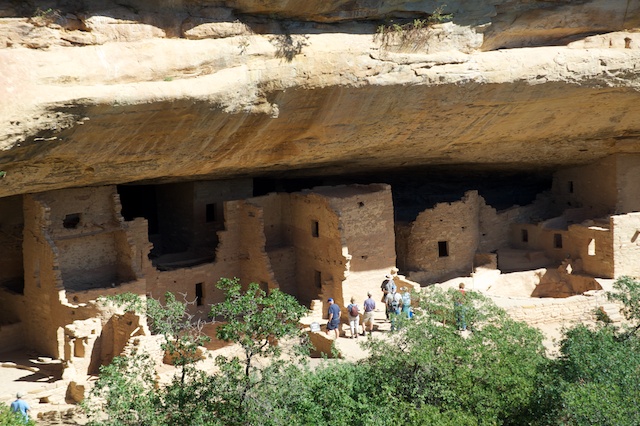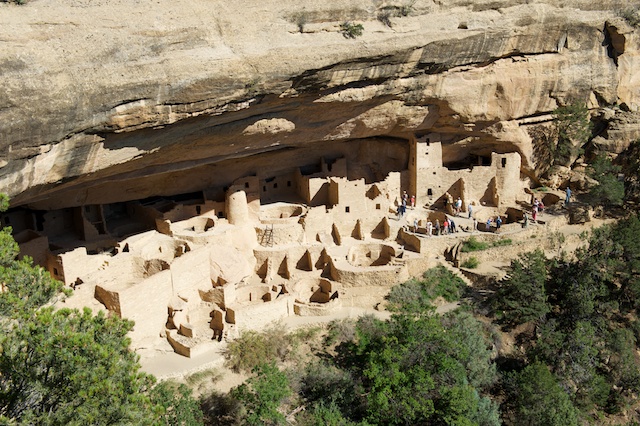 Spruce tree house consisted of several amazing ancient buildings inside a partial cave in the cliff wall. The buildings were well preserved, although some of them had been partially restored. We marveled at the talent and hard work of the builders, and of course, took lots of pictures, trying to avoid the crowd of tourists who walked into our pictures quite often.
We then embarked upon the very hard walk back up to the top of the canyon, where we made a brief visit to the museum. We then drove around to see other dwellings, but there was only one other that could be seen after a short hike from the road.
We then drove to Durango, Colorado, and checked into our hotel, where we went into town and had dinner in old time saloon, with waitresses dressed in period costumes. As we were eating, a woman who was also dressed in period costume sat down at an impressive upright piano near our table and started playing ragtime and other tunes and even did some singing. She was very good and enhanced our evening. After dinner we walked around a bit. Durango is a tourist town, and had lots of restaurants and touristy shops. The 'old town' is designed to look like it was still in the late 1800's. We searched for the train station so we would know where to go the next morning, and then we went back to the hotel and went to bed early because we had to get up early in the morning for tomorrow's adventure.
Day 9 - September 20 - Durango and Silverton
We had to get up very early this morning because we had to get into the center of Durango for our pre-arranged adventure -- an all-day ride on the Durango and Silverton Narrow Gauge Steam Railroad! We actually got into the station only a few minutes before we boarded.
We had gotten seats on the first car after the two boxcars that were immediately behind the engine. We later learned that the boxcars were carrying the backpacks and other paraphernalia of some hikers that were exiting the train at a trailhead. Our seats were the only ones we could book, since all of the others were full.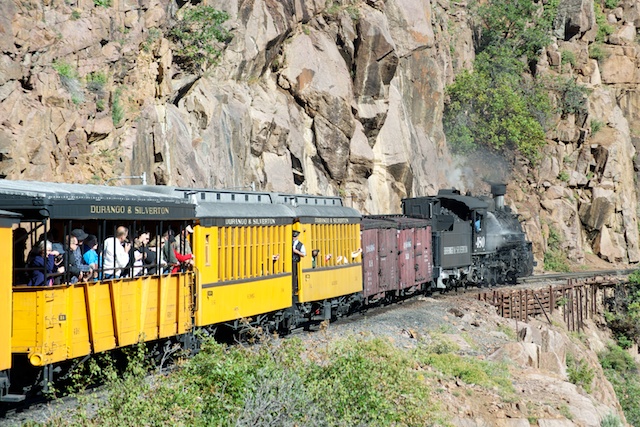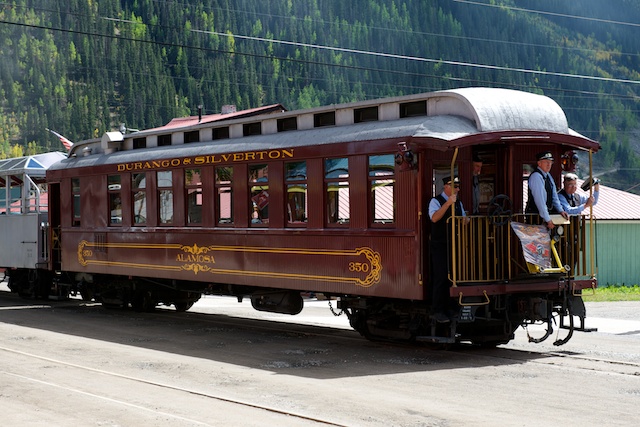 They had several kinds of cars. They had the standard closed cars, like the ones we were in. They all were old, wooden, period passenger cars. They had open cars, which had a roof but the sides above waist level were open. I hadn't gotten seats on these because the railroad web site had warned about soot and cinders and weather and other possible inconveniences in the open cars. They also had some premium class cars which were fancy inside with plush seats, etc. The 'presidential' car even had an observation platform at the rear. None of the premium or presidential cars were available when we booked our seats.
The train started pretty much on time, and after a few minutes we sort of regretted that we were in a closed car. The view through the windows wasn't great, and they only opened a little bit at the bottom, so taking good pictures wasn't really possible. So we decided to wander through the train, which was allowed. Wandering wasn't easy. The Durango and Silverton is a narrow gauge railroad. This means that the rails are much closer together than a 'standard' gauge railroad. This allows the track to make sharper curves and is needed in mountainous terrain. It does have one drawback: the cars wobble from side to side a lot. Wandering through the train was sort of like being in one of those inflated 'bouncy castle' rides they have in fairs and carnivals. It wasn't easy.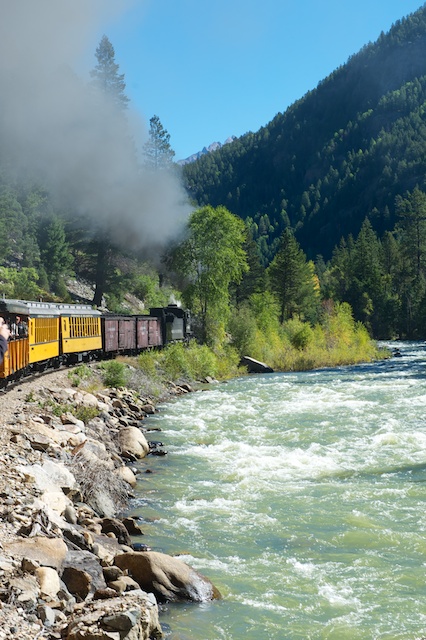 We eventually discovered that the 'open' car was actually rather pleasant, if a little cool in the morning. The soot was detectable along with the smokey odor from the engine, but it wasn't objectionable, although when we got back to the hotel that evening, our clothes were dirty with soot in spots. Unfortunately the car was full, so we had to stand in the aisle, or in a few open spots in the corners, moving from time to time as other passengers needed to get by.
Early in the ride, the view out of the train wasn't interesting as it was merely suburban Durango ... homes, hotels, campsites, RV parks, etc., but eventually we reached some pretty impressive scenery where the train ran along a river that wound through canyons and mountains and pine forests.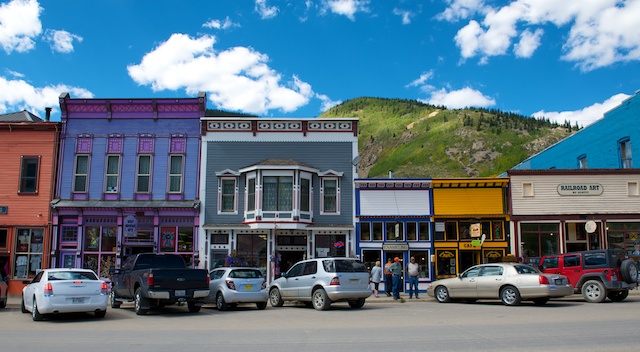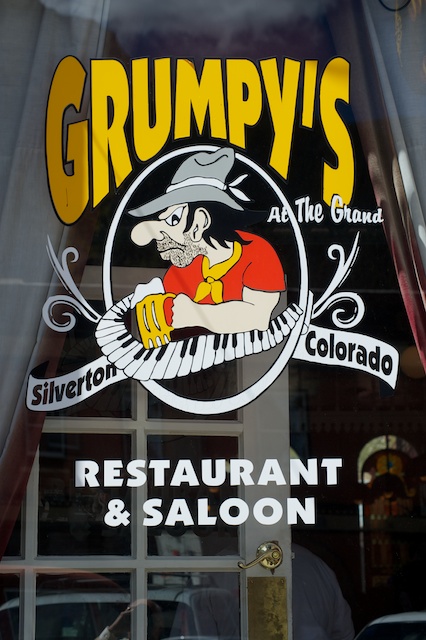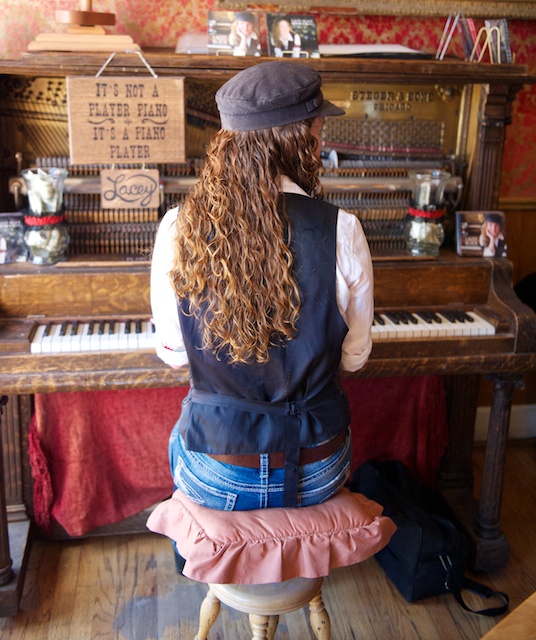 After three and half hours we reached Silverton, Colorado. An old mining town that now subsists solely on the tourists from the train. It had a lot of 1800's style buildings on very wide streets surrounded by mountains. It was kind of touristy (what else?) with lots of snack bars and touristy restaurants, souvenir stores, T-shirt shops, Native American artifact shops, ice-cream parlors, etc.
We took some pictures of the locomotive and the train, and then based on a recommendation by the conductor, along with our own research, not to mention the appropriateness of the place, we had lunch in Grumpy's (I was wearing my Disney's Grumpy sweat shirt at the time, so the place was very appropriate.) As we walked in, just inside the doorway was a young woman, Lacey, playing on an upright piano. We were given a table right next to the piano, and enjoyed her playing while we had a rather enjoyable meal. There was a little card on the table explaining that she had been playing at Grumpy's since she was thirteen, in the year 2000, and made her living from just doing that. It also said that she knew 500 songs. After we ate, we gave her a tip and thanked her for the enjoyable music and then wandered around Silverton taking pictures for a while until it was time to re-board the train.
After the train started and the conductor punched our tickets, we immediately went to see if there were seats in the open car. This was possible because some people only booked one-way train rides, returning to Durango by a bus provided by the railroad. We sat next to a young couple from Utah, who carried on a lively conversation with Donnie during most of the trip back to Durango.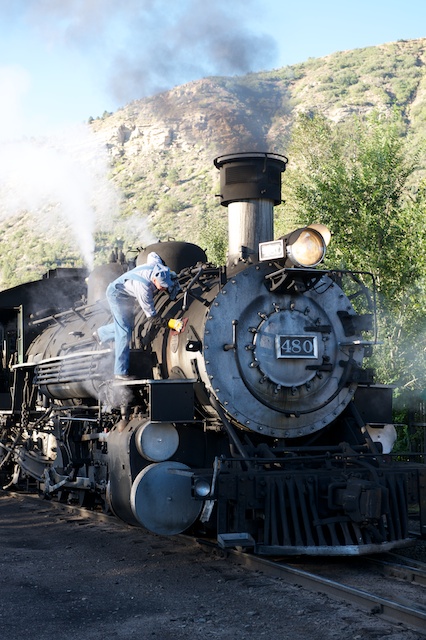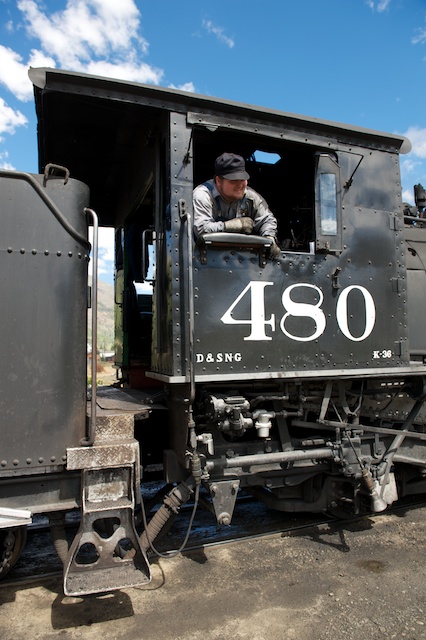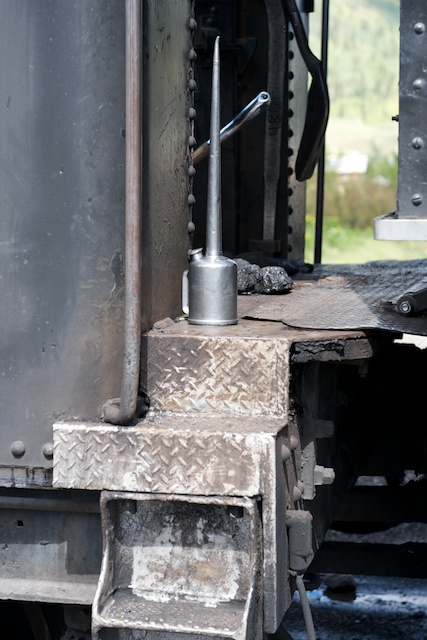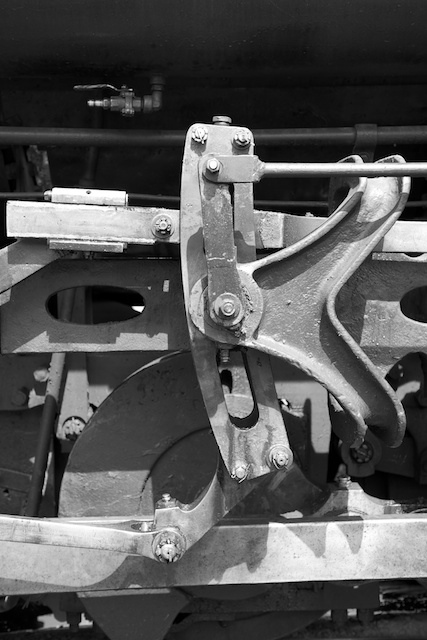 We took lots of pictures during the adventure. I took 125 and Donnie took 450!
After we got back to Durango, we spent a few minutes in the Durango and Silverton Railroad museum, which unfortunately was only open for about 15 more minutes by the time we got there. It was located in the old roundhouse and contained an eclectic collection of old steam locomotives, old railroad cars, old automobiles, even a very old Wright-era airplane. It also had many railroad artifacts, and a very large elaborate model railroad. We would have liked to explore it more thoroughly but there wasn't time.
Our train adventure was a lot of fun! I love old steam locomotives. They are incredible machines from over 100 years ago that seem to breathe with life and power.