Searching for the Vikings
Wednesday, August 2 - Day 1: Boston, Massachusetts, USA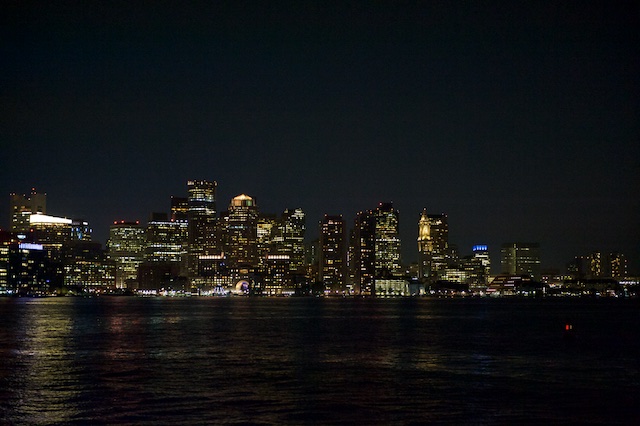 Today is C-day! (Cruise day.) We slept well last night and woke about 8 AM. No hurry today because the ship doesn't really sail out of Boston until 10 PM tonight. Because we were still feeling overstuffed from dinner, we skipped breakfast and just had some complementary Starbucks coffee from the hotel lobby and relaxed in our room reading emails and writing up our experiences, one of which is the masterpiece you are reading right now. Lucky you.
We went down to the lobby around 11:30 and while I checked out, Donnie went with the bellboy (bellhop? luggage lad? Whatever the politically correct term might be) to take our bags out to a waiting taxi. It took me a few minutes longer than usual to check out due to an error in our room bill, and when I exited the front door there was Donnie talking to an elderly gentleman who was obviously the taxi driver.
Then I noticed some words on the side of his taxi. One of them was "Armenian". Oh no, not again! As I approached them, I heard Donnie and the taxi driver conversing in what I recognized as Armenian (by the sound only, I don't understand a word of it). The same thing has happened on several previous trips.
Once, when we were in Paris, we were hungry and not near many restaurants, so we noticed a local pizza place and went in. Donnie realized from the name of the place that it must be owned by Armenians. She asked the waiter about it, and the next thing I know the Armenian woman owner was seated at our table and Donnie and she were conversing in a mixture of Armenian, French and a little English for the next hour.
Fortunately for me, as I came up to them, the Armenian Taxi driver mentioned to me that Donnie spoke Western Armenian and he spoke Eastern Armenian and so they really couldn't carry on a conversation. So Donnie grilled him about his life history in English while we rode the ten minute drive to the cruise port.
We were curious how the Holland America line would handle embarkation because our two previous cruises were handled very differently. The first, on Norwegian Cruise Lines was very quick and efficient. After going through security which is slightly less annoying than at the airport because you don't have to take off your shoes, we were directed to a long counter with a large number of clerks behind it, each with a laptop. The person checked our passports, scanned them into their computer and then used a webcam to take our pictures which are used for security every time we board the ship. They then gave us our plastic ID cards which are used as room keys, security passes to get on the ship and credit cards for onboard purchases. We then walked directly on board the boat. The whole process took less than fifteen minutes.
Our second cruise on Princess Cruise lines was very different. When we entered the cruise terminal there was a longish line zigzagging between ropes waiting to get to the clerks. When we got to one, they didn't take our pictures but just gave us the plastic ID cards, a card with a "group number" on it, and told us to sit on some chairs, along with thousands of others, until our "group" was called. Things were chaotic, to say the least.
The boarding on the Princess ship was delayed quite a while and then different staff members gave different directions to different people. We had been told that we would be called by the group number on the card the clerk had given us. Then somebody came to the bunch of people sitting together and said that this group, the people who happened to be sitting together, nothing to do with the "group number," would be called to board together. Then somebody else eventually came and said that we and another bunch of people nearby, not the same people as previously, would be called soon, and then almost simultaneously another staff person, dressed as a security guard, came over and said everybody could board now at the gangway on other end of the ship. Nobody seemed to know the true story.
Eventually we actually got onto the enclosed gangway which was like a jetway at the airport except it was a zigzag that zigged up three levels, but this wasn't even close to the end of the process. The line in the gangway moved excruciatingly slowly and only when we got on the ship did we find out why. On deck, just after exiting the gangway, there were two crew members with little handheld computers that were taking the security pictures and scanning the boarding cards. There were only two people to do this for the entire 2000 or so passengers. This was a major bottleneck. Norwegian had dozens of clerks taking the security pictures with their webcams, Princess had just two guys on deck. It took at least two hours from the time we got to the cruise port until we were really inside the ship.
So we were curious which way Holland America would do it. It was a mixed bag. The security and check-in process were just as quick and efficient as on Norwegian. The clerks took our security pictures with their webcams, but after checking in, we had to sit in chairs with 1400 other people until our group number was called. After waiting a while, maybe half an hour, they starting boarding. First they called the "Neptune Suite" guests. These people spent big bucks for this cruise (well, we spent big bucks, they must have spent humungous bucks). Then after they slowly filed into the gangway, they called the five star Mariner members. These are the people who have logged more than 500 days on Holland American cruises, again not exactly poor people. We would find out later what these people were like.
After a while when they and the "Neptune suite" gang were on board, they called the four star Mariners. They had fewer days on board with Holland America, only 200 to 499. Cheapskates. There were a lot of four star Mariners. Later we would be astounded at how many. It took a long time for them to file on. Then they called the "special needs" guests. Some people with wheelchairs and walkers went onto the line, Then they started calling group numbers. They started with group one. I don't need to say it, do I? We were in group ten. So we finally got on board the ship about 1:45. We had arrived at the terminal at 12:00. I do have to give them credit as it was handled orderly and professionally, not chaotic as on Princess. As we were approaching the gangway, one of the staff members sort of apologized and said it was usually much faster but the there had been an unexpected health inspection and fire drill that had delayed boarding. Later in the cruise we heard that this was really true, not some made-up excuse.
After months of anticipation, weeks of preparation, days of transportation and hours of exasperation, we were finally on the M.S. Rotterdam. As we walked to our stateroom, we were both very impressed. The ship is quite elegant and attractive. It's beautifully designed and decorated and loaded with exquisite art objects everywhere, which we had read about: paintings, sculptures, prints, posters, primitive masks, ship models, even full size replicas of Chinese Terra-cotta warriors. More about that later. We will have to explore all of the art during the cruise. I intend to take a lot of pictures of the ship.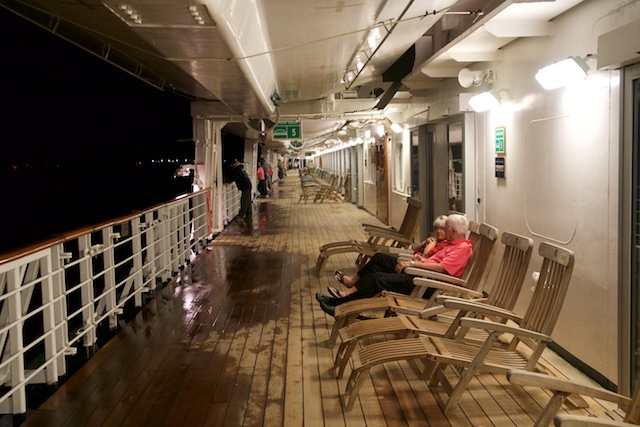 This first day narrative is already too long, so, in brief, we had a late light lunch in the buffet, did a little exploring of the ship, attended the mandatory muster drill, which has been completely different on each of our three cruises, unpacked our bags after they arrived at our room, met our cabin steward, who was from Jakarta, Indonesia, so of course Donnie had to tell him that she had been there, had drinks in the very attractive Crow's Nest Bar which had lots of windows looking out of the front of the ship, and then had a light dinner in the buffet. In summary, the day went very well, the ship seems to be beautiful, the food in the buffet was a slight disappointment so far, but all-in-all an excellent, if busy and tiring, first cruise day, although we won't actually be cruising until 10 tonight. It's 9:14 as I write this.
An afterthought: we had hoped to watch as the ship sailed out of Boston and see the lit-up Boston skyline as we left, but the ship headed out of the cruise port in a direction that put the skyline behind some buildings, and it was pouring rain. Later we found out that it was raining so hard that they had to close the airport.