Searching for the Vikings
Thursday, August 10 - Day 9: Cruising Prince Christian Sound, Greenland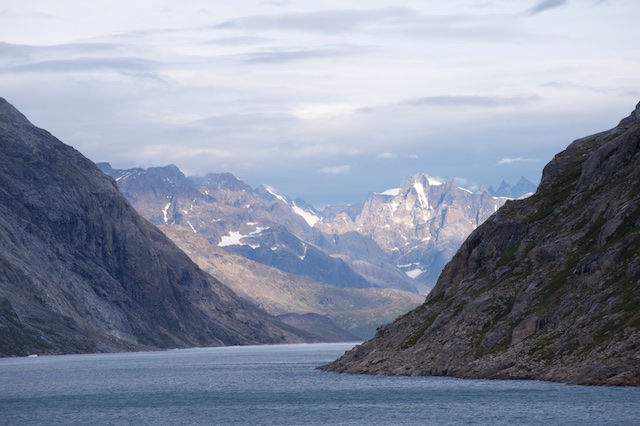 Bang! Pow! Kaboom! Crash! Boing! Pop! That was the sound of my brain exploding. But before I reconstruct that event, let us go back a short way to about 6:00 AM. To recap, we were supposed to enter the sound at 1:30 AM, travel about 90 percent of the way through, but not exit at the Eastern end because it is blocked by ice, reach our Easternmost point about 7:00 AM where the Captain will turn the ship around and head back during the day allowing us to see the Prince Christian Sound. Perhaps at this point I need to explain that Prince Christian Sound is not a wide, large body of water like Long Island Sound or Puget Sound but a very narrow, convoluted channel from the southwest of Greenland northward and eastward. Jim, the geology teacher explained that it is really two Fjords, back-to-back that joined in the middle.
As with most of these conversations, Donnie asked how many cruises they had been on. The talkative woman said they didn't count cruises, but counted cruise days. She had over 1000 cruise days with Holland America, and her friend had 900. Help! We're surrounded by cruise maniacs. Every time we find somebody with a crazy cruising history, we find somebody crazier.
Then this woman told us the thing that we have heard many, many times already on this cruise. She said that it's important to stick with one cruise line because you accumulate days and eventually get perks, and here is the often repeated kicker, she said the best perk is that you get… are you ready for this… free laundry service. We later calculated that this woman had probably spent a half of a million dollars with Holland America Lines, and she was most thrilled about free laundry service. Almost everyone we have spoken to on board has mentioned how happy they are because they get free laundry service. One woman told Donnie that she brings her husband's shirts on board still dirty and has them cleaned immediately after boarding. They're all crazy I tell you.
During lunch, which we had to eat while the talkative lady talked at us continuously, the Cruise Director, Jan, pronounced Yon, like in Dutch, came on the PA to explain how they were doing everything possible to make the cruise enjoyable and to address all the passengers complaints and so the experiment to have a 6:00 show and an 8:00 show would, starting tomorrow be changed to an 8:00 show, where the doors would only be opened at 7:30 and closed at 8:00 and that no saving seats would be allowed, and then a 9:30 show. It seems that the four-star, five-star, and the 1000 cruise-day lady, who must be a ten-star, passengers all attempt to go to the 8:00 show and can't get seats and start lining up earlier and earlier and put every item of clothing they can carry onto seats to try and hold them for their friends.
We think they are beating him up with complaints. His 6:00 show experiment, and now his "no entry before 7:30 or after 8:00 and no holding seats" experiment are an attempt to get more people to the other show. It won't work. These people all eat dinner at 5:30 and are in bed, asleep at 9:30. And, as the 1000 cruise-day lady said to us, "I practically own this ship," and they all believe that and act accordingly. I can't even imagine what will happen when he tells some five-star person that they can't come in because the doors are now closed, or even worse that they can't save seats for their six friends. They'll flay him alive. I'm beginning to think that the title Cruise Director is the Holland America term for scapegoat.
After lunch, we attended a lecture by a retired navigator, John Nixon, talking about "Explorers and the Voyages of Discovery". He talked about the voyages of the famous explorers, Columbus, Magellan, Cortes, Hudson, Cook, Drake and that ilk, and some of the not-so-famous ones. It was pretty interesting. He did not like Columbus and prefaced his remarks about him by saying so. He pointed out how many mistakes Columbus made in navigation and how he never ever set foot on North America and even after many others had sailed to the Americas and Spain had colonized much of it, to his dying day he still thought he had sailed to China. Maybe the lecturer had a point about Columbus. So far, the lectures and entertainers on this cruise have been very good, much better than on our two previous cruises on other cruise lines.
(… time wended it's way from… oh hell, it's later than it was, which was earlier than it is now…)
We had a very nice dinner, once again by ourselves. I really thought that the food for this dinner was very good. My dessert, Black Forest Cake, may have been the best I've had. Sensational.
Early to bed because we got up early. Another "set the clock forward" night also.