Searching for the Vikings
Monday, September 4 - Day 34: St. Anthony, Newfoundland, Canada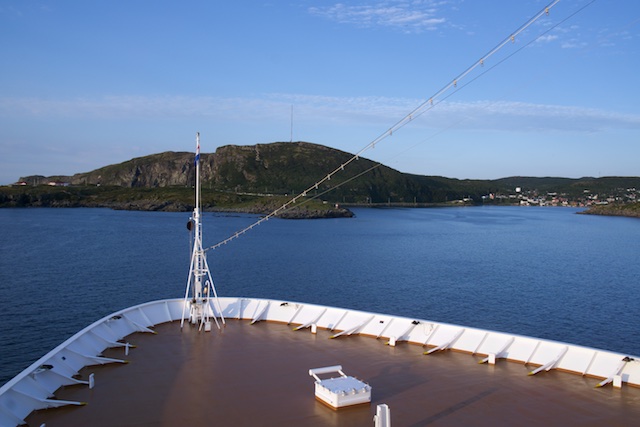 Here is a complete list of all of the marvelous, photogenic, fascinating things we saw in St. Anthony…
….
That was it. Sorry, St. Anthony. I tried, I really tried to find something to take pictures of. St. Anthony is your generic fishing town. I can't even call it a fishing village. The word village somehow implies quaint, or cute. St. Anthony looks like any other fishing town in any other part of North America that's near water. The other small fishing communities we have been to on this cruise have had something to distinguish them, such as fantastic scenery, or icebergs, or complete isolation, or interesting architecture, or unusual and interesting people. It didn't help that St. Anthony is laid out as a bunch of houses spread out along both sides of the coast of a long, narrow inlet, so there is no downtown.
The tender let us off near something called the Grenfell Centre (note the Canadian spelling) which is a tiny museum and gift shop honoring Dr. Grenfell who was instrumental in bringing medical care to Newfoundland and Labrador, but, let's face it, isn't famous anywhere else. Near to the Grenfell center is the hospital, a supermarket, a pharmacy, and some houses. Nothing else. The Tim Horton's was about a 30 minute walk, and we were told that there was nothing nearby it. Donnie even wanted to stop in the pharmacy to pick up something, but we found out that it's the Labor Day holiday, even here in Canada, and, as one woman put it, everything is locked up tight.
So why did the M. S. Rotterdam stop in St. Anthony. There is a good reason: The first documented site where the Vikings landed in North America is nearby, but it's about 20 miles away and you have to have booked an excursion to go see it, which we hadn't. Within walking distance of the tender dock was… the Grenfell Centre. That's it.
So, of course, since there was nothing really photogenic here, there was a bright blue sky and sun.
I'm going to get into trouble for telling this story, but I'm almost always in trouble anyway, so why not. This morning, after breakfast, we went to get tender tickets in the usual place, the Ocean Bar (one of the few with some comfortable seats). There was no line, so Donnie and I walked up to the desk and the young woman crew member asked to see our Holland America ID cards, as always. She needed to see if we were the four and five star elite and were entitle to red tender tickets, or if we were the low class bums who got relegated to blue tender tickets. Donnie said to her "I'm nobody special, I have no stars, but my husband somehow has one star."  The woman attempted to be very apologetic and tried to tell Donnie about going to the front desk where they have a form called the "Mariner Status Remediation" form, but Donnie wasn't really listening. I hadn't realized how really bummed out she was about this one star thing. I'll probably never hear the end of this. It wasn't my fault. I swear. I am positive, nonetheless, that if Donnie were to go and fill out the form, Holland America will do their absolute best to remedy the situation. By taking away my star, of course. I will miss it. I won't get my collectible swizzle stick.
(… laterness overcame its arch enemy earlyosity …)
The show tonight was another magician. He introduced himself as the Best Magician In The World … in his price range. He wasn't as smooth or as polished as the previous magician we had seen, even though he said he had been doing magic for thirty-five years. He was brought up in Brooklyn. Maybe that explains it.