Searching for the Vikings
Sunday, August 20 - Day 19: Rotterdam, The Netherlands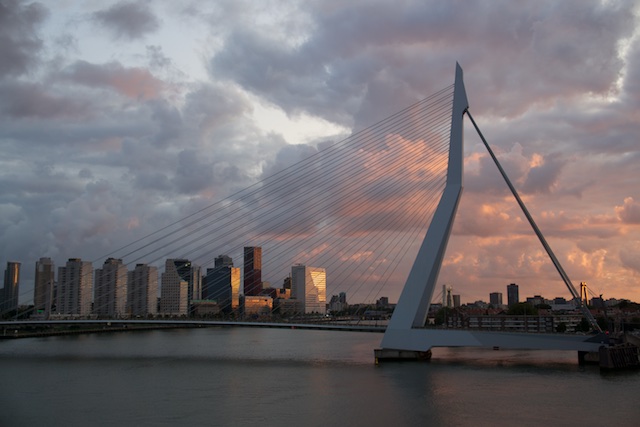 I think I'm going to have to institute a system here. In order to avoid overuse of superlatives like amazing, incredible, etc., I'm going to invent a code system. We'll start with Mind Blowing 1 thru 5, abbreviated MB1 to MB5. After that we'll go with Brain Exploding 1 through 5, abbreviated BX1 through BX5, where MB1 is a really, really astounding wonderful sight or experience, and BX5 is the most wonderful sight or experience you could possibly imagine. How's that?
The ship sailed into Rotterdam, the third largest commercial port in the world and the largest in Europe. We had booked an excursion which started at 7:20 in the morning, so we set our alarms, got up at 6:00, had just orange juice for breakfast, and, not wanting to be late, arrived at the bus exactly at 7:20. The tickets said to arrive at 7:20 for 7:30 departure, giving the slow people ten minutes to get their acts together. So when we got to the bus exactly at 7:20, and there was nobody waiting outside the bus, we assumed that we were the first ones there. We got on the bus and discovered that we were the last ones there. Well, one couple arrived after us, but the man was riding one of those electric scooter things and couldn't move too fast.
This "excursion" was called "Amsterdam on Your Own", and was just a bus ride to and from Amsterdam, with five hours in between to do whatever you wanted. Donnie has been bugging me, oops, I mean suggesting to me for several months that we fly to Amsterdam because she wanted to see the Rijksmuseum. We have been to Amsterdam on two occasions before this, and we love the city. I won't spend my time now describing how pretty and nice Amsterdam is, but we'll just say MB5, or maybe BX1. The last time we went for a long period of time there, we had tried to see the Rijksmuseum, one of the great world art museums, but it had been closed for renovation and only a small gallery of samples from the various collections was open. So ever since it reopened, Donnie has wanted to go back. So have I.
We were on the bus, going first through the streets of Rotterdam. What a spectacular city. MB3 at least. There was lots of waterfront, There were lots of boats, of every size, shape and type imaginable, and lots of buildings in every weird contemporary architectural style imaginable, and many not imaginable. Everything was very clean, but this is The Netherlands, so what else? Eventually the bus was on the highway outside of town, and we passed some of the things that we love about The Netherlands: pretty farmland with canals running past, great big wind turbines turning slowly in the wind, old fashioned Dutch windmills, just sitting in a farmers field, or next to the highway, not a part of any tourist attraction, just sitting there, well preserved. I did notice that the bus driver was very carefully driving about 1.37 thingies-per-hour under the speed limit. There is a very good reason for this. Digression time…
Several years ago, we took a trip where we flew to Amsterdam, rented a car and drove all over The Netherlands, Belgium, Luxembourg and a little into Germany. It was great. I did a lot of the driving, but Donnie did some too. Then, several months after the trip was over, I got some letters from Hertz telling me that they were charging an additional $25 to my credit card to cover their costs for giving our details to the Dutch Traffic authorities. Not just one, but several letters and charges. I guess that's fair, since it took their computer .00005 microseconds to send this information to the Dutch computer, and that must cost at least $25, right?
Then a few weeks after that, I got several, very official looking documents, in Dutch, no english anywhere. As best as we could figure out, they were charging us speeding fines. They had speed trap cameras all over the place and determined that on three or more occasions we had gone 1.23 thingies-per-hour over the speed limit. We had to wire the fines to some Dutch agency, with some difficult-to-spell and impossible-to-pronounce name, at some difficult-to-spell and impossible-to-pronounce address. We had to go to our bank and ask them to wire the money. This involved filling out lots of forms, spending a lot of time with the bank guy trying to explain what we wanted, spelling out the Dutch agency names and addresses, more than once, and paying hefty wire transfer fees. I think the whole mess cost us over $600. Afterward, Donnie and I discussed this, and she sort of admitted that, yes, when I drove I carefully stayed under the speed limit, and when she drove, it was different matter. So now you know why the bus driver was very careful during the ride to Amsterdam.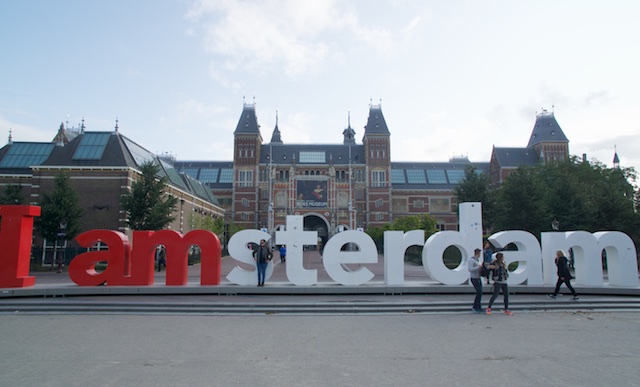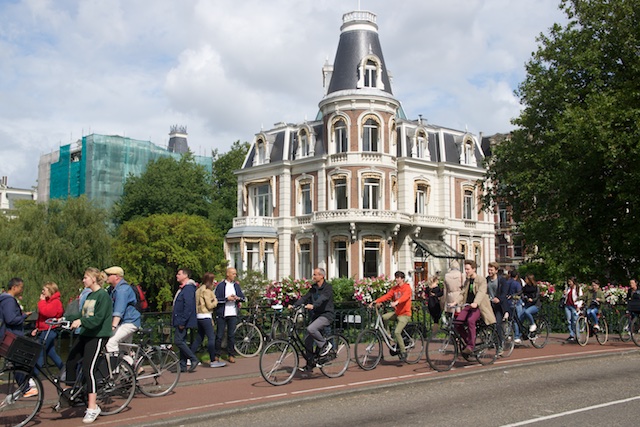 I won't bother with more details about the bus ride. We got to the "museum square" in Amsterdam, surrounded by four or five museums, including two that we planned on seeing today. First, we went to the Rijksmuseum, a very pretty old-style brick huge palace-like structure that had not been changed on the outside by the renovation. Since we had heard that the lines to buy tickets could be long at times, we had bought tickets online before the cruise and had them with us. They weren't really necessary. The museum opened it's doors at 9:00 and this was a Sunday. The line to buy tickets was of length zero. The line for ticket holders to get in was of length zero. We walked right in. The inside was very modern and clean and new.
We saw lots of Rembrandt paintings (BX4!), several Vermeer Paintings (BX5!) and lots of other paintings by Dutch artists (MB5). There were also many, many other kinds of art, sculptures, glass, pottery, furniture, artifacts, etc. (MB5) We saw the "Night Watch",  a very famous, very large painting by Rembrandt. It's one of those famous paintings that everybody goes to see, because it is famous. Like the Mona Lisa at the Louvre in Paris. The Mona Lisa is not a great Leonardo Da Vinci painting, but everybody has to go see it, even if that's all they see at the Louvre. There are better Da Vinci's in the Louvre, but nobody goes to see them. (I personally think that the one on display is not the real one. There are hundreds of people taking flash pictures of it every hour of every day, and the guards don't care. It also isn't very well protected).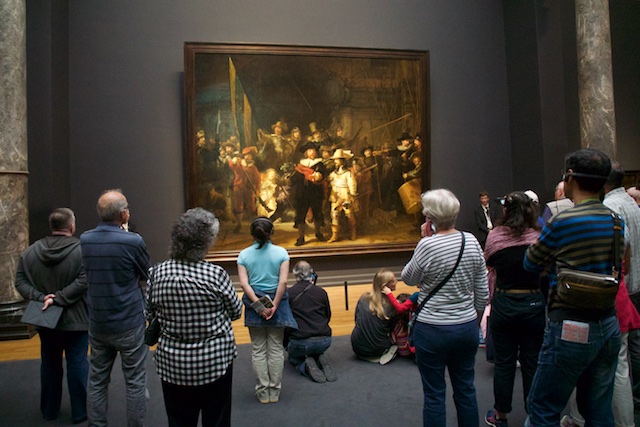 The same is true of the "Night Watch" at the Rijksmuseum. It's a very large painting (it wouldn't fit on your living room wall.) and is merely a group portrait of a bunch of militiamen commissioned by them. It's a nice painting. It is a Rembrandt masterpiece? I don't think so. It's just a big commissioned portrait that made him some money. His personal works are much, much better, and fortunately, the museum had a lot. BX5's all of them, oh, all right BX3-BX5 if I'm honest. I absolutely adore his various self-portraits, from a young man to an old duffer. As one tour guide said to the group he was talking to, it's all about the expressions on the faces.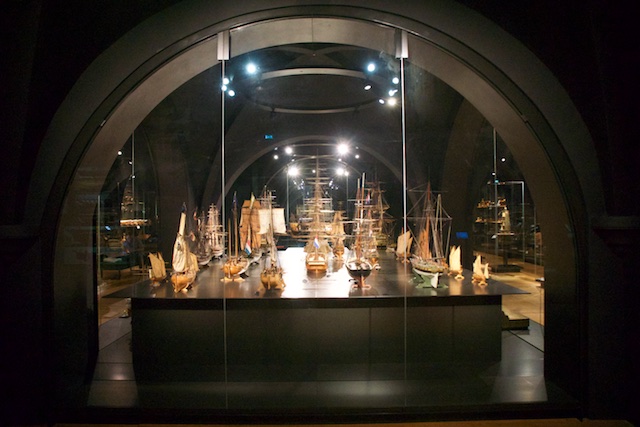 After two hours, we grew tired of all the beauty (hah!) and went to the museum cafe and had some delicious sandwiches and wonderful European coffee. In reality, all of these world class art museums suffer from the same problem: too much art. You can't absorb it all. Seeing hundreds or thousands of wonderful art objects is draining after a while. Almost every time we have gone to one of these museums (and we have gone to a lot of them) we get tired after about two hours. So we decided to leave and maybe take a brief look at the outdoor market just across the street from the museum and then head to the Van Gogh museum which was next door.
We never made it to the Van Gogh museum. This isn't a total disaster, since we had been there once before (completely and utterly BX6!). We walked around the market, which had covered stalls where people were selling art and crafts, and a few antiques (junk). Then, at one end, we ran into the food area. Here's a partial list: Basque Pinxto's (small open-faced sandwiches which we had adored in Barcelona), Pizza, American Hot Dogs and Burgers, Indian food sold out of a WW II ambulance truck, a small camper type trailer selling "Waffle Pops" and a Photo Booth (in the same trailer), Papa Joe's Pasta in a shiny, polished, small Airstream trailer, Hand cut, freshly fried French Fries, in little paper cone that was folded in such a way that there was a little second cone on top to hold the mayonnaise (yes, some European countries like mayonnaise on their fries), Chinese dumplings and steamed buns, American BBQ, a guy selling Hard Cider and fresh squeezed apple juice. We had some of the apple juice. He put an apple into a press and pulled down the big handle and handed us a plastic glass with some really good, and obviously very fresh apple juice. Donnie started a conversation with him about the kind of apples they were and in his Dutch accented English he enjoyed telling her all about the apples.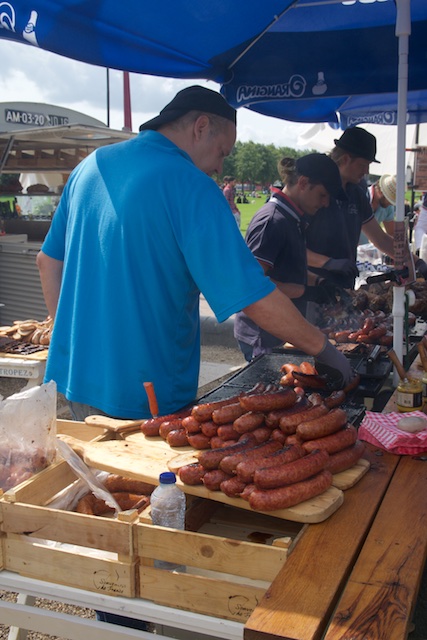 Then, I saw them. I smelled them. I heard them. The smell alone would make anyone hungry. There were some tables next to a big charcoal barbecue grill, and on one of the tables was a big pile of sausages. Huge, fat, red, garlic sausages. These things would break your foot if you dropped one on it. On the grill were lots of them, sizzling, many of them beautifully charred down the side. There was a long line of drooling people. They were selling 1/2 of a sausage, cut lengthwise, (nobody could eat a whole one) for six Euros on a piece of bread, or five Euros on a stick. You went to the end of the line, told the lady what you wanted and paid her, and she handed you a little wooden tile with engraving on it indicating what you were getting. Then you went to the guy manning the grill and handed him the tile. I got a half sausage on a stick, slathered in mustard. What can I say. BX5! The best garlic sausage ever. Donnie only had a bite, but I devoured the rest. I might have been able to have another half, but I resisted.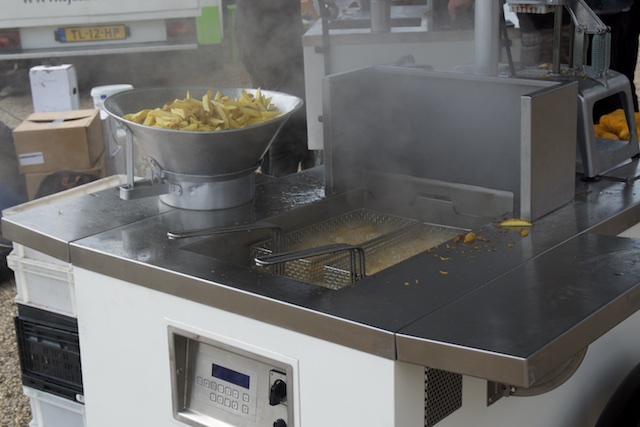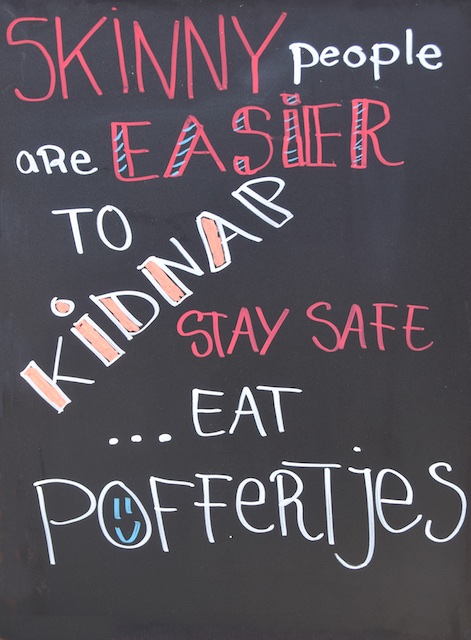 We walked around the market some more, and then found the French Fry guys. Just a little stand under an umbrella, with a small cart next to it with a fryer and a potato cutting contraption and a big pile of potatoes. One guy would periodically go over and put a potato in the cutter and pull down on a handle, bingo, fresh cut french fries. Then every once in a while he would dump the fried potatoes into a big conical metal colander thing and hand them to his colleague who would shake the colander, put a little salt on the potatoes, shake it again and then start filling little paper cones and handing them to waiting customers. We got a cone of fries and shared them. They were good.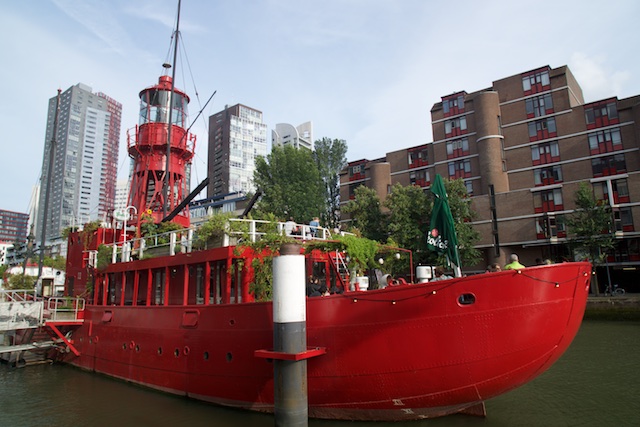 So after all this, it was already close to 2:00 when we had to be back at the meeting point to get the bus back to Rotterdam, so no Van Gogh museum this time. We got back to the ship about 3:30, went to the room to freshen up a little, and since it was a beautiful day, decided to go back out and walk around Rotterdam. We had planned to do this the second day in port, but it was so nice out and we weren't tired, so out we went. We walked from the ship across the very modern Erasmus bridge and headed toward the center of town. We reached the Maritime Museum, or at least the outdoor part of it, which was an inlet with lots of old boats: tugs, barges, little tiny steam boats, and cranes, maritime equipment of all kinds. One thing was like a barge with a huge, complicated machine rising up out if it, with all kinds of pipes and wheels and gadgets. It looked like something out of a Miyazaki movie, if you know what that is.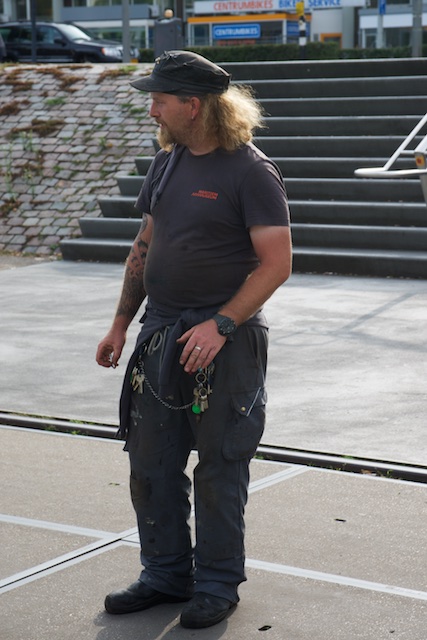 As we were standing there, suddenly a guy walked up to us and said something in Dutch. We said "Hello", and he switched to very good, but accented English. He was wearing a Maritime Museum T-shirt, and he starting telling us about some of the boats we were looking at. He was a "character" if I ever saw one. He had on dirty jeans and a dirty Maritime museum T-shirt. There were dozens of keys attached to his belt. His hair was crinkly and long and sort of tied into a frizzy, messy ponytail. His beard was also crinkly and long. He had a big pot-belly. He had lots of tattoos on his arms, the only part of his body that was uncovered. (I don't want to speculate on any other tattooed areas). He wore a dirty-looking rag as a bandana, and an engineer's hat on top of it. He had pierced ears and had those ring-things that aren't earrings but in fact expand the hole in the earlobe. Since he never told us his name, and I thought of him as a Young Old Salt, I'm going to call him Yos. It sort of sounds Dutch. He was in his forties, maybe.
Then Yos started telling us stories about maintaining the boats, and the problems they had getting the boats "certified" by the Dutch authorities, and then telling tales about each individual run-in with the authorities who wanted the boats to meet some kind of new updated maritime standard and how this was impossible given the historic design of the boat, and then more stories about his run-ins with the Dutch authorities, peppering the stories with the F-word (In English. I don't know what the Dutch equivalent is, but Yos didn't need it). While he was talking, he took out a pouch of loose tobacco and a piece of cigarette paper and started to hand-roll a cigarette, but he was talking animatedly and kept gesturing so most of the tobacco fell out of the paper. He finally sort of halfway rolled up the paper and stuck it in his mouth, and almost all of the rest of the tobacco fell out the end. I don't remember if he ever lit it.
The stories kept coming. Every time I thought he was about to head off, Donnie would ask some kind of question, or even make some innocent remark, like "That sounds hard." and away he'd go again with another story, or tirade. We learned about the problems with the new regulation that requires all ship's anchors to be stored inside the ship, and how this was impossible for these old boats. We learned about the new regulation requiring a wrap-around windshield with a 180 degree view for the bridge, and how that was impossible, and how they had to fight with the authorities each time, who eventually sort of looked sideways and certified the boat. He then started complaining about the budgets and layoffs of the Maritime museum.
By this time, the sun was behind the buildings and it was getting late. I started to use a stratagem that I invented during a very similar situation that occurred on our trip around Scotland several years ago when another character was telling us lots of stories, endlessly. I started inching away from him and Donnie and, pretending to be interesting in taking pictures, started taking pictures of doorways, slowly getting further and further away, hoping that Donnie would eventually break away and follow. This time I took, or pretended to take, pictures of boats. It eventually worked, and Donnie said goodbye to him and I waved. It seemed to have been hours, but it was probably a half hour. He really wasn't a bad person, although his frequent use of the F-word was off-putting, but it was another interesting experience.
By this time it was getting a little late, and we wanted to get back to the ship. There was supposed to be a free shuttle bus from the town center back to the cruise port, but we weren't exactly sure where it was or how far away, but we had noticed these tiny little yellow and black covered boats whizzing around the harbor and saw signs nearby for the water taxis. The nearest water taxi stand was only a few feet away and it had the prices and the locations of all of the stops. The cost was only five euros per person, which wasn't too much, and there was a stop right near the ship, but it turned out that they didn't have regularly scheduled trips. You had to phone a local number and request a pickup. We didn't have a working cell-phone connection. Luckily there was a Dutch couple nearby, and we overheard them mention the Hotel New York, which is the name of the hotel right next to the ship, so we asked them and they said, in perfect English, of course, that they were going there and they had called for a water taxi.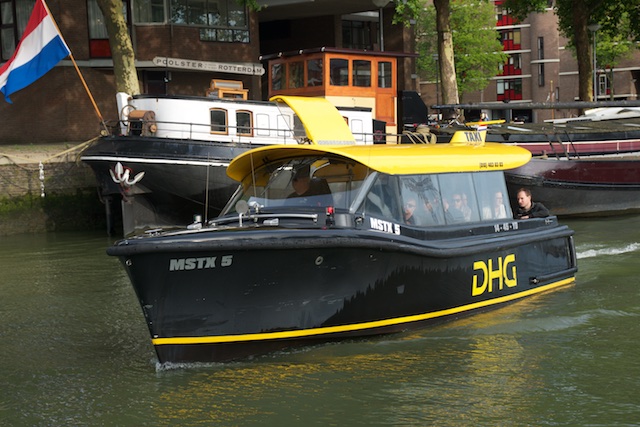 There was a bit of a delay, but when the water taxi came, it was kind of startling. It is a little, tiny, enclosed boat with only 10 seats, not much bigger than an SUV, and the driver sits up front on the right, right in front of a lift-up door. The taxi that came for us had a lady driver, and she zipped that boat around and pulled it up to the dock in one swift turn, reached out with her right hand, without getting up or taking her left hand off the wheel, lifted open the door and tied the ship up to the dock. (MB3!) The Dutch couple got on and a few other people and so when we got to the door and said to the lady driver that we were two for Hotel New York, she said, "Perfect, the boat's now full".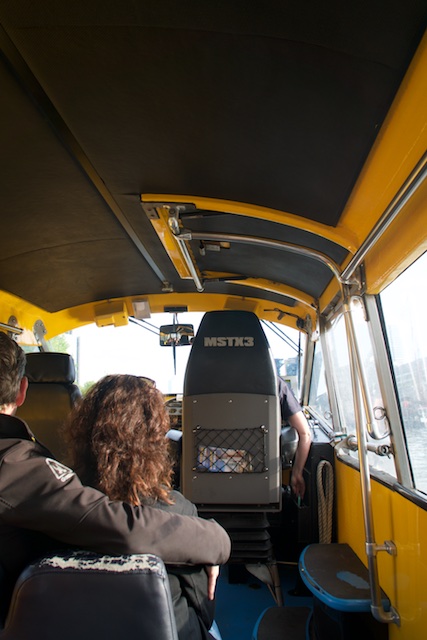 On we got, and got the last two seats. The driver reached out with her right hand again and untied the boat, closed the door and zipped the boat in one turn away from the dock and on its way. She went sort of slowly for a while in the narrow channel, and then, when she reached open water, set the throttle to ludicrous speed and sped up leaving a big wake and lots of spray behind. Zoom! At the other end, she did the same sleek turn-and-dock maneuver and before we knew it we were back on land, right next to the Hotel New York.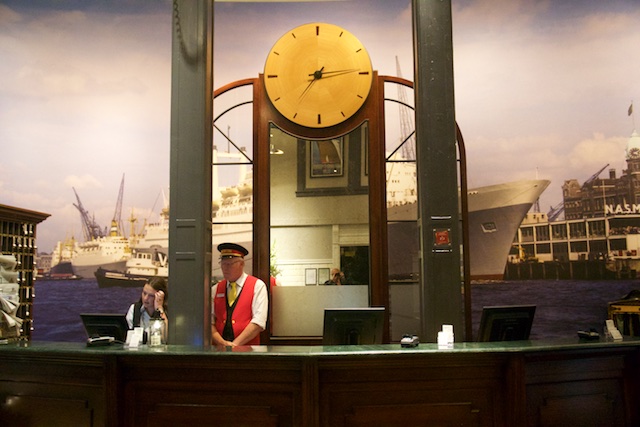 The Hotel New York is right next to the cruise terminal. With good reason. It used to be the headquarters of the Holland America Line, which was originally a very old shipping company that first started taking Dutch people back and forth to America in 1873. Barbara, the Location Guide had told us that the inside of the hotel was kind of a museum of the old Holland America company, so since we were right there we went in. (MB1!) The place was like a cross between a very old company office, and a very old steamship interior. Very strange. We walked around a little and took some pictures, and then walked a block back to the cruise terminal and went back on the ship.
Click HERE to see more of the best pictures.