Searching for the Vikings
Wednesday, August 9 - Day 8: Qaqortoq, Greenland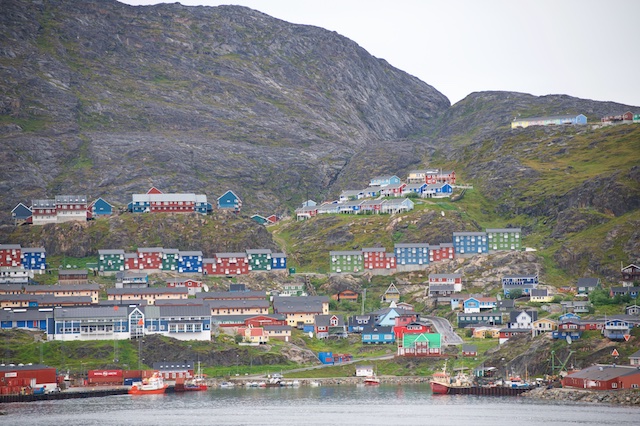 We woke up early this morning and looked out and saw no fog. It was, however overcast and grey, but I'll settle for that. There was land. There were buildings. There were even two small icebergs. We were anchored just off Qaqortoq, Greenland. We had to get up early because we found a note in our room last evening telling us that between 8:30 and 10:00 they needed to access our room to wash the windows. Really? So we set the alarm for 7:45 and after the usual morning rituals and breakfast we went to the Showroom At Sea to get our tender tickets. They had announced over the PA system that tender tickets were being given out there, instead of the much smaller Ocean Bar. One thing that we noticed was that there were no announcements about tender ticket numbers being called. When we got our tender tickets, blue 27, the young staff woman told us to go right down to the tender platform, so there was no waiting. Maybe the four and five star Mariners aren't interested in Greenland.
So, at about 10 AM on Wednesday, August 9, 2017, Jeff and Donnie set foot on the soil (well, asphalt, really) of Greenland . Incredible! Not just Greenland, but Qaqortoq, Greenland. Never in our wildest dreams did we ever imagine we would be in Greenland, and of course, we never even heard of Qaqortoq. I probably don't even know anybody who has. This is so cool!
After we got off the tender, and took a few pictures, the first thing we did was go into the souvenir store just off the pier, to get Qaqortoq, Greenland T-shirts of course. Unfortunately, they had small, extra small, and XXXL. We went back later to ask if they had Large and the woman told us that the container ship is coming in two days. Ah well. So we walked around town and took a lot of pictures. Because of the grey overcast skies, the light for pictures is terrible. I've already explained that. So, our pictures will not be photographic masterpieces, but what can you do? At least it wasn't pouring rain, or dense fog.
Then as we were walking Donnie noticed something that drew her into a little building. Looking through the window she could see people sitting at tables inside, looking down. Oh No! Not again. It was a pub/cafe/restaurant with free WIFI. Now wait just a second… here we are in Greenland, in a little town that has to import everything by infrequent container ships, and is probably inaccessible most of the year, and they have a pub/cafe/restaurant, with live music and WIFI?
We got a table upstairs and ordered two coffees which I paid for with my American Express card using the high-tech, chip-enabled credit card machine at the bar. What else would they have in little, almost totally isolated Qaqortoq Greenland? I have absolutely no idea how much I paid because the local currency is Danish Kroners and I'm too weirded-out to do simple arithmetic. Donnie spent the next hour in heaven, sending emails to the entire population of the solar system.
I have to say that I enjoyed seeing Qaqortoq, although I'm not sure I would like living there. It must be a very hard life. I can't even imagine what it must be like in the winter. Yesterday, during his lecture, Jim, the former geology teacher showed us a map of Greenland. All of the towns were at the very edge of the island. There was a very thin line of brown at the edge and the entire center was stark white. Every map we have seen of Greenland shows the center as white. He told us that this is the Greenland Ice Sheet and that it is a mile thick and so heavy that it presses the land underneath down until it is below sea level. Unreal! Oh yes, I nearly forgot, if any of you reading this want a truly unforgettable vacation experience, Qaqortoq has a modern looking, good sized hotel, and a rock music venue complete with a giant electric guitar out front like at the Hard Rock Cafes elsewhere. And I imagine that all the drinks served have plenty of ice.
(… time tick-tocked it's way into the evening …)
There has been a little problem with the scheduling of entertainment on this cruise. There have been two shows a night, one at 8:00 PM and one at 10:00 pm. There are two "seatings" for the fixed-time diners, one at 5:30 PM and one at 8:00 PM. Then there are the "anytime" diners. We think, based on the number of people out and about the ship at various times, that the vast majority of people eat dinner promptly at 5:30 and then immediately head to the theater and fill it up early. The latter part we have verified, we have not been able to get a seat for the 8:00 show, and other people we talked to said they couldn't get a seat even if they showed up at 7:00. So, we have been going to the 10:00 shows, which have been 1/2 to 2/3 full.
Today, the cruise director announced that they are trying an experiment to address some complaints they have received, and are going to switch to 6:00 and 8:00 show times. We knew that this was not going to fix the 8:00 show being full, since the 5:30 eaters will still go to the 8:00 show, probably getting there at 6:30. So, we decided to go to the 6:00 show. Sure enough it wasn't full. It probably had only a few more people than the 10:00 show. That whole thing probably confused many of you and the rest didn't really care and stopped reading the paragraph after the first sentence. I don't care.
So we saw the 6:00 performance which was a magician. I'm somewhat of a magic show buff. I love them. When I was a kid, I read every magic book I could get out of the public library. There were a lot of them back then. I bought some of the apparatus and practiced. I stunk. A few years ago I tried again and bought books and DVD's and some apparatus. I stink worse. Anyhow, I love magic and I do know from my reading how many of the illusions are done, but that doesn't spoil it for me. My wife keeps asking me how things are done, and gets annoyed when I won't tell her, but I feel that I am honor bound not to tell.
The magician tonight wasn't bad. For a cruise ship show it was pretty good. There are many kinds of magic acts, for example Illusionists do the big "illusions" as they are called, like levitating a woman or making a tiger appear in a cage floating above the stage. We saw one on a previous cruise. There are card specialists, mentalists and my favorites, the sleight-of-hand guys. There's also something called close-up magic where the magician is working a small room like a bar or lounge and going from table to table and doing things right next to the audience members. This is hard. The guy tonight was introduced as being a world championship winner in close-up magic. However tonight, obviously, he was doing a stage show.
He did some old classics, like the linking rings (one of my favorites. I used to do it. I wasn't too bad at that one) and the floating ball and the torn newspaper and the color-changing handkerchief, some of them with little new twists to them. He also did some so-called mind reading things, like "think of a card" and then he somehow reveals the card. I think he did too many of these and was a little awkward at them. When he did his sleight-of-hand stuff, he was good.
Sleight-of-hand is the kind of magic where objects appear and disappear in the magician's hands. For example, he fans out a bunch of cards in his hand, drops them into a bucket and then fans them out of the same hand again, over and over. He did several of these, and he was smooth and flawless. This kind of magic doesn't involve "gimmicks" as they are called, which are pieces of apparatus that have some kind of secret. This is done purely by skill and a lot of practice. It takes years of hard work and practice to do it well.
Some famous old magicians were incredible sleight-of-hand masters, like two guys I remember called Slydini and Cardini. They did things with cards and coins that were impossible. Once there was an entire episode of the old Dick Cavett show on TV which was just Dick sitting at a card table with Slydini and a camera over Dick's shoulder and Slydini did things with cards and coins that just blew Dick and the audience away, and he was two feet away. No camera tricks, just skill.
After the show we started for dinner, but we saw out the windows on the Promenade deck and there were several icebergs and, our old friend, fog. We went back to our room to grab our cameras to take a couple of iceberg pictures and went out onto our balcony to do it. It was cold out there.
Tomorrow we are supposed to do a "scenic" cruise through Prince Christian Sound. It is supposed to be fantastic, and we are lucky to be doing it. The captain came on the PA system this evening and told us that it looks good for us to go into the sound, but the exit is still blocked by ice, so we will be going in tonight very late and head almost all the way to the other end and then turn around about 7:00 in the morning and do the scenic cruise during the day coming back the way we came. Yay! Thank you Captain Hans. He even said that right now, it appears the weather will be partly cloudy with no rain. I'll believe it when I see it. He doesn't know about the curse.
We are going to bed early tonight, partly because Donnie didn't sleep well last night and partly because we want to be up early to see Prince Christian sound in all its glory. See you all tomorrow.
Click HERE to see the best pictures.