Searching for the Vikings
Saturday, August 12 - Day 11: Reykjavik, Iceland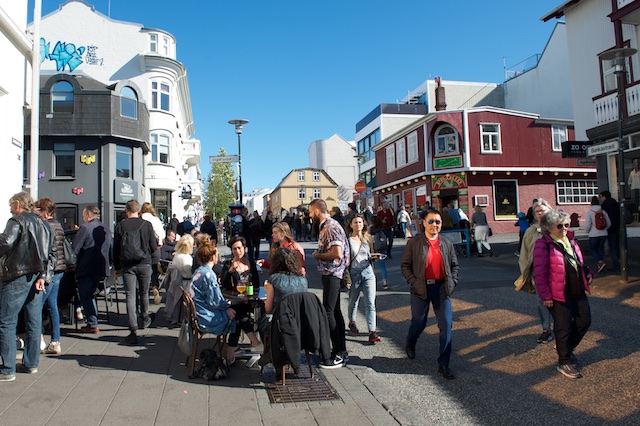 When I got back to the room, Donnie was awake, so we did our morning preparations, re-attaching bits of ourselves that had detached themselves in the night, and went to breakfast. Jan, our Cruise Director came on the PA a little after 8:00 to let us know that the shuttle buses from the terminal building to the old town were running and would not be interrupted by the parade (Don't forget the Gay Pride Parade .) Unhappily, the bus cost 1000 Icelandic Kroner one way or 2000 round trip, per person (that's about $11 and $22). That's for a two-mile trip. A slight ripoff, but we really didn't want to walk two miles to town, especially since our plan for the day was to walk around town seeing all the sights.
So after walking several hundred yards from the gangplank to the terminal building, they even had a free shuttle for just this walk, because many of the passengers on this trip wouldn't make it, we waited on line to buy bus tickets and took the shuttle bus into town.
Here we are in Iceland. I remember from my early school days (yes, they had invented schools, even way back then) the geography lessons where there would be a world map and the teacher would be pointing out various continents and countries. You could see Iceland on the map. The teacher never even mentioned it.
Now, here's another short digression. Remember all the stuff about the Gay Pride Parade and how it's following us, and I am beginning to become paranoid about it. Today something happened to change my outlook completely. As we were walking down the pier toward the terminal building to get the shuttle bus into town, the Sun came out. Not only that, by the time we got to town, the sky had cleared to a bright blue, with only a few white, puffy clouds on the horizon. And, you won't believe this, I hardly do, it stayed sunny and beautiful all day.  In Reykjavik, Iceland, while I was there with my camera. What has this got to do with the Gay Pride Parade? I remember now that almost every one of the Gay Pride Parades we have accidentally run into was on a bright, sunny day. I now think that these people have lots of extra good karma that not only gives them good weather for their parades, but even overpowers the formidable "Kravitz Curse". My thanks go out to them. I will never complain about accidentally running to a Gay Pride Parade again.
We had a goal. We wanted to buy Reykjavik T-shirts. Yes, I know, tacky, but bear me out. We had really wanted to get Qaqortoq T-shirts. If I had a Qaqortoq, Greenland T-shirt, I would probably be the only one for thousands of miles to own and wear one. Then again, maybe not. I should have taken into account the fact that we live only 50 miles from Manhattan and there are several million people in Manhattan. I guess that there might even be as many as two of them that have Qaqortaq, Greenland T-shirts. However, as I said earlier we were thwarted and by the time we got to the store in Qaqortaq, they only had Small and Extra Small. So, as a second-best, we wanted Reykjavik T-shirts. There might be three of them in Manhattan.
So we went into every shop on Laugavegor and Skolavordustigur that sold T-shirts (sounds like a great comedy team, doesn't it? "Here they are again, ladies and gentlemen. Give a big hand to Laugavegor and Skolavordustigur"). They fell into two categories: shops that were selling T-shirts for 2490 ISK (a little more than $25), which were unattractive and didn't even say Reykjavik, or shops that had more attractive shirts, all of which had signs that proclaimed "Buy 3 get one free", or "Get 3 for the price of 2", but had prices ranging from 3500 ISK to 3900 ISK ($35 to $39). For T-shirts? Ouch! Not only that, but almost all of the shirts were of a very thin, flimsy material that I think would fall apart after two washings.
Eventually we gave up, walked back to the shuttle bus stop near the Harpa concert hall and took the bus back to the ship. It was 7:00 PM. We had been walking continuously, except for lunch and the soda-water break, since 9:00 AM. When the bus dropped us off outside the terminal building at the opposite end of the pier from our ship, we went in. You had to go through the little terminal building to get to the pier. It was jammed. There was a long line at the cashier. These were passengers from the Koenigsdam, which due to very bad weather had just arrived, and they were all lined up to buy shuttle bus tickets to go into Reykjavik so they could see a little bit of it.
As I had mentioned, the terminal building, which was very small, was really a souvenir shop, and what did they have? Yes! T-Shirts . They even had one that I had liked in a store on Laugavegor, but that store only had Small and Extra Small, just like in Qaqortoq. The terminal building had many sizes, including XXL. These shirts were small . I normally wear a Large, but a Large in Reykjavik wouldn't fit a child, so XXL was just right, and the price was right too, but, the line at the cashier was so long, we went back to the ship, put away our stuff, had dinner, and went back out later to buy the T-shirts. Mission accomplished. I am now the only kid on my block with a Reykjavik T-shirt. Except for Donnie, of course.
Donnie accomplished another mission in the terminal building. I bet you astute guessers can figure out what it was if I give you a little hint. Inside the building, which was very crowded, were a long line of people waiting to buy bus tickets, and another whole group of people just standing there, or even sitting on the floor. No guess yet? How about another hint? Outside the building, leaning against the wall, were a whole bunch of crew members from both the Rotterdam and the Koenigsdam. Yes, you guessed it. They had free WIFI. There was an impressive number of passengers and crew staring down at devices. There was barely room to squeeze by them. Donnie had seen this on our first time in the building, so when we went back to buy the T-shirts, she brought her laptop. Thus, E-mails were received and replied to and blog entries were uploaded. This time, I got her started and then wished her luck and went back to the ship. She returned several hours later. Not really, it just seemed that long.
It's summary time. Today was fantastic, completely incredible. The weather was perfect. About 55 degrees air temperature. Cool in the shade, warm in the sun. We took many, many sunny day pictures. There was a whole bunch of really wonderful things to see in very beautiful, very clean Reykjavik. We even got T-shirts and free WIFI. And Donnie was happy about the fact that we walked five miles. My feet weren't so happy about it. I really liked Reykjavik. It was much prettier and bigger than I had imagined. I would definitely go back. Maybe we will.
Tomorrow we have to get up extremely early because we are going on an excursion called "Best of the Golden Circle" and we have to meet in the theater at 7:20 AM. See you then.
Click HERE to see more of the best pictures.