Searching for the Vikings
Thursday, August 3 - Day 2: Bar Harbor, Maine, USA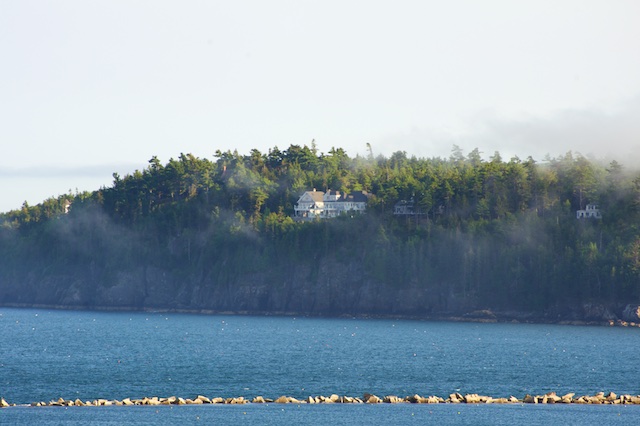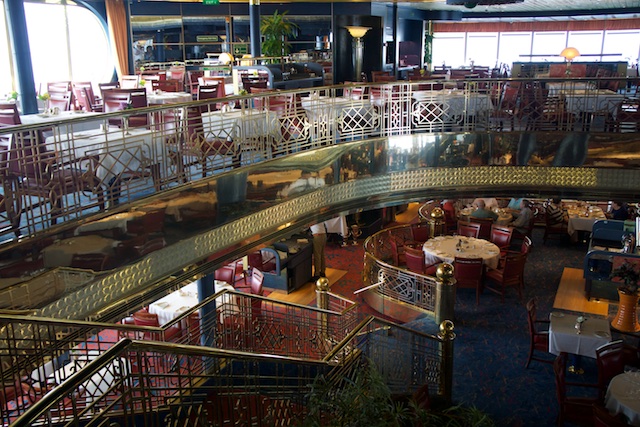 We got up a little late this morning and decided to try breakfast in the main dining room. The dining room on the M.S. Rotterdam is on two levels. The dining room on deck four is for the "anytime, any table" diners, like us, and the one on deck five is for the "fixed time, fixed seating" people. These distinctions only apply at dinner, but we didn't know which level to go to for breakfast so we went to deck five. Nobody was there, so we figured maybe we should try deck four. Aha! There was a line of about ten or so people waiting to get in. The line moved very slowly, even though we could see that there were many empty tables in the dining room. Strange. Eventually we got in and were seated and had a reasonably good breakfast, although the service was a bit slow and there were a lot of tables where the leftovers and dirty dishes had not been removed. Somebody had said that this ship was understaffed.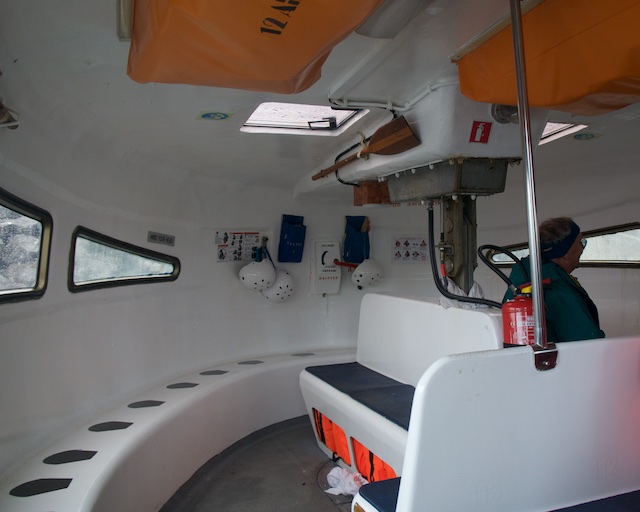 After breakfast we went to the top deck to take a few pictures. About 10:45 we went to the Ocean Bar, where you were supposed to pick up numbered tender tickets to go ashore. Bar Harbor is a tender port which means that the ship doesn't dock directly but anchors out in the harbor and you have to take small boats, called tenders, to get into shore. The tenders are actually the ship's lifeboats.
Now the tenders were supposed to have started at 10:00 so we thought that the mad rush would be over by 10:45. Very wrong. The small Ocean Bar was jammed. There were people everywhere. We found the table with the crew member handing out tickets and after we showed her our plastic Holland America do-everything cards, she handed us some blue plastic cards with the number 30 in big numerals. She said that there would be about a thirty minute wait. We found two seats near another couple and chatted with them for a while. Then we heard an announcement over the PA system, tender ticket numbers red 16, 17, 18, and 19 and blue 7 were now being called. What? We had blue 30.
We waited for an hour and a half, during which we discovered that they called more red numbers than blue numbers and that the frequent fliers, i.e., the people with four or five star Mariner status were given red cards and peons like us were given blue cards. Also, the young lady giving out the cards told everybody that the wait would be thirty minutes. She was a very good liar.
We eventually arrived in Bar Harbor, two hours after we went to get the tender tickets. It was overcast and very humid. We walked around town for a while. Bar Harbor, which we have been to before, is extremely touristy. It has lots of souvenir shops, T-shirt shops, snack-bars, restaurants, "art" galleries, "craft" stores, etc., and thousands of tourists. This cruise is called the "Voyage of the Vikings" and therefore, according to the experts in the marketing department of Holland America Lines, is supposed to visit the places where the Vikings went. I really doubt that they went to Bar Harbor. Or, if they did, they probably just bought a T-shirt and left quickly in disgust.
We found the shore path which leads away from the main touristy area and followed it for a while, taking some uninspiring pictures due to the lack of decent light. A short aside: Once, a friend of us showed us a photographic guide he got from some travel photographer which said that taking scenic pictures when it is overcast or rainy is better than when it is sunny. Bullwinkle! (Fill in your own curse word or exclamation here .) The sun brings out shadows which enhance the detail and contrast and give the pictures some "snap". Every serious photographer knows that. In fact, its better to take landscape pictures in the morning or afternoon when the sun is at a lower angle and there are more shadows than at noon when there are almost no shadows. Taking landscape pictures in heavy overcast is an exercise in frustration. I ought to know, I take a lot of them.
I have been a "serious" photographer for maybe 60 years now, and when I got really serious about it I discovered that I had been cursed with the "Kravitz Curse". Every time I go somewhere photogenic, the skies darken, the sun disappears, and I have to take pictures in the overcast, or even rain. If the curse is operating at full efficiency, if I go inside, say to have lunch, the sun comes out until I go out again. I have a foreboding that the curse will be in full force during this trip.
After walking for a while around Bar Harbor we embarked on our previously planned quest to find the best lobster roll in town for Donnie, and the best Maine blueberry pie for both of us. We had researched this and found that the West Street Cafe was supposed to be the place to go, but, we had also read that when a cruise ship is in town, there could be a long wait to get into the cafe. Worse, the printed Shopping Guide placed in everybody's staterooms on the ship the night before prominently mentioned the West Street Cafe, so everyone on board was well aware of it.
We got there around 1:00 and I guess that was late enough because there was no line and we were seated immediately. I won't leave you in suspense: Donnie didn't actually have a lobster roll. She did, however, have a lobster salad which the waitress assured her had the exact same lobster meat as the lobster roll. Donnie said she didn't want the bread in the Lobster Roll, so she got the salad instead. She said that the lobster salad was delicious. So was the blueberry pie we both had.
While we were having lunch, the sky cleared, the sun came out, the humidity lessened and so we walked back through town to the shore path to re-take our pictures but now with excellent light and shadow. Growing tired of touristy Bar Harbor, around 4:00 we took a tender back to the ship and went to our cabin to freshen up.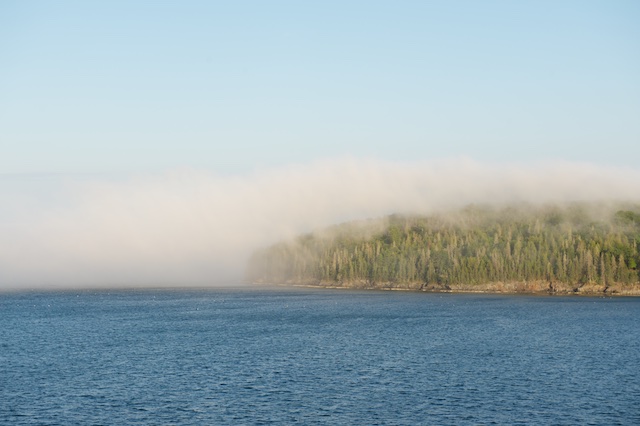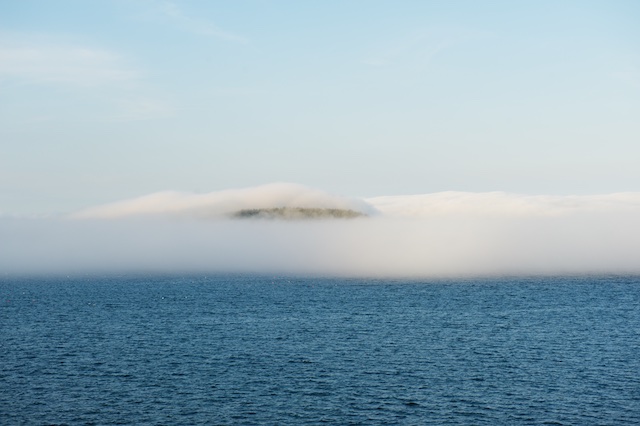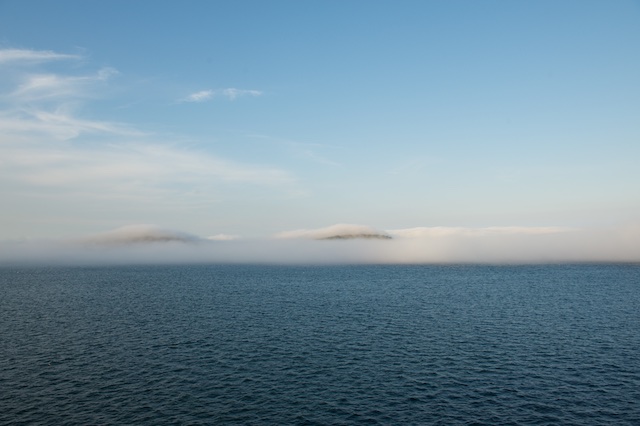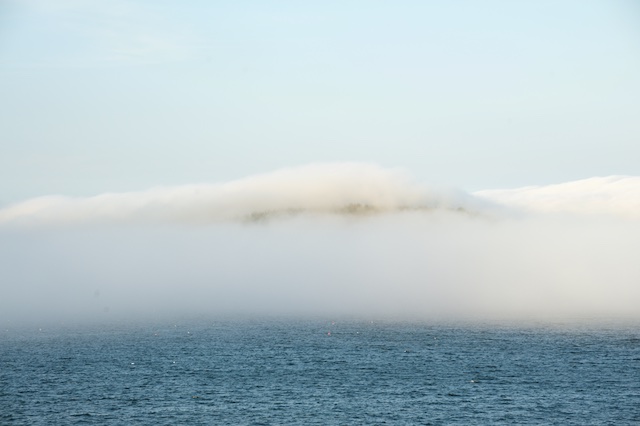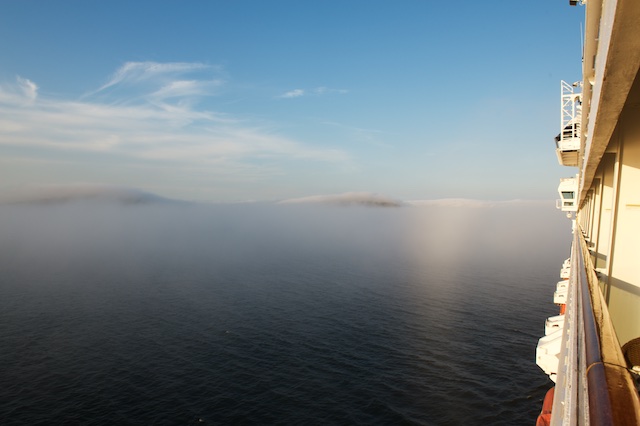 We then went and explored the ship some more and while we were doing so Donnie looked out a window and saw the most incredible sight. Bar Harbor itself was in the sun but the islands off shore and the sea around them were covered in what looked like whipped cream, which was really dense low-level fog rolling in. It was like something out of a science fiction movie. We rushed back to our cabin to get our cameras and went out onto our balcony and took some remarkable pictures. While we were doing so, the ship started moving and was moving into the fog. Then we heard the ship's foghorn and soon we were inside the fog and nothing was visible anymore.
We ended the day by having a light dinner in the buffet and then going to the theater to hear a comedian, who was pretty funny. It was a standing-room only crowd and since we got there a couple of minutes late, we stood. This was a foretaste of things to come.
One thing we are finding strange about this cruise is that the people seem to be mostly invisible. Except for the crowd waiting to get tender tickets, and the crowd in the theater at 8:00, the ship has appeared to be empty. We know, from the crowd in the embarkation terminal, and from what we read online, that this cruise is essentially sold out, and yet everywhere we have been on this ship has been almost empty. The buffet has been almost empty when we have been there. The bars have had only a small handful of people in them. The pool deck, the casino, the upper outside decks, the shops, everywhere we have been on the ship, except waiting for the tenders and in the theater tonight has been almost devoid of people. Donnie thinks that they eat dinner in the dining room at 5:30 PM, see the 8:00 show and then go to bed. I think they are holographic images of cruise passengers that are only projected at certain times to cause us to become insane. I'm not paranoid. I assure you.