Searching for the Vikings
Monday, August 28 - Day 27: Djupivogur, Iceland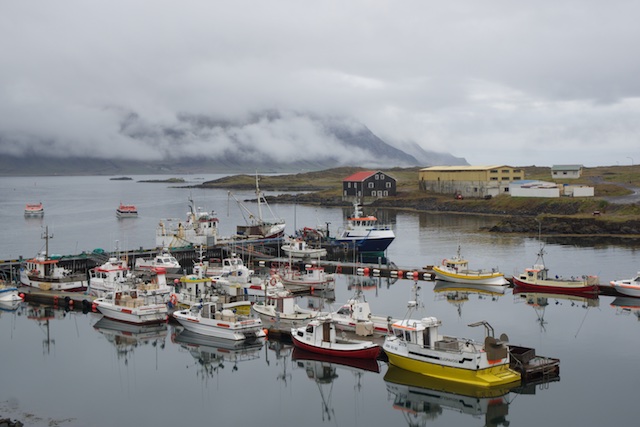 I woke up this morning to the sound of my buddy, the Foghorn. Then I heard the machinery of the tender equipment. Huh? Foghorn and tenders? Yes, we have anchored off Djupivogur, but all I could see out of our balcony door was fog, some little bit of sea, and a tender. Wild! Donnie was fast asleep, so I dressed quietly and went outside to see if Djupivogur was visible on the Starboard side. It wasn't. It was there, but almost invisible in the fog. I walked around the ship taking a large number of totally boring fog pictures, all the same.
Later this morning, you could almost see some buildings on the shore, maybe. We did our usual morning rituals, like opening eyes, starting hearts pumping, etc. and got a tender to almost invisible Djupivogur. It's really easy to pronounce the name of the town, if you forget that the D is there, and if you're Icelandic. As soon as we arrived, I was reminded of Red Bay, Labrador, with two main differences: It wasn't pouring rain, yet, and the signs had much longer and mostly unpronounceable names and words on them.
Djupivogur is very clearly a small, Icelandic fishing village. It's main big building is a fish processing factory. There are a lot of fishing boats. You can smell a lot of fish, at least I hope it's fish. The main thing that distinguishes it from any little fishing villages elsewhere are the volcanic rock formations in and around town. There are supposed to be mountains around the town also, but all we can see is clouds and fog, no mountains.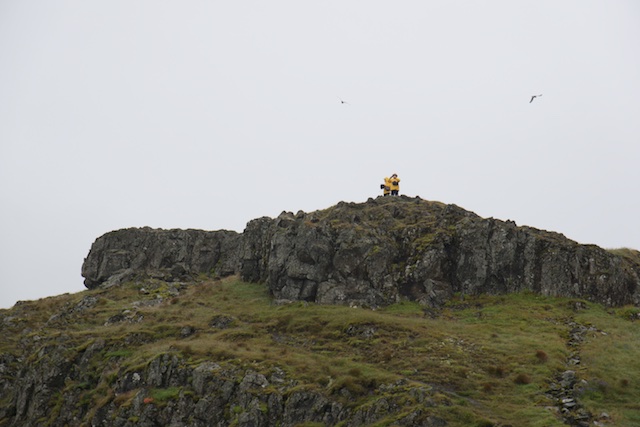 We walked around and took a few, really, really bad pictures. Incredibly, it wasn't actually raining, just sort of dewy, or misty, or foggy. We went into the Djupivogur souvenir store, yes, they have a souvenir store, to look for a pair of Djupivogur, Iceland T-shirts. Yes, I know that's tacky, but how many people do you know that have Djupivogur, Iceland T-shirts? Probably none. It's still none. They only had some generic "66 North" T-shirts by a Reykjavik company of that name.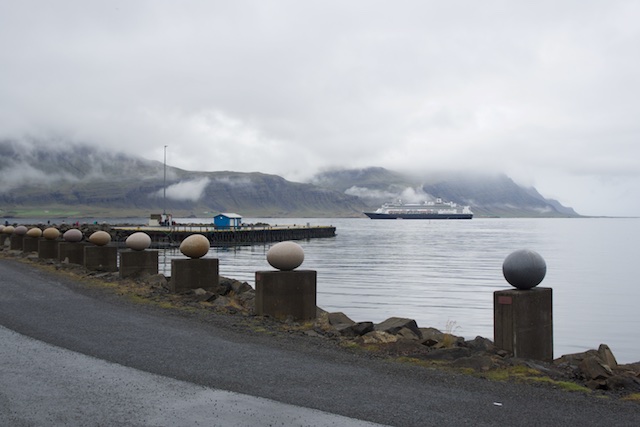 We then went to the major tourist attraction in Djupivogur, well, the second major one. The major one was the building containing the toilets. The second major one is some kind of art thing, done by some well known Icelandic Artist (probably only really well known by his mother), and it's about a half-mile out of town, outdoors. "What is it?" I can hear you asking. It's a series of large, stone eggs. Each one is about the size of, say, an automobile engine. Each one is supposed to be shaped like the egg of a different Icelandic bird. Each one is supposed to be a different color. It was hard to tell. Each one is mounted on a stone pedestal. Each one is boring. This is what's known as "contemporary art".
When I look at a painting by Rembrandt, or Vermeer, or Van Gogh and see the unsurpassed skill, dedication, insight, beauty, I am moved to tears. When I see the stone eggs, I am also moved to tears, but for a different reason. I, cynical bastard that I am, imagine that the people of Djupivogur had commissioned the artist to put these things here so they could sit in their homes on the days that a cruise ship is in port and laugh hysterically at all the tourists dumb enough to walk half a mile to see a bunch of stone eggs. Very funny.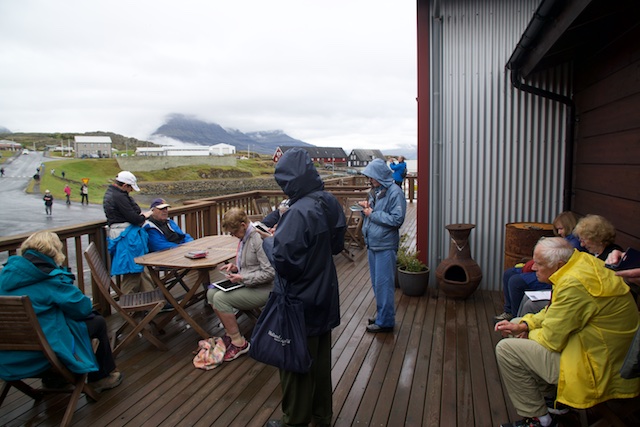 After taking more bad pictures of the stone eggs, I'm not exactly sure why, we walked back into town, and went to the local hotel, Hotel Framtid. We just were curious what it looked like inside. As we approached the deck in front, we noticed something familiar. Here's a hint: a bunch of people standing, or sitting, looking down. You smart readers. You got it in one. Free WIFI. We went inside, because there was no more room on the deck. Inside was very pretty, with light wood everywhere and very inviting. We sat in some comfortable chairs in the small bar/cafe area. The WIFI was protected by a password, but Donnie asked one of the Rotterdammers and got the password from him. It only took mild threats.
Now, I never figured that Donnie was all that familiar with the current theories of Cosmology, but, she surprised me when she, embracing the new theory of multiple universes, sent emails to all of the intelligent creatures (and maybe some not-so-intelligent ones) in some of the adjoining universes. During this time, I performed my usual function: I sat in a chair. Finally, when the battery indicator on her phone started flashing alternately red, purple, and black, indicating that the very last electron was about to be consumed, she sent the last fourteen emails, and we left the hotel.
We had just been about two hours in Djupivogur, and, believe me, you can see all of Djupivogur in two hours, so we tendered back to the ship. While we were doing so, it started to rain. Later that afternoon, for a brief period, there was a break in the clouds and we did see a hint that there were mountains surrounding the town.
Was Djupivogur a tourist mecca? No. Was it extremely attractive like, for example, Eidfjord? No. Still it was interesting. You got to see how the normal, every day Icelanders live, and most importantly, you can brag to all your friends, relatives and total strangers that you have been to Djupivogur, Iceland, to which they will remark, "Why?"
Now, I need to vent about something. We have now been to one town in Greenland, two towns in Iceland, and three towns in Norway, so far, and these Nordic places are very deficient in their T-shirt availability. Do you suppose that it has something to do with the Northern climate? Maybe they haven't yet fully absorbed the concept of "T-Shirt", for some reason. They do sell a great many sweaters.
(… afternooninity slips smoothly into eveningness  …)
We were in the library, finishing our after-dinner ice cream cones, and, on a whim, decided to wander into the theater, even though it was five minutes after eight. Of course the theater was full, so we had to stand. We weren't even sure what the show was because the printed daily schedule said one thing and the online schedule said another. It was an older (about our age) guy, named Naki Ataman, playing the piano, with a bass guitar and a drummer, but after a minute or two it became obvious that it was all about the pianist. He played a medley. An amazing medley. A virtuosic medley. There were show tunes, movie music, folk tunes, some Beatles, some Simon and Garfunkel, some TV themes, some classical, some Scott Joplin, all with very sophisticated arrangements and very cleverly and complexly woven together seamlessly, with very adept performing, and he did it non-stop, without a pause, for an hour. It was a blast. A tour-de-force. He finished at 9:00. He has to do it again at 9:30. I'm amazed that his arms and fingers don't fall off.