Searching for the Vikings
Monday, August 14 - Day 13: At Sea, once again in the North Atlantic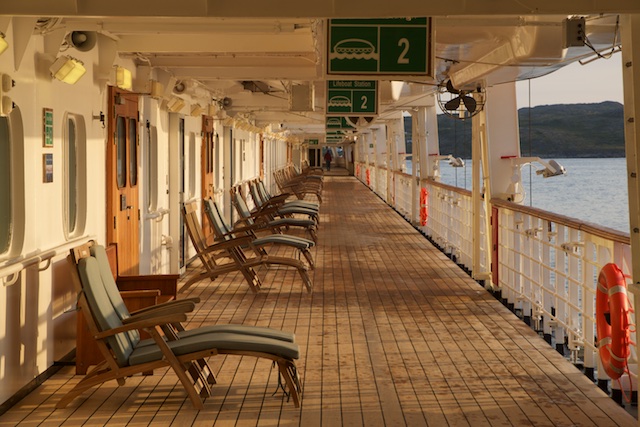 Yo Ho Ho, me mateys. That's some nautical talk, or, in reality, Hollywood nautical talk. We woke up late today, even later than we thought, since we, once more, had to set the clocks ahead an hour. We have to do it again tonight. This is like jet lag, drawn out over several days, which is probably the best way to have it. I gather that we will be setting the clocks ahead an hour, and then on the second half of the cruise setting the clocks back an hour, almost every day or every other day of the cruise.
We have two sea days ahead of us before we reach Norway. This is the only time on this cruise that we have two consecutive sea days. We looked at the schedule for today and there are a couple of lectures and activities that we might be interested in, in particular John Nixon who gave the very interesting lectures on the early explorers and on the undersea telegraph cables is giving a talk on sea salvage.
It might be interesting to you (many, many) readers out there to explain the on-board activities we don't participate in.
There are the Microsoft sponsored Digital Workshop seminars on all aspects of Microsoft Windows. I won't comment. Yes, I will, Yecch!

There are various and sundry fitness classes and exercises. You can probably guess what I think of them. Most of them are not free. Yet another reason to avoid them. Late breaking update… Donnie went to one. She's more of a health nut than I am. I am a hedonist. My motto is "Eat, drink and be merry, for tomorrow the cruise is over and you have to go home".

There is the Casino, on sea days. They can't open it when we are in port and thus are subject to the gambling laws of the various countries. We don't gamble. I know too much about statistics.

There are various games: Bridge, Texas Hold'em Poker, Bingo (they charge big $ to play Bingo), Pickle-ball (Yes, there is a game called Pickle-ball, sort of a watered-down tennis, I gather, and they have players supposedly on board, except looking at the age and mobility of the passengers carefully, I don't think there are many takers.), Mahjong (this one is popular), Dominos, Chess, Basketball (same comment as Pickle-ball), Tennis (ditto), Ping Pong (We saw a youngish couple this morning on the pool deck playing Ping Pong. It must be more challenging on a rocking ship. Donnie suggested that they were practicing for the Ping Pong tournament this afternoon. I said, given the age of the rest of the passengers, they'll win by just showing up.)

There are various Trivia contests. Some are easy ones for individuals, and then there is the Team Trivia contest where people have formed teams (with team names even) and compete for prizes. These are hard, and the competition is fierce. We did go to one. We weren't invited to join a team, so we tried as a team of two and got a score of 50 percent.

There are the wine and beer tastings. They charge for these, and my discriminating taste buds might be able to distinguish the wine from the beer. Maybe.

There are the cooking classes. If any of you know us, you know our opinion of them. Hooray for the microwave.

There is the Tongue and Pulse Diagnosis with Acupuncturist Dexter. I'm not kidding. I definitely don't want Dexter fooling around with my tongue. Yecch!

There is the complimentary Footprint Analysis. I'm not kidding about this either.

There are the "seminars". A cruise-line term meaning "Sales Pitch". Seminars on diamonds, seminars on Tanzanite, whatever that is, seminars on watches, seminars on face creams, seminars on spa treatments, seminars on acupuncture, etc., etc. I think that these are the real  "Onboard Enrichment" and you know who gets enriched.

Then there are the art lectures and auctions. I will try real hard to avoid going into my tirade about cruise ship art auctions. We attended one on a previous cruise. In short, a big scam. They use every high-pressure, low-ethics sales technique possible. I won't go into it any further except to impart some knowledge I have that may help any of you readers who go to one of these. One of their scams is to offer a type of print called a Giclee print, which they claim is similar to other kinds of artists prints, like etchings, and lithographs. They lie. Giclee is a French word, pronounced Zhee Clay, an almost obsolete word that merely means Ink Jet Print. They try to sell you Ink Jet prints made on a computer printer that costs them maybe five dollars to make, for several hundreds or even thousands of dollars. Avoid, avoid, avoid.
So, you are probably asking, "What do you do on Sea Days?" We write these masterpieces of english prose, of course. We took this cruise solely for the purpose of entertaining you readers out there. Didn't you know that? Small, or even better, large donations will be cheerfully accepted.
We had a few minutes to kill before the first morning lecture we wanted to attend, so we went to the pool area for the "Norwegian Bazaar". This was a feeble attempt to sell T-shirts and souvenirs left over from one of the Baltic Cruises. There were the same Norwegian style sweaters, probably made in Thailand, that they have been trying to peddle all through the cruise. There were fake Russian Matrushka nesting dolls, probably made in China, and there were plastic Viking helmets, with plastic horns. You should know by now that the Vikings never wore helmets with horns. Needless to say, we didn't buy anything, but it did waste a few minutes.
I don't want to make it sound like everything onboard is an attempt to part you and your cash. Some of it is, definitely, but on a previous cruise, with another cruise line, almost all of it was. This cruise line is much less greedy, at least on board the ship.
We arrived early at the theater and a presentation was under way by the shore excursion marketing people describing the shore excursions available for the ports in Norway. On previous cruises, with other cruise lines, these presentations were not-very-well disguised sales pitches for the excursions. This talk was less of a hard-core sales pitch and did provide some interesting information about what to see and do in the ports.
The young lady giving the presentation mentioned one item that became my priority to-do item for the entire cruise. This is now my entire reason for being here. In Eidfjord, Norway, they sell little Chocolate Covered Marshmallow Teddy Bears. I now know the meaning of life. This afternoon I'm going to the store on the ship to buy an extra suitcase. You now know what I'm going to fill it with.
We stayed in the theater to hear another lecture given by John Nixon, who had given two previous very interesting lectures on nautical things. This time it was about ship disasters and salvage, not exactly the best subject to lecture on during a cruise. His full title on the first slide of the presentation was Captain John Nixon, MSC. Master Mariner. Salvage Consultant. He gave a fascinating, and a little scary lecture entitled "The Work of the Marine Salvor. Shipwrecks, Disaster and Salvage"
It turns out that Salvors are the people and companies that have the mission of dealing with nautical disasters. They don't just handle the recovery of the spoils, as most people think, but are the first responders who put out fires, help with getting everybody off the ship, try to prevent it sinking if possible, try to prevent environmental damage, and then try to recover the ship and its contents, and may then get the ship away from the location, or even scuttle (sink) it if necessary, usually if they can't save it and the owners or the insurers won't pay to tow it and scrap it. He told stories of some of the major shipwrecks and disasters in the last few years, many of which he had been at. His title of Salvage Consultant is an official title and he is one of the first people sent to a disaster to assess the situation and determine what is to be done next.
This man must have had a long and fascinating career. During his first lecture he mentioned that he was a Master Navigator. During his second lecture he told us that he worked on a ship that lays and recovers international undersea communication cables, and now he told us that he worked for one of the four major international salvage companies. Quite amazing. His lectures so far have been really interesting and have revealed whole new worlds that we didn't even know existed.
After John's lecture, we went for a short walk inside the ship because it's too windy and cold to walk outside on the promenade deck. Then we went back to the theater for Barbara's talk on things to see and do in the Norwegian ports, this one being less about the excursions and more about the places themselves. We learned about the history and culture of these places and got some facts that will help us in our walks around the towns. It was very helpful.
Since we had a big breakfast, and then went to lectures at 11:00, and 1:00, we weren't hungry for lunch at 12, and didn't want to have a big lunch at 2:00 since then we wouldn't be hungry for dinner, so we had a very light snack at 2:00.
I think I will take this opportunity to mention one thing we don't like about Holland America, and one thing we do. There are many more pro's and a few con's but I'll leave them for another time.
We are not happy with the dining schedule. On the other cruise lines we have been on, there has always been somewhere where you could get a meal or a snack, almost any time of day or night. The selection varied depending on the time, but there was always something open. This is important if you are going on an excursion that gets back at an odd time. This isn't really true on Holland America.
The main dining room has very limited hours, and sometimes we don't feel like having a whole meal. The solution is supposed to be the Lido Market, which is their name for the buffet, but its opening hours are also limited, don't match our habits, and somewhat fictional. There are two sides to the buffet, port and starboard, and they are both essentially identical, but except at the very peak times, one side is usually completely closed. Just after the peak times, they start closing various "stations" on the open side, way before the scheduled closing time, so if you get there at 7:00 PM say, you may only be able to get a salad, even though they are supposed to be open until 8:00. Want dinner at 9:30? Room service is the only option, and that menu is very meagre. I have joked a lot about this very senior group of passengers eating at 5:30, but it's true. After about 6:30 the buffet starts closing up.
The thing we like: the free lemonade in the Lido Market, available much of the day and night is very good, refreshing lemonade.
(… the ship slipped between the waves while time slipped between the picoseconds …)
Donnie came back from her fitness class and gave me two fascinating pieces of news:
The large, handsome, very well muscled, forceful, very Germanic fitness trainer she had met on the first day of the cruise when she checked out the gym was gone, replaced by a young woman. He had been injured. I suspect that he may have been a little too forceful for these passengers and some woman hit him with her walker.
The other item was that while Donnie was on the line waiting for her daily ice cream cone, a major motivation for going to the fitness class, she was behind a woman who put her hand out as if to stop Donnie from cutting in line. When Donnie told her she wasn't trying to cut in line, the woman said she was just putting out her hand to steady herself, because she had lost her cane somewhere in the Crow's Nest, and had gone back twice and went to the front desk once and nobody has turned it in. Whoever found her cane kept it. It figures with this group.
(… time slammed, pushed and bulldozed it's way into the evening hours …)
Tonight is another Gala dinner night. This time we dressed up all the way. I wore my suit, white shirt, hand-tied bow-tie and sort of dress shoes. Donnie looked wonderful in a black dress with all her bling. She spent a lot of time before a mirror putting on makeup, but men aren't supposed to talk about that, so I won't. It's a good thing we did because we shared a table with two "couples" again, and the other three men (yes, three) all wore tuxedos.
Now, I'm not going to call the gentleman, Henry, who sat next to me a crazy person. He seemed like a nice person and all the talk around the table during dinner was pretty reasonable, but when Henry and his partner David sat down at the table, Henry, in addition to his tux, was wearing a pair of gold Pince-Nez eyeglasses that dangled from a gold chain attached to his ear. Pince-Nez, which in French means pinch nose, are the old fashioned kind of glasses that stay on by squeezing your nose and don't have any arms that go over your ears. He then placed a long plastic box on the table, opened the box and took out dark, ebony looking, engraved chopsticks and a chopstick rest. He ate the entire meal using chopsticks. Henry was not Asian. Neither was the meal. Let's just say that we are running into a lot of interesting people at dinner. It's fun, sort of.
Just for the record, Henry and David were five-star Mariners and the other man, Hank, really named Henry also, and his wife, Linda were four-star, almost five. When we told them we were no-star, Linda joked that she should ask for different table. I think she was joking. I hope so. We really would have liked to talk more to Henry and David, who had lived for five years in the Montmartre section of Paris, but Donnie and Hank got into a little heated discussion about gun control. It wasn't too heated after they were doused with the fire hoses by the quick-thinking staff. The conflict was peacefully resolved by submitting the question to a fair, impartial judge. I decided that Donnie won.
The food in the main dining room seems to be much better than the food at the buffet, even when it's supposed to be the same dish. We will try to eat in the dining room more often. Oh, and one correction, the buffet is open from 10:30 to 11:30 for late night snacking. We saw this on a menu posted outside the buffet, but were there before 10:30 so we don't know if this is really true and what the quality and selection really are. Good to know though. Tomorrow is another sea day. Hoist the mains'l. Top up the driggings. Stow the foc'sl, and other nautical-sounding stuff.