Searching for the Vikings
Saturday, August 26 - Day 25: Portree, Hebrides Islands, Scotland, UK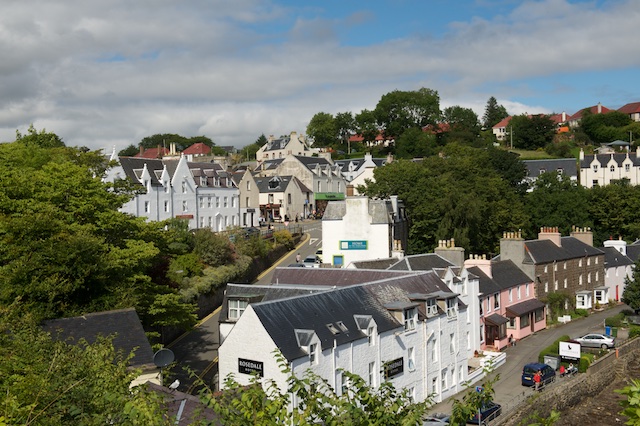 Ach, aye, an' we're back a' Scotland. Time for a Wee Dram. We were in Scotland for several weeks in 2007, and here we are again. In fact, we were in Portree then for an overnight stay in a B&B, but somehow, we don't remember much of the town. This morning we watched the ship sail into the harbor from our deck overlook. It was bright and sunny, which is very un-Scottish. We saw some kind of fish or dolphins jumping out of the water near the ship, but they were too fast and we failed to get pictures.
After breakfast, we got our tender tickets and hung out on our balcony, enjoying the scenery, until our number was called. Amazingly, we didn't have to wait too long. Even more amazingly, the sun was still out when we got into Portree. I was shocked. As I said we had spent several weeks in Scotland before. They will tell you that they don't have rain in Scotland. They call it mist. They have several varieties of mist. There is Light Mist, an almost imperceptible moisture in the air, all the way to Downpour of Big Buckets O'Mist, a local specialty. Today, it was sunny. Uncanny.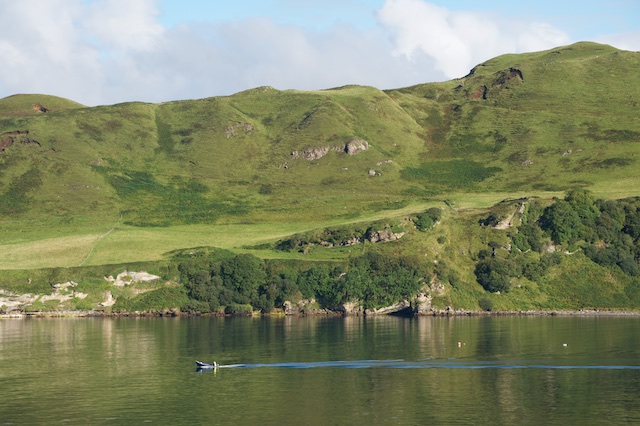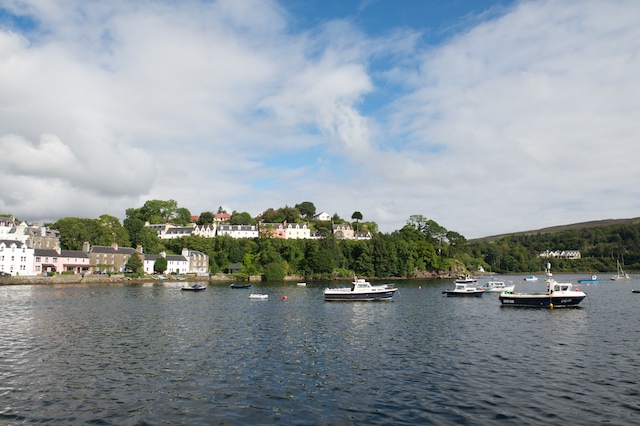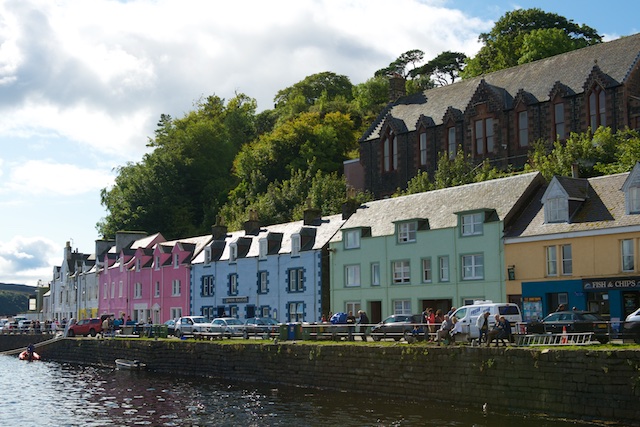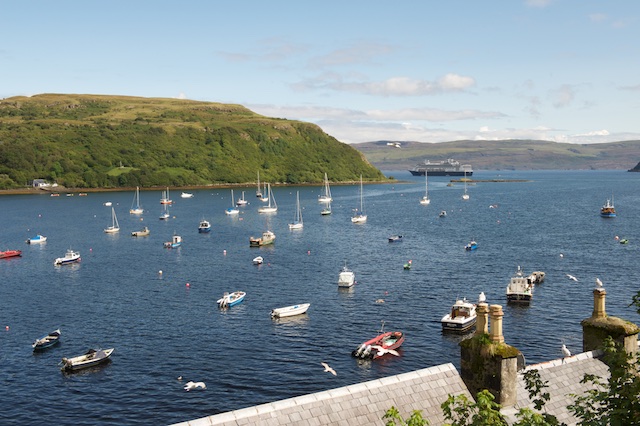 We walked around pretty, nautical, scenic Portree taking pictures. It got so warm that we had to take off our jackets and just walk around in shirtsleeves, but after about an hour, true to it's long heritage, the Scottish weather didn't disappoint us, it started to get overcast. Ah, Scotland.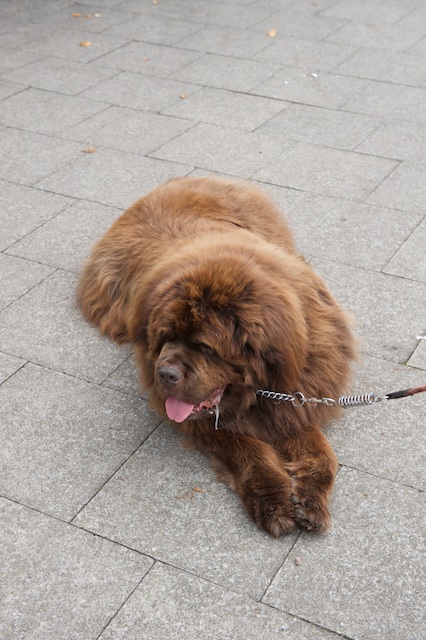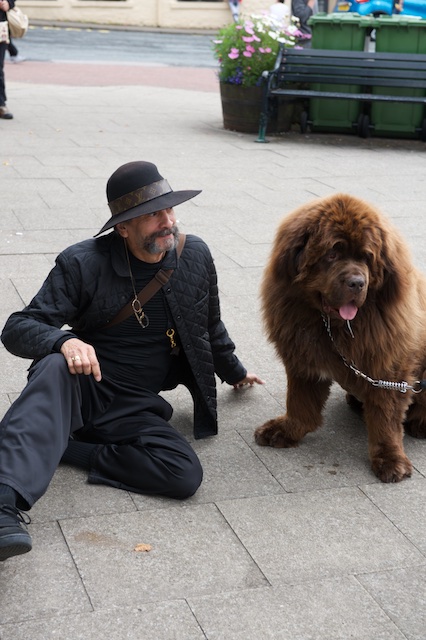 At one point, we ran into a lady walking a huge, brown, beautiful Newfie dog, whose name was Bosun. She said he was ten years old, which is very old for a big dog. I said he looked more like a lion. He was certainly as big as one. She said that he didn't really eat that much, only a pound and a half of dry food a day. Then as we were looking at Bosun, Henry, the unusual, sort of outlandish fellow we met at dinner a few nights ago, came up with his tripod, set it up, and lay down next to Bosun. I had seen Henry carrying a tripod around before and thought it silly, but now I understand, the tripod lets him use his non-smart-phone camera to take selfies.
I felt like having some coffee and maybe a snack, and Donnie agreed, so we went into a Cafe and Restaurant called "The Granary" where we ordered coffee, tea, and scones. The very young looking waitress asked if we wanted jam and butter with the scones. We said yes, of course. We sort of wondered why she asked. Then later, when she brought the tea and coffee, she also had a little pitcher of milk and a sugar bowl on her tray. She asked if we wanted milk and sugar. Donnie said yes, we wanted milk please. She put the pitcher of milk on the table and walked away, taking the sugar bowl with her. We also got one, very thin, small, paper napkin apiece. This is Scotland remember. The scones were good. The coffee was a little weak.
We walked around Portree some more and went into a few shops, not buying anything. There were some nice things, though. Not a lot of tourist junk. Uncannily, the sun came out again. Something very strange is going on here. I'm absolutely positive there is no Gay Pride Parade in town. We walked around pretty Portree some more and took lots more pictures. Later I got thirsty so we went into a pub and I had a nice glass of hard cider, right out of a tap. At this point we decided we had seen about as much of Portree as there was to see, so we got on the tender and re-joined the ship.
Portree is a very nice place, quite attractive with beautiful scenery surrounding it. It's a tourist destination, but isn't too touristy. There are a good number of B&B's, Inns and Restaurants. Most of the restaurants seemed to serve local food, including a lot of seafood, but there were also Indian, Chinese, and Pizza places, but, believe it or not, on our previous trips to Scotland and England we found those types of places in every little town, tourist town or not. There are a good number of shops, but not many tacky ones. The weather today was warm, and sunny a lot of the time, which is especially unusual. It never misted once. I felt cheated.
Back on the ship, we happened to check the onboard Holland America Navigator web page, which lets you do things like find today's schedule, or check the dinner menu, etc. Somebody had screwed up big time. Our current location was listed as "Portree, Isle of Skype". Later that evening, it still hadn't been corrected. I suspect it never will.