Searching for the Vikings
Friday, September 8 - Day 38: At Sea off the coast of Massachusetts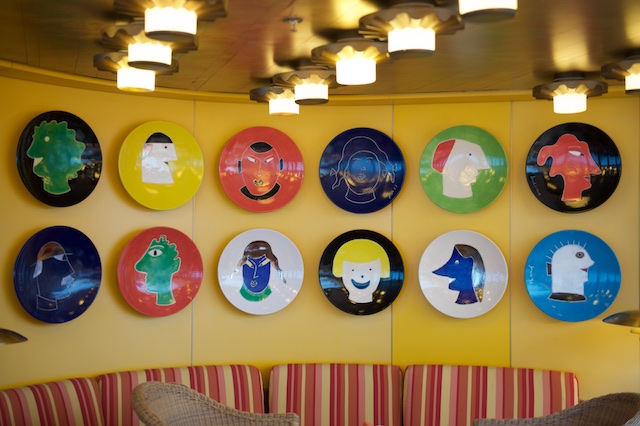 We are still about eight hours away from our docking at Boston, so anything could happen. Just like Halifax, we might not be able to make it in. Captain Eric might have to divert us to the nearest available port, which could be, say, Amsterdam. I can dream can't I? The likelihood of this occurring is small, possibly lessened by the fact that there a cloudless blue sky outside and a very calm sea.
One outstanding event occurred this morning. Our lapel pins arrived. Sorry if that earth-shattering news caused you to fall out of your chairs. As official one-star Mariners, one of the major perks is a lapel pin with the Mariners Society logo on it. They spare no expense. They were attached to a card that described our new status, and, are you ready for this, came with a little blue cloth bag to store the pin in. Not velvet, just cloth. The pin is silver colored. It's probably made of some valuable rare metal, like aluminum. Donnie is thrilled. She wants to wear it every day from now on. Not just on cruises, every day. If I remember correctly, when you reach three stars, you get a different colored lapel pin. Doesn't that make you want to book a whole bunch of multi-thousand-dollar cruises? Donnie's ready.
Another unique event occurred. Relax, this one won't shock you out of your chairs. There was a phone message on our room phone this morning. Who could possibly be calling us on our room phone? Did I insult somebody who is challenging me to a duel? It was the front desk informing us that our Onboard Credit account has eleven dollars and change still in it, and we should spend it today or lose it.
Now I need to explain the Onboard Credit Account, which will involve arithmetic, marketing, and psychology. Don't run away. Maybe you'll enjoy it. Or not.
Let's imagine a cruise costing $1000. That's a very cheap cruise. It probably goes only from Manhattan to say, Staten Island. Wait, that's the Staten Island Ferry. As best I remember, that's still free. Ok. Make it a cruise from Manhattan to Elisabeth, New Jersey, with a port of call in Brooklyn. For some reason, Holland America hasn't been able to sell all the rooms for this fascinating journey. Most other businesses would start having sales, or in other words, offering discounts. They would lower the price to, say $900, and then $800, and so on.
Holland America (and the other cruise lines, I suspect) doesn't do that unless they get desperate. Instead they offer perks. They'll offer some number of free Internet minutes, or free sodas, or something like that. One of the perks that they mention a lot is Onboard Credit. They will load up your onboard purchasing account with some amount, say $200. This means that you can spend $200 on the ship for anything that costs money: alcoholic drinks, sodas, meals in the extra-cost restaurants, gambling in the casino, T-shirts or watches in the store, etc. This sounds like you just got a $200 discount off your $1000 cruise. Cool.
Hold on there Einstein. You didn't really get $200. If they had given you a real $200 discount, that would have been money you could spend anywhere and anytime, say Starbucks or Walmart, or on rent or other stupid stuff. This is money you have to give back to Holland America. Plus, and here's the cute part, it isn't costing Holland America $200. If you use this credit to buy a T-shirt for $20 say, that shirt probably only cost Holland America $5, so you think you got $20, but it only cost them $5. Smart, aren't they?
They push this Onboard Credit stuff a lot. There are many brochures and announcements hyping the fact that, if you put down a deposit for a future cruise on board the ship, you will double your allowed Onboard Credit for that cruise, up to $200. So, that means if you give them money now, even for some undetermined cruise at an undetermined date, they will give you a $200 discount on the cruise. They have then psychologically locked you in to buying another not-really-cheap cruise with Holland America. Good work, Holland America Marketing Department. This must be so effective that they have a team of "Future Cruise Consultants" on board: Tom and Tina, a smiling, happy couple who give talks about future itineraries, have a special desk on deck five near the library and the bars, and have a lovely black-and-white portrait of themselves displayed elegantly in several places on the ship.
If all this sounds too cynical, it is. Holland America isn't doing anything any other company wouldn't do, and it isn't really anything bad, it's just sound marketing. In fact, they could be more aggressive and hard-sell about it and they aren't. It's relatively low-key. One of the other cruise lines we were on were sales crazy. Somebody on board was always trying to sell you something Over the PA, at dinner, during a talk, always. We were very turned off.
This morning we attended a talk by Tim Calvert about the Windjammer's Barefoot Cruise Line. This was a company that had a set of real sailing ships, you know, with sails, that operated cruises out of the Caribbean in the late 1990's to the early 2000's. It had Barefoot in the name because the onboard passenger's uniform was supposed to be no shoes, shorts, and optional T-shirt. Also, there seemed to have been a lot of drinking on board. He described the ships and his experiences on them and how the company eventually went under and how he and a bunch of former passengers and investors attempted several times to resurrect it.
It would have been a better talk, however, if the digital slide projector in the theater hadn't kept dying every third or fourth slide and had to be slowly rebooted each time. Technology… fooey. Oh, and I have to mention that it was a completely different talk that was scheduled and listed for that time that we thought we were attending in the theater. That talk will probably occur sometime. Maybe we'll be lucky and stumble into it.
A little later we went on a walk around the ship with Barbara. She was giving a walking tour of the artwork on board. Mostly she told little anecdotes about a few of the artworks. We did learn that there is about 1.5 million dollars worth of art on the Rotterdam. Incredible. Also, there is a Dutch company that acts as the curator and maintainer of all the artwork on all of the Holland America ships. They consult on obtaining the art, design the installations, which have to be ship safe, and periodically come on board to do maintenance, such as touch-ups to murals. Some of the art dates back to 200 BC.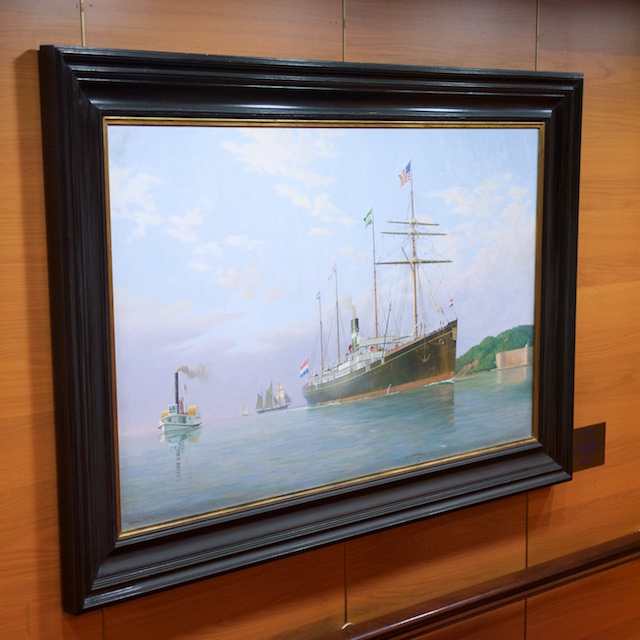 I have searched the ship taking pictures of what artworks I could find, and there is a lot more than Barbara was able to show us. One thing I found, and that Barbara explained was very interesting. On one of the three stairways there are paintings of ships on every deck. On the top are two paintings: one of our ship, the Rotterdam 6. Next to it is its predecessor, the Rotterdam 5, which is now a museum, hotel, and restaurant in the city of Rotterdam. One deck down is a painting of the Rotterdam 4. A deck below that is the Rotterdam 3, and so on, down to the Rotterdam 1, which sailed between Holland and the US from 1873 to 1883. Very Cool.
The paintings were all made by a retired ship's Captain, Captain Stephen Card, who paints pictures of ships from their plans alone, so he can paint ships that haven't yet been built, or ships that are long gone. Barbara said that he used to paint many of his pictures in a specially prepared stateroom on board one of the Holland America ships, where they had removed the furniture to give him room to work. In the days that he did that, the furniture was usually screwed down, so removing it wasn't easy.
While we were eating a late lunch in the pool area, there was a PA announcement, a weird one. First, a little background: we had been informed yesterday afternoon, after it was determined that we were headed directly to Boston and about when we would arrive, that US Customs and Border Patrol officers would come on board and do the required passport-to-face checking on board, starting around 6:00 PM tonight. The announcement during our lunch was that the CBP was demanding that no alcohol be served on board while the CBP officers were on the ship, and therefore the bars would be closed from 4:00 until the CBP people left. What? Why the heck does the US Customs and Border Patrol care if alcohol is being served while their guys are on the boat? Are they untrustworthy drunkards? Even Jan, while he was making the announcement, sounded astonished.
I'm not one of the government-hating loonies, but this smacks of some mid-level bureaucrat showing off how powerful he is. I wouldn't be surprised if there is some regulation that says that alcohol cannot be served in an official CBP facility, and this bureaucrat is choosing to interpret it so that the ship is a temporary CBP facility. I'll betcha.
To compensate, the ship is having happy hour from 3 to 4 instead of 4 to 5. Simple fix.
We are now about 40 miles from Boston. We can see the skyline in the distance in front of the ship. I'm sad. Usually, when we go away on vacation, especially ones this long, we are somewhat sad about the vacation ending, but also glad to be going home. This time, I'm just sad that it's ending. Getting back into the same old grind doesn't appeal. We'll have to make our own meals, make our own beds, go food shopping, wash the dishes (well we have to load and unload the dishwasher. Horrors!), throw out the garbage, pick up the mail, all that stuff. Maybe I'm beginning to understand these five-star Mariners, maybe even that guy who has been on 200 days of cruising this year. He hardly ever has to do that stuff.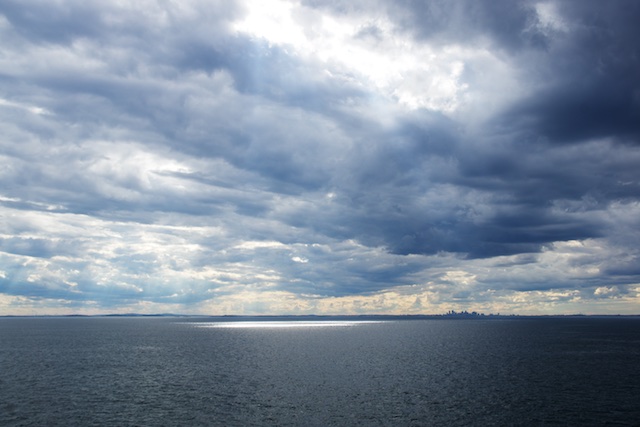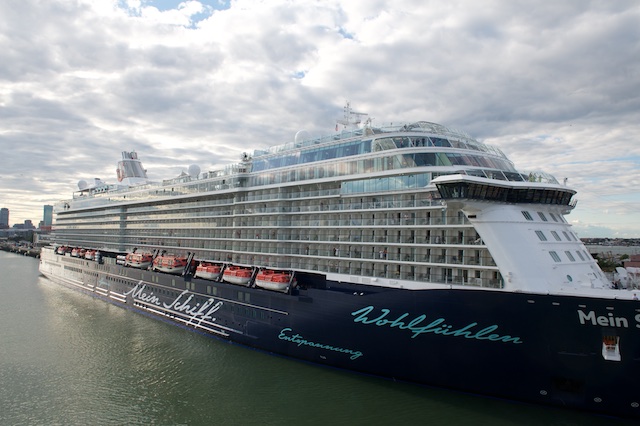 We went out to the front overlook to watch the ship sail in to the Boston pier. The skyline was impressive against a backdrop of dark and light ominous and yet attractive clouds. The late afternoon light through the clear patches was unusual and pleasing. We sailed into a slip and docked right next to a huge German cruise ship, from a cruise line we had never heard of. The ship was immense. Ours, admittedly a small cruise ship, was dwarfed by it. We had two decks of cabins with balconies. It had six. Even more fun: It was about sixty degrees and windy in Boston, heading toward an even cooler evening. As we passed the German ship, we noticed that most of the people on the balconies and on the decks above were either wearing bath robes, or swim clothes, or merely towels. German hardiness, I guess.
We were going to have a last dinner in the dining room, but the menu didn't appeal to us, and we were tired, both physically and mentally, so we just had salad in the Lido buffet. Afterward, however, we had vowed to have one last cocktail in honor of the end of the journey. The problem was that all the bars were closed until the customs officials were gone, and it was getting late, and there were still announcements, this time demanding that the entire crew report to the room with the customs guys. I have no idea why. Most of the crew were not getting off the ship. Maybe the U. S. government was worried about Greenlandic terrorists.
So we went up to the Crow's Nest to relax and wait for the bars to open. It was nice that we did. The B. B. King All Stars were playing. They were great so we listened to two sets before, at 10:30 PM, four hours after they started, the customs guys left and the bars opened. So we ended the last full day of the cruise the way we spent late afternoon on the first one, in the Crow's nest with a Mojito and a Gin & Tonic.
Click HERE to see more of the pictures of the art on the M.S. Rotterdam.